Estimated read time: 4-5 minutes
This archived news story is available only for your personal, non-commercial use. Information in the story may be outdated or superseded by additional information. Reading or replaying the story in its archived form does not constitute a republication of the story.
SALT LAKE CITY -- The head of the Southern Nevada Water Authority took shots at Utah in a recent interview, ridiculing Salt Lake City and its high water usage.
The mudslinging stems from the Snake Valley pipeline debate, which would take water from one of Utah's rural areas and ship it to Las Vegas.
Most people agree there's always room for improvement on water conservation. However, they say Pat Mulroy, the head of Southern Nevada Water Authority, is grossly exaggerating Utah's situation -- and they say her name-calling isn't solving any problems.
---
"They can't spell conservation in Salt Lake City," Southern Nevada Water Authority director Pat Mulroy said in an interview.
---
"They can't spell conservation in Salt Lake City," Mulroy said.
In an interview with KVBC in Las Vegas, Mulroy got fired up about Utah. She went on for several minutes discussing the state, the governor and the capitol city.
"I think Miss Mulroy has gone over the top yet again. She has a tendency to hyperbole." said Steve Erickson of the Great Basin Water Network. "Miss Mulroy is clearly frustrated and she's taking it out on Salt Lake City and our political leadership. I don't think that's appropriate."
Dennis Strong with the Utah Division of Water Resources said, "I think Pat was a little angry and she overstated some of her comments, especially about conservation."
Mulroy heads up the Southern Nevada Water Authority in Las Vegas. Their city is in the middle of a water crisis, and a deal that would have sent water from Utah's Snake Valley to Vegas appears to be going down the drain.
Per capita water consumption in Utah and other western cities
| City | Consumption in gallons per capita per day (gpd) |
| --- | --- |
| Las Vegas (Southern Nevada Water Authority) | 165 gpd |
| Los Angeles (Metropolitan Water of Southern California) | 125 gpd |
| Tucson | 114 gpd |
| Albuquerque | 110 gpd |
| Salt Lake City | 240 gpd |
| St. George (Washington County Water Conservancy District | 254 gpd |
| Denver | 168 gpd |
| Phoenix | 218 gpd |
Steve Erickson, Utah Coordinator, Great Basin Water Network
"She's found a plan and she's having a really hard time implementing that plan, and I think it's easy for her to stand and say, 'Utah is in the way,'" Strong said.
During the interview Mulroy attacked Utah's leadership and citizens. "Today the governor of Utah is sitting in his office with a preliminary agreement that's been signed by Alan Biaggi, that's been signed by myself, adopted by the Water Board, and Utah won't sign it," Mulroy said.
Mulroy says Utahns are blowing through water like they've won the liquid lottery,
"Have you been to Salt Lake City?," she said. "It's the most pastoral place you've ever been to; homes on quarter-acre lots, surrounded by grass -- it looks like Las Vegas did in the '60s."
Mulroy also painted Utahns as making a mockery of her struggling state. "You know, they're laughing at us," she said.
While all of that may be an exaggeration, water activists say she has a point when it comes to consumption.
"I'd say she's right on that, yes," Erickson said. "We don't do a very good job of conservation here in Utah, and Salt Lake is guilty of that."
Still, Erickson says not only can the citizens of Salt Lake spell "conservation" correctly, they're working toward it. Salt Lake City is making leaps and bounds in conservation. Officials say we're nearly at our goal of reducing water consumption by 25 percent since 2000.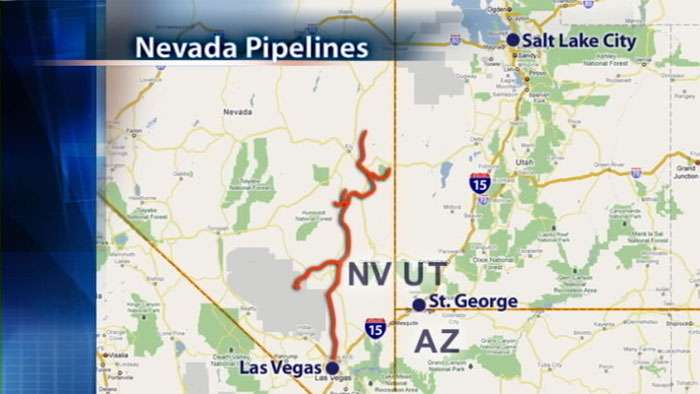 In the end, depleting the rural area of Snake Valley for the sake of a city Erickson says has a history of water irresponsibility shouldn't be an option.
"I don't think that the state of Utah is responsible for the problems that are associated with Miss Mulroy's precious pipeline," Erickson said. "It's fraught with its own internal problems, including really destroying one of the last vestiges of wilderness in rural areas in the country."
He's not the only one who feels that way. Mulroy's plan has citizens in Snake Valley rallying in protest.
"It impacts the West Desert, eastern Nevada, for the sake of growth in Las Vegas, which has been pretty irresponsible," said Terry Marasco, a Snake Valley pipeline protest organizer.
So with regard to Mulroy's comments, the state is brushing them off.
"People can say what they want," Strong said. "If they want to come and look at the facts, we're doing a good job."
The Snake Valley pipeline deal is by no means dead, but it's becoming more difficult to pass. The players are awaiting further decision by the Nevada Supreme Court and a District Court.
------
Story compiled with contributions from : Nicole Gonzales and Jennifer Stagg.
×
Related links
Related stories
Most recent Utah stories