Estimated read time: 3-4 minutes
This archived news story is available only for your personal, non-commercial use. Information in the story may be outdated or superseded by additional information. Reading or replaying the story in its archived form does not constitute a republication of the story.
(AP) Coalition forces struggled to control widespread looting in Baghdad and the rest of Iraq on Friday after claiming a final northern enclave loyal to Saddam Hussein. Only one other city remained to be taken: Saddam's hometown Tikrit.
Here's a summary of reports about units in those positions, followed by other battlefield developments. The reports are culled from official assessments and from journalists of The Associated
Press and member news organizations traveling with American units in Iraq.
IN AND AROUND BAGHDAD
--Three adults were killed and a 5-year-old girl wounded when an American Marine opened fire on a car that failed to stop at a checkpoint. Among the dead were the child's parents, according to an Associated Press Broadcast News reporter who witnessed the confrontation.
-- Lawlessness continued. Increasingly, U.S. troops in the capital worked to restore order, although pockets of resistance and suicide bombers remained constant threats.
In the city's Karadah neighborhood, about a mile southeast of central Baghdad, residents armed with Kalashnivkovs set up roadblocks to stop looters and confiscate stolen goods.
Both Iraqis and the Red Cross asked U.S. troops to help stop looting. The latest targets included a nursing college and an engineering college. The ministries of Education, Industry, Trade and Planning also were looted and set afire.
--Top commanders of the 1st Marine Division held the first of what is expected to be a series of daily meetings with representatives of humanitarian organizations and local officials.
The session was part of an effort to restore the city's utilities, services and infrastructure.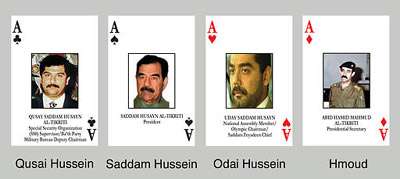 NORTH
-- Mosul, Iraq's third largest city and the last northern enclave outside Kurdish and American control, fell when an entire Iraqi Army Corps disappeared.
Thousands of young men left their military positions, dropped their weapons and headed south toward Baghdad and home.
Chaos ruled Mosul's streets afterward, with banks ransacked and ambulances hijacked at gunpoint. When U.S. forces arrived, some people shouted: "Why are you late!?"
Lt. Col. Robert Waltemeyer, commander of special forces in the area, announced an overnight curfew and said U.S. forces would tolerate no looting or reprisals, but he also told local tribal and clan leaders he needed their help.
Mosul's fall left Tikrit, Saddam's hometown, as the only major population center not under control of American-led forces.
Warplanes have bombed Tikrit for days and U.S. commanders had prepared for stiff resistance in the coming battle for that city.
But Central Command said Republican Guard and other Iraqi troops regrouping there have been battered by U.S. airstrikes and don't present an effective fighting force
-- Elsewhere in the north, two battalions of the 173rd Airborne Brigade entered Kirkuk a day after Kurds and U.S. special operations took the oil-rich area. Paratroopers were sent to lock down the oil infrastructure and to secure the airfield.
TO THE WEST AND SOUTH
-- U.S. warplanes fired six satellite-guided bombs at an intelligence building in Ramadi, 60 miles west of Baghdad, in a pre-dawn attack targeting Saddam's half brother and close adviser.
-- Further west, U.S. special operations forces maintained roadblocks along border crossings to Syria, under orders to prevent regime members from fleeing Iraq.
-- To the south in Basra, British pool reports said five Iraqi bank robbers were shot and killed Thursday by British forces after the looters fired on members of the Royal Scots Dragoon Guards.
One British soldier was shot in the stomach. He was taken to a field hospital.
(Copyright 2003 by The Associated Press. All Rights Reserved.)
×
Most recent News stories