Estimated read time: 2-3 minutes
This archived news story is available only for your personal, non-commercial use. Information in the story may be outdated or superseded by additional information. Reading or replaying the story in its archived form does not constitute a republication of the story.
Carole Mikita reporting Staff Sgt. James Cawley was a Marine and former member of Salt Lake City police department's SWAT team.
More than 1,000 people attended the service. Family, friends, police and military officers all agree, Sgt. Cawley is a true American hero.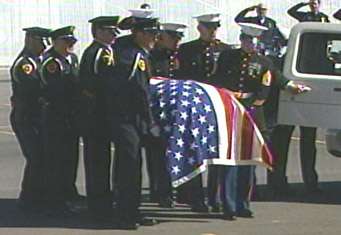 Leading the group at the arrival of the casket was Cawley's sister, Julie Hansen, a member of the Mormon Tabernacle Choir. About 100 other choir members performed a tender rendition of "America the Beautiful."
Those who worked with Staff Sgt. Cawley said he was that rare person who was good at everything he did.
Salt Lake Police detective Mark Shuman was Cawley's partner on the force. He reflected, "As a teammate, Jim was rock solid. He was the material with which teams are founded. He was a master technician and was a wealth of knowledge. His skills and a strong work ethic made for a strong teammate."
Cawley served both his city and country, but was said to be a man who put his family first.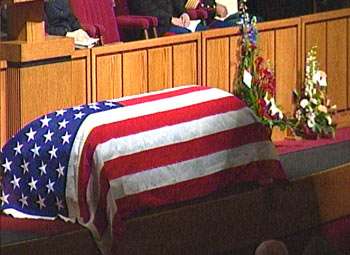 Fellow Marine, gunnery Sgt. Geoff Wilson characterized him as a "good son, good brother, good friend to everybody who knew him. Good Marine, good police officer, good husband and father. And above all, just a good man."
"Each night he spoke of his family," Detective Shuman adds. "Usually it revolved around his children growing up and the wonder of it all."
Sgt. Cawley is survived by wife, Miyuki, who he met while stationed in Japan and their son, Cecil, 8 and daughter, Keiko, 6.
His brother, Mike Cawley said of the children, "Come spend time with Uncle Mike and I will tell you stories of your Papa, when he was a little boy and how he grew up to be a great man and a leader."
Maj. Gen. John J. McCarthy, (Select) of the U.S. Marine Corps noted, "Whenever Marines gather in the years to come, James will be there. He is forever enshrined in the traditions that we hold dear, and in the hearts of his comrades."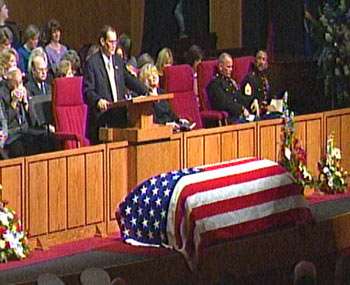 Calling him a man of faith, the First Presidency of The Church of Jesus Christ of Latter-day Saints offered comfort to Sgt. Cawley's family.
Elder Bruce D. Porter, of the First Quorum of the Seventy said: "He was a rare individual whose life reflected both bravery and gentleness."
Military personnel and police officers from throughout the country have called the family, expressing their condolences. Many hundreds from around the West and all over our state participated in Sgt. Cawley's funeral services.
×
Most recent News stories