Estimated read time: 4-5 minutes
This archived news story is available only for your personal, non-commercial use. Information in the story may be outdated or superseded by additional information. Reading or replaying the story in its archived form does not constitute a republication of the story.
BAGHDAD, Iraq (AP) -- The U.S. bombing of an upscale neighborhood where Saddam Hussein and top aides were believed to be meeting blasted a 60-foot-deep crater, ripped orange trees from their roots and left a heap of concrete, mangled iron rods and shredded furniture and clothes.
At least three buildings were destroyed in Monday's 2 p.m. attack on the western Baghdad district of al-Mansour, which broke windows and doors as far as 300 yards from the site.
Rescue workers looking in the rubble for victims said two bodies had been recovered and the death toll could be as high as 14. They didn't release any names.
A single B-1B dropped four "bunker-busting" bombs on the district after U.S. military intelligence was tipped that Saddam, his sons Odai and Qusai and other Iraqi leaders might be meeting there, U.S. officials said.
"A leadership target was hit very hard," said Marine Maj. Brad Bartelt, a spokesman for U.S. Central Command in Qatar.
He said he could not comment on casualties or say how long it would take to determine the damage. Battle assessment typically involves ground reconnaissance or satellite imagery, though Bartelt would not say what method was being used.
Those close to Saddam have said the Iraqi leader is so obsessed with security that very few people would know about his movements. He maintains dozens of residences and uses doubles to keep people guessing.
An exiled dissident told The Associated Press that only two people are kept posted about Saddam's whereabouts -- his son Qusai, who commands the Republican Guard and heads the president's security, and his private secretary, Abed Hameed Hmoud, a member of Saddam's Tikriti clan. Even oldest son Odai is thought to be out of the loop because he is considered to have a reckless nature.
About three miles from the al-Mansour district, white smoke from U.S. artillery fire rose early Tuesday from Saddam's Old Palace grounds on the banks of the Tigris River.
Heavy machine gun fire and the buzz of aircraft broke the silence of an uncharacteristically quiet night, and silent, yellow flares illuminated a sky even blacker from Baghdad's wartime power outage.
Under cover of darkness, U.S. Marines spent the night patrolling a field in the southeast corner of the capital, probing foxholes, trenches and what appeared to be bunkers dug under roads. Snipers, machine gunners and infantrymen made sure the area was free of Iraqis.
Marines stopped suspicious vehicles. Snipers saw two men carrying an AK-47s. They shot two of them and the rest fled into the night.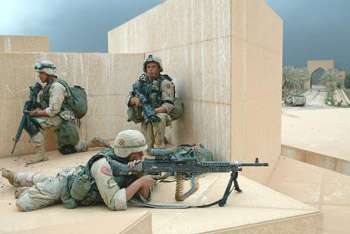 Their vigil came less than 24 hours after U.S. troops stormed the Iraqi capital and seized Saddam's New Presidential Palace.
More than 70 tanks and 60 Bradley fighting vehicles took part in the lightning thrust Monday by the Army's 3rd Infantry Division, with tank-killing A-10 Warthog planes and pilotless drones providing air cover against mostly disorganized resistance.
Iraqi snipers fired on an American platoon from rooms in the state-owned Al-Rashid Hotel on Monday afternoon while the soldiers patrolled a neighborhood near the palace, soldiers said. U.S. tanks returned fire.
At the city's southern edge, two Marines were killed and two wounded when their armored troop carrier was hit by an artillery shell at a bridge spanning a canal. The Marines advanced into the capital by foot after the Iraqis blew apart the bridge.
Also, a group of U.S. armored personnel carriers in southern Baghdad was hit by rockets, according to field reports. Six American soldiers were reported missing and a large number were wounded.
In the heart of Baghdad, American soldiers who reached the gold-and-blue-domed New Presidential Palace used the toilets, rifled through documents in the bombed-out compound, and helped themselves to ashtrays, pillows, gold-painted Arab glassware and other souvenirs. The Americans also blew up a statue of Saddam on horseback in the center of the city.
"I do believe this city is freakin' ours," boasted Capt. Chris Carter of Watkinsville Ga.
The troops secured the main roads in the area, leaving soldiers at every intersection. They made forays to the Al-Rashid and to the bombed-out Information Ministry, but unlike at the palace, they did not stay.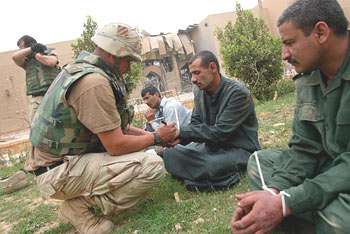 U.S. troops set up a prisoner of war collection point in the palace compound. As Iraqis were captured in street fighting outside, they were brought to the palace for processing before being sent behind U.S. lines. At one point, a group of nine Iraqis surrendered after hearing on loudspeakers that if they did so they would live.
An official at U.S. Central Command in Qatar said coalition forces planned to increase their broadcasting ability in and around Baghdad in the coming days. He spoke on condition of anonymity, and did not elaborate.
There was no estimate of Iraqi casualties from Monday's raid, but 10 miles outside the capital, about 100 Iraqi soldiers were reported killed at the Baghdad airport in seven hours of fighting that ended early Monday.
(Copyright 2003 by The Associated Press. All Rights Reserved.)
×
Most recent News stories