Estimated read time: 3-4 minutes
This archived news story is available only for your personal, non-commercial use. Information in the story may be outdated or superseded by additional information. Reading or replaying the story in its archived form does not constitute a republication of the story.
(AP) Following a series of quick, violent raids inside Baghdad's perimeter, U.S. Army and Marine forces staked out territory to hold in the city center Monday, going so far as to set up a makeshift American camp in one of President Saddam Hussein's palaces. Far to the south, British forces laid final claim to Basra, Iraq's second largest city.
Here's a summary of recent information from units in those positions, followed by other battlefield developments. The reports are culled from official assessments and from journalists of The Associated Press and member news organizations traveling with American units in Iraq.
IN AND AROUND BAGHDAD
-- At least 2,000 U.S. Marines and 500 or more Army soldiers entered Baghdad to stay Monday despite encountering tough fighting in southeastern sections of the city. Lt. Col. B.P. McCoy said two Marines were killed and two were injured after an artillery shell hit their armored personnel carrier.
Army Col. David Perkins of the 2nd Brigade, 3rd Infantry Division estimated his troops killed 600 to 1,000 Iraqis, often defending against suicide attacks.
Several miles to the south, two soldiers and two journalists were killed in a rocket attack. Fifteen other soldiers were injured in the attack.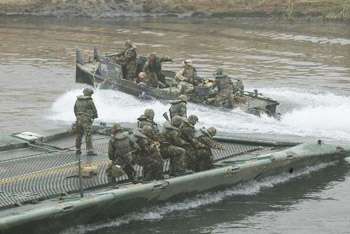 But back in Baghdad proper, Marines surged across a tributary of the Tigris River, opening the way for thousands more to move in from the southeast.
By Monday afternoon, tanks and amphibious assault vehicles stood in miles-long lines at two bridges, waiting to float into Baghdad on heavy military rafts or cross on jerry-rigged bridges.
The International Committee of the Red Cross said the number of casualties in the Iraqi capital is so high hospitals have stopped keeping count.
BASRA
-- After weeks of surrounding Iraq's second largest city, British troops swept in and were greeted by huge welcoming crowds.
"There are no areas of the city that we are now concerned about," Col. Chris Vernon at field headquarters told a British pool reporter from The Sun. Asked where the pro-Saddam Fedayeen fighters had gone in the previous 24 hours, Vernon replied: "Most of them are dead or taken prisoner."
British soldiers of the 3rd Battalion Parachute Regiment patrolled Basra on foot and secured the city center a day after armored columns cleared the way.
Coalition forces had held off storming the city of 1.3 million people to avoid civilian casualties.
Air Marshal Brian Burridge told reporters in Qatar: "There will be some difficult days ahead, but the Baathist regime is finished in Basra."
IN THE NORTH
-- Coalition warplanes struck Iraqi positions again Monday in the fight to advance on the two main northern cities still in Iraqi control: Mosul and oil-rich Kirkuk.
Bombs also pounded military targets on southern routes toward Baghdad.
American soldiers and Kurdish fighters took the town of Dibagah, near the site of a U.S. friendly fire incident that killed 17 Kurdish fighters and a translator a day earlier.
But Iraqi soldiers still stood between the Kurdish forces and Mosul and Kirkuk.
At Khazer, due east of Mosul, Iraqis held a position west of a strategic bridge they lost to the Kurds last week, and the Kurds pulled back east of the bridge to clear the way for airstrikes.
Meanwhile, Kurdish intelligence sources, speaking on condition of anonymity, said Iraqi forces have drawn tanks and heavy armor into residential areas while barring civilians from leaving. The information could not be independently confirmed.
(Copyright 2003 by The Associated Press. All Rights Reserved.)
×