Estimated read time: 2-3 minutes
This archived news story is available only for your personal, non-commercial use. Information in the story may be outdated or superseded by additional information. Reading or replaying the story in its archived form does not constitute a republication of the story.
Key developments in the war in Iraq:
-- Deafening explosions rocked central Baghdad early Sunday as Iraqi troops, members of President Saddam Hussein's Fedayeen militia and teenage soldiers patrolled streets to protect the capital from U.S.-led forces.
-- U.S. forces dashed inside Baghdad, sweeping through industrial neighborhoods with tanks and armored vehicles and sending a message to regime loyalists that the city could be breached at any time of the coalition's choosing.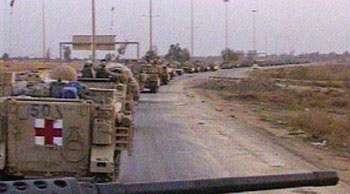 -- Black-clad members of Iraq's Fedayeen militia appeared for the first time on streets in central Baghdad. As night fell, armed troops, militiamen and Baath Party loyalists took positions at major intersections and on main roads leading to the city exits.
-- Marines at the southern outskirts of Baghdad engaged in close-quarters fighting with pro-Saddam volunteers from Jordan, Egypt, Sudan and elsewhere, according to Lt. Col. B.P. McCoy of 3rd Battalion, 4th Marines. His troops used bayonets while battling in the reeds of a marsh.
-- U.S. Army soldiers captured the headquarters of the Republican Guard's Medina Division in Suwayrah, about 35 miles southeast of Baghdad.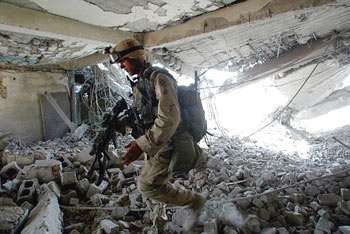 -- U.S. planes are now on station over Baghdad 24 hours a day, ready to direct strike aircraft to their ground targets and to organize the air battle, said Air Force Lt. Gen. Michael Moseley, commander of the air war.
-- Coalition aircraft conducted strikes on the Basra residence of Ali Hassan al-Majid, a member of Saddam's inner circle who once ordered a chemical weapons attack on Kurds, Central Command said. The effects of the airstrikes were being assessed.
-- Military officials said elements of the 1st Marines Expeditionary Force had penetrated the Al Nida division of the Republican Guard on the southeastern outskirts of Baghdad.
-- Iraqi's information minister, Mohammed Saeed al-Sahhaf held his daily briefing Saturday and claimed that Iraqi forces had retaken the Baghdad airport. U.S. officers say their hold on the airport is firm.
-- The Pentagon identified eight dead soldiers found during the rescue of American POW Jessica Lynch as being in her ambushed convoy. They include the first combat death of an American woman in the war -- Army Pfc. Lori Piestewa.
-- British forces in southern Iraq found hundreds of boxes containing human remains in a warehouse near Zubayr and are investigating how they got there, military officials said Saturday.
-- President Bush said coalition forces "serve a great and just cause" by defending free nations from terror and ridding Iraq of Saddam Hussein's regime.
(Copyright 2003 by The Associated Press. All Rights Reserved.)
×
Most recent News stories