Estimated read time: 4-5 minutes
This archived news story is available only for your personal, non-commercial use. Information in the story may be outdated or superseded by additional information. Reading or replaying the story in its archived form does not constitute a republication of the story.
Army forces attacked Baghdad's international airport and fought running battles with Iraqi forces on the city's southern edges Thursday, closing in on Saddam Hussein's seat of power. Electricity went out in the capital for the first time in the war.
Some front-line units were put on heightened alert against the threat of chemical weapons, ordered to wear rubber boots and suits despite temperatures in the 90s.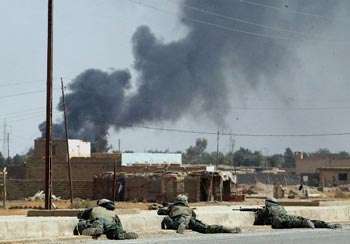 Artillery fire could be heard near Saddam International Airport, about 10 miles southwest of the center of Baghdad, and tracer rounds arced through the blackened sky. Officers of the 3rd Infantry Division told an Associated Press reporter assigned to the unit that the attack on the airport was underway.
American forces have "arrived near the regime's doorstep," Defense Secretary Donald H. Rumsfeld said at the Pentagon, as forces half a world away squeezed Saddam's regime.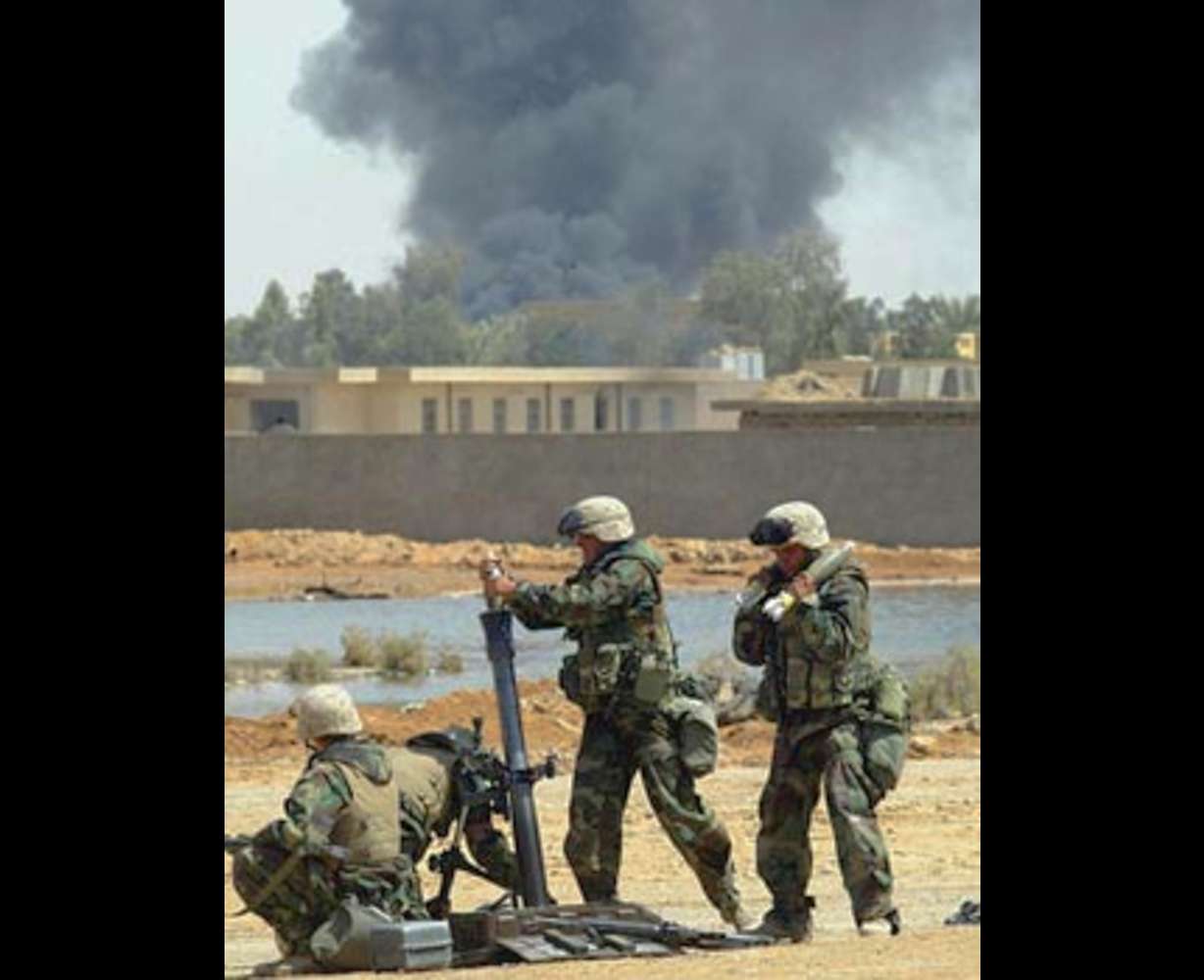 As conventional units fought their way toward the capital, officials said special forces had raided the Thar Thar presidential palace near Tikrit, Saddam's hometown. Documents were seized at the site north of Baghdad, these officials said, but no ranking members of the regime were found.
Rapid U.S. advances on the ground were accompanied by moments of grief.
In Kut, southeast of Baghdad and the scene of fierce fighting, a medic who tried unsuccessfully to save the life of a Marine dug a hole and buried the resuscitation equipment.
At Camp Lejeune, N.C., President Bush comforted families and friends of Marines who have fallen in Iraq. "We will not stop until Iraq is free," he told a large crowd.
Iraq issued the latest in a series of exhortations in Saddam's name. "Fight them with your hands. God will disgrace them," it said, referring to invading American and British troops.
The daily protestations by the regime seemed increasingly at odds with the military situation across the country.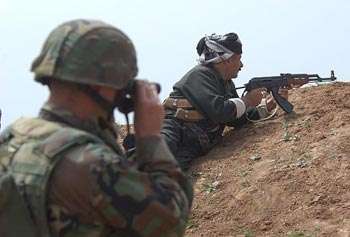 To the far north, U.S. special forces and Kurdish militiamen captured the town of Bardarash and a nearby bridge, one of few routes into the city of Mosul near government-held oil fields. Iraqis had held the town for 13 years.
In the country's southern regions, British forces penetrated closer to the center of Basra, a city of 1.3 million where Iraqi defenders have held out for days. And a private American company worked to extinguish the last two fires at oil wells in American hands since the early days of the war.
There were no details available on the attack on the airport in Baghdad. The facility has one 13,000-foot runway, according to intelligence monitoring organizations, as well as an 8,800-foot runway.
The cause of the power loss was not immediately known. Gen. Richard Myers, chairman of the Joint Chiefs of Staff, told reporters at the Pentagon that Americans had "not targeted the power grid in Baghdad."
Asked if he and other U.S. commanders knew why much of the city was in the dark, Myers said, "at this point we do not."
At the same time they worried about chemical weapons attacks, officials warned that the regime might be planning to attack Shiite neighborhoods. Jim Wilkinson, a spokesman for the Central Command, said there was "reliable information" that such attacks were possible as part of a plan to blame American and British forces. He offered no details.
Ground forces closed in on Baghdad from separate southern approaches, the Army from the southeast and Marines from the southwest, in advances begun Tuesday night.
American officials, Rumsfeld among them, issued fresh cautions that tough fighting lies ahead -- and the resistance encountered by advancing U.S. troops was evidence of that.
American and British helicopters and fixed-wing aircraft bombed positions in Kut, and Marines went door-to-door to look for Iraqis unwilling to surrender.
Between 10 and 15 Iraqis armed only with rifles charged Marine tanks in a suicide charge. "We mowed down" the attackers, said Lt. Col. B.P. McCoy. One Marine died and two more were wounded in fighting in the city.
Army forces rolled past dozens of dead Iraqi soldiers and bombed-out hulks of Iraqi military equipment as they made their way toward Baghdad from the area around Karbala. Many more Iraqi soldiers surrendered to the overwhelming force of the Americans, and were shuttled to the rear.
Their tanks and Bradley fighting vehicles destroyed more than seven Iraqi armored personnel carriers and more than 15 tanks as they sought out units of the Republican Guard and regular Army troops guarding Baghdad's southern flanks.
At least one soldier was killed by friendly fire. Three were wounded by Iraqis, and three more collapsed from heat exhaustion as temperatures rose to more than 100 degrees inside their armored vehicles.
A search and rescue operation continued for a Navy pilot, missing since an F-18C Hornet was lost on Wednesday. The U.S. Central Command issued a statement saying a Patriot missile may have downed the aircraft, and an investigation was underway.
Separately, officials said hostile fire was not the cause of the loss of an Army Black Hawk helicopter. Six soldiers were killed when the craft went down, also on Wednesday.
(Copyright 2003 by The Associated Press. All Rights Reserved.)
×
Most recent News stories