Estimated read time: 4-5 minutes
This archived news story is available only for your personal, non-commercial use. Information in the story may be outdated or superseded by additional information. Reading or replaying the story in its archived form does not constitute a republication of the story.
CAMP AS SAYLIYAH, Qatar (AP) -- Iraqi paramilitary forces in Basra fired mortars and machine guns Friday on a "couple of thousand" Iraqi civilians trying to leave the besieged city, forcing many panicked people to retreat, British military officials and witnesses said.
Members of Britain's 7th Armored Brigade were trying to neutralize the fire, evacuate civilians and treat any casualties, said Lt. Col. Ronnie McCourt, a spokesman for British forces in the Persian Gulf.
British forces have ringed the southern city -- Iraq's second-largest, with a population of 1.3 million -- in hopes of eliminating units still loyal to Saddam Hussein and opening the way for badly needed humanitarian aid.
A senior British defense official said there had been reports in recent days of significant numbers of Iraqi civilians coming out of Basra every day to get food aid from points outside the city and then returning.
The official, who spoke on condition that he not be identified further, said that scenario appeared to be happening again Friday, but that Iraqi paramilitary forces opened fire on people to block them from leaving.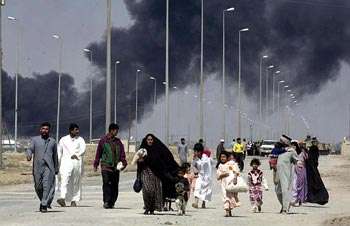 "Our interpretation of this is here perhaps are the first pieces of evidence of Iraqi people trying to break free from the Baath party regime and the militia," Col. Chris Vernon, a British military spokesman in southern Iraq, told Sky News Television. "And clearly the militia don't want that. They want to keep their population in there, and they fired on them to force them back in."
McCourt said a "couple of thousand" Iraqi civilians tried to break out of the city in the north and west, but came under fire from Iraqi paramilitary forces inside Basra.
"We are trying to save the people, return fire and rescue civilians," he said.
He said forces of the 1st Black Watch battalion in Warrior armored fighting vehicles were trying to wedge themselves between the militia fire and the civilians.
British pool reports described Iraqi forces with mortars mounted in pickup trucks firing on civilians fleeing from Basra, sending some running back into the city. Panicked women and children scattered on a bridge over a canal and down its embankments to avoid machine-gun fire, the reports said.
Some civilians made it safely over the bridge and out of town. One Iraqi woman badly wounded by shrapnel was carried into a British vehicle that whisked her off for treatment.
"The local regime in the city is still using fear as its principal instrument to keep the population in line," said one British commander, Maj. Lindsay MacDuff, in a pool report.
"We stopped one guy at a roadblock the other day who told us if we didn't let him escape to the south, either he or his family would be killed. We had to turn him back for security and safety reasons. The next time we spotted him, he was carrying a Kalashnikov in the opposition front line," MacDuff said.
"We can only hope the message gets through that we are here to offer them a lifeline."
U.N. Secretary-General Kofi Annan has warned of a humanitarian catastrophe if aid doesn't reach Basra soon.
On at least three separate occasions, British units and coalition aircraft have fired on enemy Iraqi tanks and other armored vehicles that have streamed out of the city.
On Thursday, at least 14 T-55 tanks heading south out of Basra toward the al-Faw peninsula were destroyed by coalition airpower and ground fire, British officials said.
Air Marshal Brian Burridge, the top British commander in the Gulf, said Thursday that Saddam's paramilitary forces in Basra were forcing regular army troops to fight, threatening to kill them or to harm their families.
The British say they are coming to the defense of Shiite Muslims who they say rose up in the streets against Saddam's Sunni Muslim regime on Tuesday.
British Prime Minister Tony Blair has promised backing for the insurgents.
Coalition forces have made no secret of their hopes to spur such uprisings in Basra. Iraq has denied there was an uprising.
Gen. Michael Jackson, the British chief of general staff, described the 7th Armored Brigade's task as "to keep watch on Basra, to start to change circumstances there, to continue exploit opportunities to unhinge the regime's control."
(Copyright 2003 by The Associated Press. All Rights Reserved.)
×