Estimated read time: 4-5 minutes
This archived news story is available only for your personal, non-commercial use. Information in the story may be outdated or superseded by additional information. Reading or replaying the story in its archived form does not constitute a republication of the story.
BAGHDAD, Iraq (AP) -- U.S. warplanes pounded communication and command facilities Friday in the most powerful bombardment of the capital in days. Iraq's defense minister was defiant, insisting the real battle for Baghdad will be prolonged, painful and street by street.
"The enemy must come inside Baghdad, and that will be its grave," Defense Minister Sultan Hashem Ahmed said. "We feel that this war must be prolonged so the enemy pays a high price."
Hours later, U.S. forces launched a strike defense officials said was meant to hamper communications between Saddam Hussein's leadership and his military. A B-2 bomber dropped two 4,700-pound, satellite-guided "bunker busting" bombs on a major communications tower on the east bank of the Tigris River in downtown Baghdad, the officials said.
The bombings, which started shortly after 11 p.m. Thursday, were the strongest felt in the city in days, sending flames and dense, orange smoke into the sky.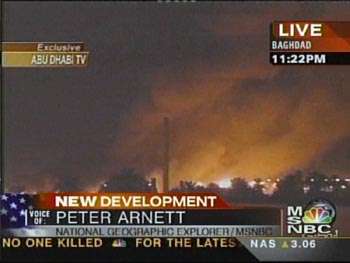 Powerful explosions continued through the night and after sunrise Friday. Aircraft were heard flying overhead, followed by intermittent bursts of anti-aircraft fire. The Palestine Hotel, where many reporters are staying, shook violently.
Ahmed told a press conference at a hotel in the capital that coalition troops would have to fight in the streets to take the city of 5 million. U.S. Defense Secretary Donald H. Rumsfeld, however, suggested Thursday that American troops might lay siege to the capital rather than invade, in hopes its citizens will rise up against the government.
During the night's bombardment, aircraft and Tomahawk missiles "took out communications and command and control facilities in the capital city," said Lt. Cmdr. Charles Owens, a spokesman at the command center in Camp As Sayliyah, Doha.
The Arab satellite station Al-Jazeera said Baghdad's main telephone exchange was hit. Smoke billowed from the area. The night before, U.S. and British planes bombed a different telecommunications center, disrupting communications in some parts of the capital.
Iraq's satellite television channel was cutting in and out after the strikes. The U.S. forces had hoped to knock out Iraqi television and radio to disable Iraqi leader Saddam's propaganda outlets.
Also targeted was a building inside the Old Palace presidential compound on the west bank of the Tigris, which includes a camp of the Republican Guard attacked last week.
Ships in the Mediterranean fired about 10 Tomahawks at targets in Baghdad and to the north. Other very strong explosions were heard southwest of Baghdad.
A U.S. military official said strikes were focusing on the Republican Guard's Hammurabi and Medina divisions, which are arrayed to the south, west and north of the capital. Witnesses said an unknown number of people were killed and injured in an attack on a housing complex for employees of a weapons-producing facility.
An explosion about 700 yards west of the Information Ministry sent scores of journalists fleeing. Anti-aircraft guns on the roof of the ministry opened fire, witnesses said, but there was no word on damage or casualties.
In northern Iraq, strikes in the Mosul area started at about 10:30 p.m.
Iraqi officials, speaking before the late night attacks, said Thursday that 36 civilians were killed and 215 injured in U.S. bombing a day earlier.
"They are targeting the human beings in Iraq to decrease their morale," Iraqi Health Minister Omeed Medhat Mubarak said of the air attacks. "They are not discriminating, differentiating."
The American military said there was no proof the deaths Wednesday were caused by U.S. missiles.
When Baghdad residents awoke Thursday to find a two-day sandstorm replaced by blue skies, it was an ominous sign. The vastly improved conditions would likely mean an increase in warplanes targeting the city.
Yet parts of Baghdad resumed life as usual -- hundreds of shoppers milling around, streets jammed with traffic. Jomaa al-Qurishi, 29, was selling newspaper at his usual spot near the east bank of the Tigris River.
The daily bombing of the Iraqi capital, he said, has not changed his routine.
"I have been selling newspapers at this spot for 13 years and no bombs are going to stop me," said al-Qurishi, back on the street Thursday. "Death comes to you at any time wherever you may be."
Baghdad's defenders rekindled fuel fires intended to obscure bombing targets, sending clouds of gray smoke drifting across the sky.
The smoke appeared to have little effect on Thursday's airstrikes. Neither did the fine coat of yellow desert sand that covered everything from cars to dining tables to books.
Iraqi state television reported Thursday that Saddam chaired a meeting of the ruling Baath Party, his top aides and his son, Qusai. No video was show, but it was reported that Saddam and the leadership urged Iraqi fighters to exploit the "exhaustion" of coalition forces.
Silent video was shown of another meeting of Saddam, Qusai and other party officials.
(Copyright 2003 by The Associated Press. All Rights Reserved.)
×
Most recent News stories