Estimated read time: 2-3 minutes
This archived news story is available only for your personal, non-commercial use. Information in the story may be outdated or superseded by additional information. Reading or replaying the story in its archived form does not constitute a republication of the story.
ABOARD THE USS KITTY HAWK (AP) -- A towering sandstorm over the Persian Gulf interrupted bombing missions Wednesday from at least one U.S. aircraft carrier and grounded coalition helicopters in southern Iraq.
Navy officials said only two F/A-18 Hornet fighters aboard the USS Kitty Hawk were able to launch before a swirling cloud of dust blowing in from the northwest enveloped the ship just after midday.
Visibility was reduced to less than 100 yards.
Flight operations resumed later Wednesday after a delay of about 41/2 hours. Most of the missed flights were canceled outright, and commanders would continue to make launch decisions on a case by case basis, said Lt. Brook DeWalt, a Kitty Hawk spokesman.
The bulk of sorties from the Kitty Hawk were scheduled for Wednesday night, and there would be little effect on the overall flight plan if there were no further cancellations, he said.
Planes were also returning to the ship, though the two Hornets were still waiting at nightfall for orders to come back. Those jets flew their mission but diverted to an air base in Kuwait rather than risk a dangerous landing on the Kitty Hawk.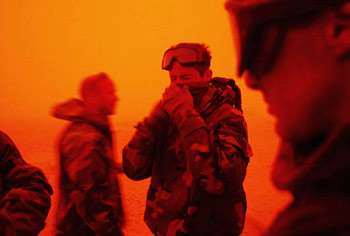 Landing is among the most dangerous parts of any mission for carrier-based pilots and reduced visibility increases the risks.
Pilots bring their planes in at around 150 mph, flying into a narrow lane between parked planes and ship infrastructure. They have to catch a cable with a hook trailing behind the plane and are jerked to a halt in 300 feet.
Warplanes from carriers in the Gulf have dropped scores of laser and satellite-guided bombs in the past few days in support of U.S. forces advancing on Baghdad. Kitty Hawk pilots have reported destroying Iraqi artillery, tanks, vehicles, ammunition stores and bunkers south of Baghdad that are believed to belong to Saddam Hussein's elite Republican Guard units.
The deteriorating weather has been of such concern to U.S. forces that commanders have ordered a switch in the type of ordnance being dropped.
In the first few days of the war, warplanes almost exclusively dropped laser-guided bombs that were steered to their targets by pilots who had a direct line of sight to the ground. Over the past two days, planes have been carrying global positioning system-guided bombs that use satellites to find a target.
(Copyright 2003 by The Associated Press. All Rights Reserved.)
×
Most recent News stories