Estimated read time: 5-6 minutes
This archived news story is available only for your personal, non-commercial use. Information in the story may be outdated or superseded by additional information. Reading or replaying the story in its archived form does not constitute a republication of the story.
NEAR BASRA, Iraq (AP) -- British forces at the gates of Basra engaged in fierce battles Tuesday with more than 1,000 Iraqi militia fighters, supporting what they said appeared to be civilian unrest developing against Saddam Hussein in the key southern city.
Maj. Gen. Peter Wall, second in command of British troops, said Basra's civilians were out in the streets "in significant numbers" and were "essentially being less compliant with the regime than they are normally."
"We don't know what has spurred them, we don't know the scale, we don't know the scope of it," he said. "We don't know where it will take us."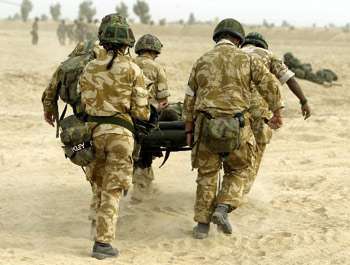 Coalition forces have made no secret of their hopes to spur such uprisings. The British were distributing leaflets and telling citizens on loudspeakers that aid was waiting outside the city, where many of the million-plus residents are drinking contaminated water and living under threat of outbreaks of diarrhea and cholera.
The main military goal remained the capital, Baghdad, and allied forces were closing in, their progress thwarted by blinding sandstorms. U.S.-led warplanes bombed targets in northern Iraq, and U.S. troops in control of a vast Iraqi air base sealed 36 bunkers, earmarked as possible sites of Saddam's elusive weapons of mass destruction.
Marines in the southern city of An Nasiriyah secured a hospital being used as a military staging area for Iraqi forces, capturing about unarmed 170 Iraqi soldiers and confiscating over 3,000 chemical suits with masks, stockpiles of ammunition and military uniforms, U.S. officials said. The Marines also found a T-55 tank on the compound.
The Marines had been fired at from the hospital the day before, officials said in a statement. The building had been clearly marked as a hospital by a flag with a Red Crescent, the symbol used in the Muslim world for the Red Cross.
Two British soldiers were killed by friendly fire near Basra. Col. Chris Vernon said the two men died when their Challenger II tank was mistakenly targeted by another Challenger crew on Monday evening.
American F/A-18 Super Hornet warplanes dropped satellite-guided bombs on central Basra, according to British reporters attached to military units -- the first strikes into the center of the city, aimed at military sites hidden in civilian buildings.
The British pool reports described thousands of residents of Iraq's second-largest city rampaging through the streets in the early evening and setting dozens of buildings ablaze. Basra's population is predominantly Shiite Muslim, and during the 1991 Gulf War the city took up arms against Saddam's Sunni Muslim regime in Baghdad. Government forces crushed the rebellion, killing thousands across the south.
In a telephone interview with Al-Jazeera television, Iraqi Information Minister Mohammed al-Sahhaf denied any uprising in Basra.
"The situation is stable," he said. "Resistance is continuing and we are teaching them more lessons."
Defense Secretary Donald H. Rumsfeld said he had not seen reports of an uprising in Basra, but was aware that fedayeen guerrillas loyal to Saddam were infiltrating the city.
Rumsfeld said he was "reluctant" to encourage uprisings explicitly. "I guess those of us my age remember uprisings in Eastern Europe back in the 1950s when they rose up and they were slaughtered," he said. "I am very careful about encouraging people to rise up. We know there are people in those cities ready to shoot them if they try to rise up."
But he added: "Anyone who's engaged in an uprising has a whole lot of courage and I sure hope they're successful."
Earlier Tuesday, British forces staged a raid into Az-Zubayr, a Basra suburb, and captured a senior Baath party politician for the region while killing 20 of his bodyguards, said Vernon, the British army spokesman. The official was in custody. Vernon also said armed irregular units were firing at British forces outside Basra, and that the Iraqis were apparently using civilians in front of them as human shields.
Coalition forces had hoped to avoid entering Basra, for fear of getting bogged down in urban warfare. But tenacious resistance in the city -- there are an estimated 1,000 pro-Saddam fighters, plus an unknown number of regular troops -- and growing shortages of food and clean water have compelled them to change their strategy.
The Iraqis were firing artillery from the center of the city at British troops, Vernon said, while the British confined their artillery to the city's outskirts, trying to identify clear military targets, especially tanks, and avoid civilian casualties.
The health threats in Basra appeared dire.
"The humanitarian situation in Basra is difficult, and very, very tense," said Muin Kassis of the International Committee of the Red Cross (ICRC) in neighboring Jordan.
Attempts by The Associated Press to reach Basra residents by telephone were unsuccessful, but international relief agencies had satellite-phone contact with aid workers in the city and expressed deep concern about the fate of trapped civilians.
"It's very alarming, very critical," said Veronique Taveau of the U.N. humanitarian office for Iraq.
The city's electrical power was knocked out Friday during U.S.-British bombing, apparently because high-voltage lines were destroyed. That in turn shut down Basra's water pumping and treatment plants.
The U.N. Children's Fund estimated up to 100,000 Basra children under the age of 5 were at immediate risk of severe disease from the unsafe water, especially life-threatening diarrhea.
The Red Cross reported Tuesday that its technicians reached the Wafa al-Quaid plant, north of the city, after getting security assurances from both sides. But the generators are only a stopgap.
As for Basra's casualties in the current conflict, no official word was directly available, although the Qatar-based Al-Jazeera television quoted Iraqi medics on Saturday as saying 50 people were killed in U.S. bombings.
The Arab network also broadcast grisly footage of civilian casualties in Basra, including a dead child with a horrible head wound -- a picture that aroused anger across the Arab world.
As coalition forces pressed on to Baghdad, British Prime Minister Tony Blair stressed Tuesday that the final miles on the road to the capital would be the most challenging, as U.S. Army troops faced the Medina division of Saddam's Republican Guard.
"This will plainly be a crucial moment," he said.
The Army met sporadic resistance on its journey north. Military reports estimated 500 Iraqis were killed during a two-day sweep by the Army's 3rd Infantry Division past the holy Shiite city of Najaf, said Command Sgt. Maj. Kenneth Preston of the Army's V Corps. At least 20 U.S. troops have been killed and 14 captured or missing since the operation began.
(Copyright 2003 by The Associated Press. All Rights Reserved.)
×
Most recent News stories