Estimated read time: 2-3 minutes
This archived news story is available only for your personal, non-commercial use. Information in the story may be outdated or superseded by additional information. Reading or replaying the story in its archived form does not constitute a republication of the story.
John Daley ReportingWith two weeks until the deadline, opponents of school vouchers say they're confident they'll exceed the number needed to put the issue on the ballot. Those behind the referendum push are now collecting and verifying thousands of signature packets. To put a repeal of the voucher legislation on the ballot, they need 92,000 signatures.
We stopped by UEA headquarters today where volunteers were checking signatures to make sure those who signed the petition are in fact registered voters. About 80% of the signatures gathered can be identified as registered voters and officially they've verified 35,000 signatures. But in all, they've distributed 17,000 signature packets; each one has space for 22 signatures, so potentially the number gathered and verified could exceed 300,000.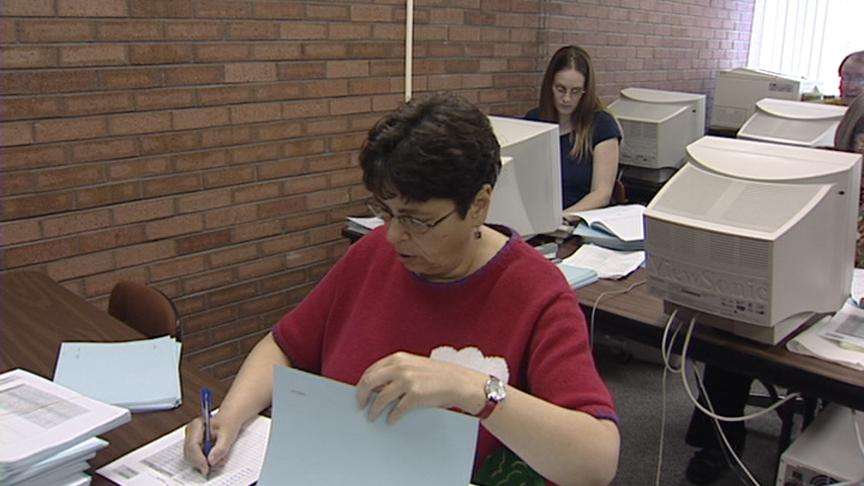 Either way, voucher opponents say they're clearly on target to exceed the 92,000-signature threshold.
Meantime, voucher supporters say they're hearing pervasive reports from a number of districts of violations of the rules, like teachers collecting signatures during work hours or teachers being pressured to participate, something voucher opponents deny.
"School teachers going around not on contract time collecting signatures (is) absolutely fair play," said Doug Holmes, chair of Parents for Choice in Education. "What we don't want is taxpayer dollars being used to advance the petition."
Teacher and former UEA President Pat Rusk said, "Quite frankly, we're too busy during the day to be out with petitions. But for example, if there's a parent teacher conference, which would be teacher contract time, the PTA is then doing that and making those available to parents, not the teachers."
Rusk says the push is now on to get those 17,000 signature packets returned soon so they can be verified and turned into the lieutenant governor's office by April 9. If they meet the 92,000 signature requirement this controversial measure could be placed on the ballot for a special election later this year.
×
Most recent Utah stories