Estimated read time: 4-5 minutes
This archived news story is available only for your personal, non-commercial use. Information in the story may be outdated or superseded by additional information. Reading or replaying the story in its archived form does not constitute a republication of the story.
DERBY, Kan. (AP) -- The half brother of a Kansas soldier held captive in Iraq said he wants the United States to finish the war "as fast as possible" so his brother can come home.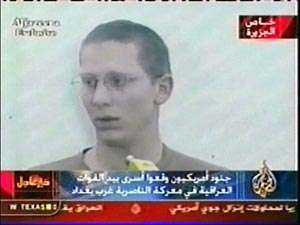 The family of 23-year-old Pfc. Patrick Miller said he was one of five prisoners of war seen Sunday answering questions on Iraqi television. There also was footage of at least four bodies.
The soldier's half brother, Thomas Hershberger, 27, said his mother spoke to Miller's wife Sunday. She had received confirmation from the military that Miller was being held by the Iraqis, he said.
"She is not doing the best right now," he said of his mother, who lives in New Mexico. "I haven't had a conversation with her without her crying."
Also Sunday, the mother of another captured soldier offered a plea to President Bush. "Please do something for my son," Anecita Hudson said of Army Spc. Joseph Hudson, 23, of Alamogordo, N.M.
Members of another family told NBC's "Today" show Monday that the only woman among the captives seen on Iraqi video was their loved one, Army Spc. Shoshawna Johnson. They said she was the daughter of a military man and grew up near Fort Bliss in Texas.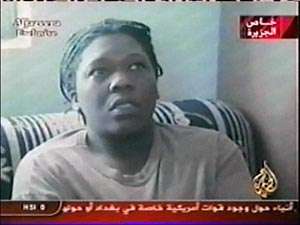 "I can't imagine what she's going through," said a cousin, Tracy Thorn. "I can't begin to imagine what she's feeling. She looks scared."
Thorn said she heard the news from her mother Sunday, adding, "You know, hundreds of thousands of soldiers are out there. You never think that one of your family members would be one of those to be taken captive."
Jean Offutt, a spokeswoman for Fort Bliss in Texas, said 10 or more of those who were missing Sunday were with the 507th Maintenance Company, which deployed last month with the 11th Air Defense Artillery Brigade. The 507th is not considered a combat unit, officials said.
The video footage aired on Iraqi TV showed Miller answering questions in a shaky voice, his eyes darting back and forth between an interviewer and another person who couldn't be seen on camera.
Asked why he came to Iraq, he replied, "I come to fix broke stuff."
Asked if he came to shoot Iraqis, he answered, "No, I come to shoot only if I am shot at. They don't bother me, I don't bother them."
Miller, of the Wichita area, graduated from Valley Center High School. He and his family had been living in Texas, but his wife, Jessa, and their two children moved back to Park City to live with her mother when Miller was deployed in December. Valley Center and Park City are near Wichita.
Hershberger said Miller has a 4-year-old son and 7-month-old daughter. Miller was a welder before joining the military last summer to help pay student loans, he said.
Hershberger said his mother was not happy when Miller was deployed overseas, but Miller did not seem overly concerned.
"He is kind of cocky -- he didn't act scared at all," Hershberger said.
Hershberger said he did not know how his brother felt about going to Iraq, adding that he didn't know himself whether the United States should have gone to war with Iraq.
"I feel action should be taken for terrorists, but I think the U.S. government only has itself to blame for terrorists feeling the way they do," he said. "(The United States) puts themselves in other people's business that they shouldn't have been in."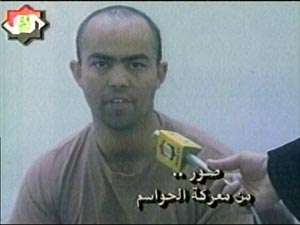 Hudson's mother said her son identified himself on the video but didn't give any more information. She said he appeared to be uninjured, unlike some of the others in the video.
"It's like a bad dream, seeing your son get captured on TV," she said. Mrs. Hudson, who is of Filipino ancestry, said she saw the footage on a Filipino station she subscribes to.
A 1998 graduate of Alamogordo High School, Joseph Hudson did weight training at the school and liked fishing, bowling and card games, his mother said.
"I'm just praying that the other people (in the military) will get him out of there," said Mrs. Hudson, 53.
She said her son joined the Army to have a good future, not to fight. He is a mechanic who specializes in fixing trucks, she said.
(Copyright 2003 by The Associated Press. All Rights Reserved.)
×
Most recent News stories