Estimated read time: 5-6 minutes
This archived news story is available only for your personal, non-commercial use. Information in the story may be outdated or superseded by additional information. Reading or replaying the story in its archived form does not constitute a republication of the story.
IN THE KUWAITI DESERT (AP) -- Long columns of U.S. troops, armored vehicles and trucks advanced through swirling sand toward the Iraqi border Wednesday, positioning themselves to invade on short notice.
With just hours left before President Bush's deadline for Saddam Hussein to leave Iraq, Maj. Gen. Buford Blount III, commander of the 3rd Infantry Division, ordered his 20,000 soldiers and 10,000 tanks, Bradley fighting vehicles and fuel trucks to line up near the border.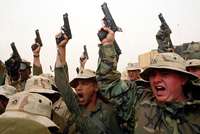 One battalion chaplain led troops in a Seminole war dance, and the company commander told the men to remove the American flags that fluttered from the tops of the tanks because "we will be entering Iraq as an army of liberation, not domination."
The soldiers had slept under the stars after packing their tents into the back of their convoy, where they will likely stay until the worst of the fighting is over.
The 3rd Infantry Division is the only armored force in the region and is likely to attack Iraqi defenses head-on in the event of war. Troops of the 101st are expected to be flown in on helicopters to seize key installations ahead of the 3rd Division.
At the Army's Camp New Jersey, the commander of the 101st Airborne Division' 3rd Brigade summoned his officers for a "battle update" briefing. "We are one day closer to making history, everybody," said Col. Michael Linnington.
A strong sandstorm swept in Wednesday, affecting several units and hampering movement and visibility. The winds later died down, but a lot of haze remained, with visibility a little over a mile.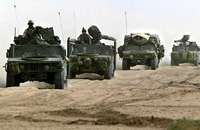 Maj. Gen. David Petraeus, commanding general of the 101st Airborne Division, said, "We always watch the weather because it has an effect on flying conditions and really a lot of the activities you can see. Everything takes a little bit longer."
"It'll slow things down somewhat, but our soldiers will get everything done in the end," Petraeus said.
About 300,000 troops -- most of them from the United States, about 40,000 from Britain -- waited within striking distance of Iraq. Backing them were scores of attack helicopters and more than 1,000 airplanes.
At sea, the aircraft carriers USS Theodore Roosevelt and Harry S. Truman moved a step closer to war footing, getting ready to conduct operation flights around the clock.
On the USS Theodore Roosevelt, combat pilots and others were ordered to snooze through the day Wednesday so they could work through the night. Those on the USS Harry S. Truman remained on day duty -- thus providing round-the-clock combat capability.
Near the war zone, commander Tommy Franks hunkered down with other top military officers at the forward command center in Qatar, about 700 miles from Baghdad.
"He wants to make sure that the commanders have thought about every possible contingency that you can," said U.S. Central Command spokesman Jim Wilkinson said of Franks.
"But he also is realistic enough, and has been around enough, to know that every military plan changes once the first bullet's fired."
Equipment, supplies and troops continued to arrive in Kuwait, where most of the U.S. and British ground troops preparing to invade Iraq were awaiting their final orders. Military officials said there was no last-minute surge in activity at Kuwait's ports and airfields because front-line units were already prepared.
In the desert near the border with Iraq, U.S. troops packed up their gear and loaded it onto cargo trucks and armored vehicles. Soldiers said they were a bit apprehensive but ready to move into Iraq.
"I'm kind of excited, wanting to see if we go north. The faster we do, the faster we go home," said Spc. Servando Diaz of San Jose, Calif.
After driving in a convoy for several hours, members of the 3rd Infantry Division's A Company, 3rd Battalion, 7th Infantry Regiment took up a defensive position along with two tank companies. Climbing down from the turrets, the men's faces were crusted with dirt from the sandstorm and the sand kicked up by the Bradley fighting vehicles and Abrams tanks.
"We've got a lot farther to go," said Capt. Chris Carter of Watkinsville, Ga. With infantrymen surrounding his headquarters vehicles on one side, and tanks on the other, he positioned them into a windbreak.
Earlier, the commander of A Company, 4th Battalion, 64th Armor Regiment, which is also part of the 3rd Infantry Division, rallied his troops before leading them to the Iraqi border.
After a brief prayer, the battalion chaplain, Capt. Philip Wolford of Marysville, Ohio, led the troops in a Seminole Indian war dance. After making sure their weapons were empty, the men started chanting, jumping up and down with their weapons in the air.
The company commander told them to take down the U.S. flags from the tops of the tanks.
"We will be entering Iraq as an army of liberation, not domination, so it would not be right to go in with the American flag flying," Capt. Chris Carter said.
The aircraft carrier USS Kitty Hawk met with an ammunition ship, the USNS Flint, to load more 1,000-pound Joint Direct Attack Munition bombs and Phoenix air-to-air missiles. Crews waited to load the weapons onto the carrier's F/A-18 and F-14 warplanes.
"We might be able to use them quickly," said Capt. Thomas A. Parker, the carrier's commander. "We've got some room down below, so we're going to fill her up with as much as we can hold."
U.S. officials also continued planning for governing Iraq after Saddam. The man who would be Iraq's civil administrator after the U.S. takes control, retired Army Lt. Gen. Jay Garner, was in Kuwait as those preparations continued.
(Copyright 2003 by The Associated Press. All Rights Reserved.)
×
Most recent News stories