Estimated read time: 5-6 minutes
This archived news story is available only for your personal, non-commercial use. Information in the story may be outdated or superseded by additional information. Reading or replaying the story in its archived form does not constitute a republication of the story.
SAN DIEGO (AP) -- Elizabeth Smart's kidnapper was in police custody in California for six days during her abduction, police said.
The revelation that the man and Elizabeth had been living in plain sight also came as a surprise to local law enforcement authorities, who had arrested Brian David Mitchell a month ago.
The man known as Emmanuel has been identified as Brian David Mitchell, a drifter who once worked at the Smart family's home. He and his wife, Wanda Barzee, were jailed on suspicion of aggravated kidnapping.
Under the alias of Michael Jensen, Mitchell was arrested by San Diego County Sheriff's deputies on Feb. 12 for vandalizing a Lakeside church, sheriff and FBI sources said. He pleaded guilty, was released on probation Feb. 18 and fined $250, FBI spokeswoman Jan Caldwell said. It's not clear from court records whether he paid the fine.
Fingerprint comparisons Thursday showed that Mitchell and Jensen were the same person, Caldwell said.
Sheriff's spokesman Chris Saunders said Thursday a fingerprint check immediately after the arrest confirmed the man had given deputies a false identity and that he was Mitchell. But he said deputies had no reason to keep him in custody under the false name.
"There were no warrants on him," Saunders said. "If we had to do it over again, there's really nothing different we could have done because Salt Lake City authorities didn't identify him as a suspect until March 1."
Mitchell's California arrest happened after a sketch of Mitchell had been shown on America's Most Wanted and police had confirmed they wanted to speak with him about Smart's disappearance.
But FBI special agent Chip Burrus said Thursday in Salt Lake City that Mitchell's background did not include violence or sexual crimes and no all-points bulletin had been issued.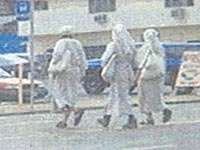 Mitchell called himself Emmanuel and claimed to be divine. For several weeks, residents of Lakeside, a rural community near San Diego, noticed the bearded man in a long tunic who walked the streets and preached the Gospel.
The two women who followed him, covered in robes and veils, spoke to no one.
"We never associated them with the missing girl in Utah," said Terri Sparks, who often saw the trio as they walked past the recycling station she runs in a store parking lot.
On Thursday, people in the unincorporated town 25 miles east of downtown San Diego said they were shocked to learn that the girl was Elizabeth Smart, the Utah teenager who had been missing since last June. She was found in Utah on Wednesday and reunited with her family.
Merchants and transients near Lindo Lake, in the center of Lakeside, said they first noticed the man and two women last fall. Some thought they had seen them here as recently as two weeks ago.
The three largely kept to themselves, especially the woman and the girl. The man known as Emmanuel claimed the girl was his daughter.
"Hey, did you hear about Emmanuel? He had kidnapped that girl," Roger Ruis, a 39-year-old homeless man, told friends gathered at a park where the trio routinely spent their days.
"They were always very pleasant," said Richard Mason, a 45-year-old homeless man. "She didn't seem like she was kidnapped. She acted like she was part of the family."
The three sometimes ate lunch next to the lake, where on Thursday mothers played with children and passers-by fed sandwich bread to ducks and geese. The woman and girl would keep their veils on even when eating.
"The only part of the body you could see was their eyes," said John Neal, a 40-year-old homeless man. "We were joking about it. We thought it was pretty strange."
They often were seen walking or riding buses.
"I caught him going through my stuff once, looking for some clothes I guess," said Richard Mason, a 45-year-old transient.
Mason said they sometimes slept under a highway bridge near a river bed where many homeless camp at night. On Thursday, the FBI was searching a campsite reportedly used by Mitchell in Santee, four miles from Lakeside.
Many who spoke to Mitchell said he passed out religious fliers and attempted to preach to them. Clay Ruis, Roger Ruis' 47-year-old brother, said he asked once if the women wore veils because they were Muslim.
"He said, 'No. The women are veiled to protect them from the sins of the world,"' he recalled.
Speaking once about the name "Emmanuel," Clay Ruis said he noted it means "God is with us." Mitchell responded, "Yes, I am that person."
Several of the transients said Mitchell liked to drink beer. When he did, he would preach more fervently and claim to be Jesus Christ.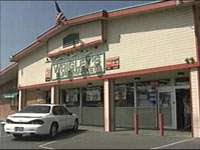 Rafe Potres, the owner of a convenience store across from the lake, said Mitchell came in daily to buy a large can of a high-alcohol-content beer. He would ask the women if they wanted something to drink.
"They would say not a single word. All they did was nod their heads," Potres said.
Elizabeth would select a can of Sierra Mist soda, and Emmanuel would pay with change he pulled out of a cloth pouch.
Potres said he was disturbed to learn that Elizabeth had been in his store and he had not made the connection.
"I could have done something, you know?" he said. "The next time someone raises my suspicion, I'm going to think twice."
(Copyright 2003 by The Associated Press. All Rights Reserved
×
Most recent News stories