Estimated read time: 8-9 minutes
This archived news story is available only for your personal, non-commercial use. Information in the story may be outdated or superseded by additional information. Reading or replaying the story in its archived form does not constitute a republication of the story.
Watch RealVideo of Entire Ed Smart News Conference SALT LAKE CITY (AP) -- A joyous Ed Smart thanked the public Thursday for its help and prayers in bringing his vanished daughter home. He called her alleged captor an "animal."
Elizabeth, found Wednesday with a drifter, spent her first few hours at home playing the harp and watching a favorite movie, "The Trouble With Angels, he said.
"It's real!" he said, thrusting his arms high. "I can't begin to tell you how happy I am, what an absolute miracle and answer to prayers this has been."
Asked to describe the change in his daughter, Smart said, "She's really a young woman."
Smart recounted the hours after Elizabeth Smart disappeared from her bedroom in the middle of the night last June, and how hundreds of searchers combed the canyons behind her home, calling her name and looking for any sign she had passed that way.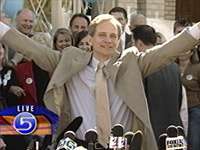 "She absolutely heard people calling for her," Ed Smart said. "She said that she has spent months right up here in the mountains, through August. I can't believe it. She had no idea. Absolutely no idea."
She also saw the powder blue ribbons -- her favorite color -- that festooned fences, stop signs and power poles.
As the Smart family and investigators began piecing together what had happened to 15-year-old Elizabeth, Brian Mitchell and Wanda Barzee were being held in the Salt Lake County jail on suspicion of aggravated kidnapping, said Kent Morgan, Salt Lake County's deputy district attorney.
Smart sounded forgiving of police. He had previously accused them of acting slowly in pursuing Mitchell and concentrating too hard on handyman Richard Ricci.
"I believe that some mistakes have been made but I know they were trying," he said. "Our whole focus was on bringing Elizabeth back."
Elizabeth was found with the couple Wednesday after sharp-eyed residents led police to the 15-year-old, who walking with them down a suburban street. Elizbeth and Barzee were wearing bedraggled veils and carrying bedrolls and bags, and all three were in wigs, authorities said.
Months earlier, Elizabeth's 10-year-old sister, Mary Katherine, had told her parents she thought a man they knew as Emmanuel, a drifter who had worked for the family for a day, could be the kidnapper.
"When I was up there on the roof with him, I never could have guessed," Ed Smart said Thursday. "He was so soft-spoken he was so quiet. I never would have guessed that such an animal would have existed behind such a person."
Emmanuel was identified last month as Mitchell, a man who believed he was a prophet chosen to preach to the homeless.
As her tearful parents embraced their daughter Wednesday afternoon, investigators began trying to answer the questions on everyone's minds: How was Elizabeth taken? Where did she go? What kept her from crying out for help even as she roamed the streets just minutes from her home?
Formal charges haven't yet been filed against Mitchell, 49, or Barzee. Federal and Salt Lake County investigators and prosecutors were to meet Thursday morning, Morgan said, to begin sifting through "a great deal of information" before deciding what charges should be filed and in what jurisdiction, federal or state.
Morgan said he expected no decisions for several days. Federal prosecutors could file charges if Elizabeth was taken out of Utah during the ordeal, as investigators believe.
Ed Smart said Thursday that he had not asked his daughter for details about her nine months away from home.
"Physically she's OK," he told CBS's "The Early Show." "I know that she's been through brainwashing. For her to have gone through the past nine months has just been horrible, absolutely horrible."
Barzee's stepdaughter, Louree Gayler, was 12 when her mother married Mitchell. She said they prayed for hours and expected her to do the same, and that she felt uncomfortable and went to live with her father after three years.
"There could have been a little bit of a brainwashing, they're very good at that," Gayler, now 27, told NBC's "Today" show. "Or there could have been drugs involved."
She said Elizabeth may have been kidnapped to "give my mom back something she lost. Elizabeth resembles me at 15," she told the Tribune.
Asked if her stepfather was sexually abusive, she said there were "hugs, kisses that were kind of uncalled for" and she was sometimes uncomfortable with the way he stared at her.
"He shot a dog in front of us, made me eat my own rabbit for dinner, things like that," she told "The Early Show."
Rudy and Nancy Montoya had spotted Mitchell walking with two people in Sandy, a Salt Lake City suburb, and Rudy Montoya said he recognized the man from television reports.
The Montoyas called police just as Anita and Alvin Dickerson drove past the trio, had the same thought about Mitchell and stopped their car. Anita said she walked up to the man and looked him in the eye.
"I knew it was him from the pictures I had seen on television," she said.
What she didn't realize was that the veiled person walking between the two adults was Elizabeth. "I thought she was an older lady wearing a scarf," Dickerson said.
Sandy Police Chief Stephen Chapman told CNN this morning that Elizabeth did not immediately reveal her identity to police.
"It took some time before we could actually determine that it was her," Chapman said. "Under the circumstances, that was probably very normal.
"I think there's a fear factor that we have to look at."
Chapman said Elizabeth had explained why she was wearing a veil, wig and sunglasses, but he declined to elaborate. He also wouldn't comment on whether she was abused, and said he didn't know if she had tried to escape.
Ed Smart said he got a call Wednesday from the Sandy police telling him to come straight to the station, but he wasn't told why. He said he was taken to a room and then told there was someone he should see.
"There she was, sitting on the sofa," Smart told "The John Walsh Show" Thursday. He said he and his daughter embraced, and he held her out so he could take a good look at the girl he hadn't seen in nine months.
"'Is it really you?"' he said he asked. "And she said, yes."
When he called his wife to tell her the news, he said: "'Lois, you're not going to believe this. Elizabeth is in my arms.'
"All of the children out there deserve to come back to their parents the way Elizabeth has come back to us," he said, breaking into tears. "It is nothing but a miracle. I just held her, held her all the way home."
Elizabeth's uncle Dave Smart said she appeared well-fed. She was examined at a hospital and taken home.
"We have Elizabeth, we have the person who took her," Dave Smart said. "You couldn't ask for any better closure than that."
Salt Lake City Police Chief Rick Dinse said investigators were convinced Elizabeth was kidnapped and held against her will.
As they tried to piece together the events of the past nine months, details emerged that she might have been as far away as California.
Elizabeth told her father she spent some of the time in San Diego, Chris Thomas said. Witnesses had reported seeing Mitchell and two female companions at a San Diego County grocery store around Christmas.
Daniel Trotta, 24, told The Associated Press that he believed Elizabeth, Mitchell and Barzee had stayed in his basement apartment in Salt Lake City for nearly a week in October. Trotta had befriended Mitchell, a customer at the health-food store where he once worked, and invited the couple and the girl who was with them to stay because they had no home.
Mitchell introduced the girl as his daughter, Trotta said. She said little, always wore a veil and made no effort to escape. Trotta said when he asked once for her name, Mitchell ordered the girl not to respond.
Trotta went to police Sunday after he recognized Mitchell on "America's Most Wanted." He said police dusted his apartment for fingerprints Tuesday. A police spokeswoman could not immediately confirm that officers had been to the apartment.
Mitchell's relatives have described him as a self-proclaimed prophet and outdoorsman who has lived in a teepee in mountains outside the city.
Elizabeth's mother, Lois Smart, said in February that she met Mitchell in downtown Salt Lake City when he asked her for money. She gave him $5 and hired him to help her husband repair their home's roof in November 2001. He worked at the home for about five hours. Seven months later, Elizabeth disappeared.
Police initially focused on another handyman who worked for the Smarts, Ricci, who denied being involved in Elizabeth's disappearance. He died in August while in prison on a parole violation.
The Smart family grew increasingly critical of police for focusing too much on Ricci. In mid-October, 10-year-old Mary Katherine, the sole witness, told her parents she thought Mitchell could have been the abductor. Mitchell's sister called authorities after the Smart family held a news conference Feb. 3, and she provided a photo of her brother.
When Elizabeth and Mary Katherine were reunited Wednesday, "it was one big hug and tears -- tears of joy," Ed Smart told Walsh on Thursday.
"We just got on our knees in the police conference room and prayed and thanked God for this miracle."
Though Elizabeth appeared to be physically healthy, Ed Smart said he and his wife knew the ordeal wasn't over.
"It's a very, very hard time. We are so, so disturbed about what Elizabeth has been through," he told Walsh. "We are so grateful, we are so grateful to be united as a family and we know that this is a but a moment, and life will go on."
×
Most recent News stories