Estimated read time: 6-7 minutes
This archived news story is available only for your personal, non-commercial use. Information in the story may be outdated or superseded by additional information. Reading or replaying the story in its archived form does not constitute a republication of the story.
NOTE: The following report is from Wednesday, March 12, 2003, the day that Elizabeth Smart was found: SALT LAKE CITY (AP) -- Elizabeth Smart, the 15-year-old girl who vanished from her bedroom nine months ago, was found alive Wednesday in a Salt Lake City suburb with a drifter who had once done work at the family's home.
The man, recently identified by Elizabeth's sister as the potential abductor, was taken into custody and the teenager was whisked away to a long-awaited reunion with her family.
"All of the children out there deserve to come back to their parents the way Elizabeth has come back to us," father Ed Smart as he broke into sobs. "It is nothing but a miracle. I just held her, held her the whole way home.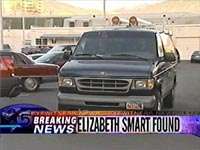 Authorities said Elizabeth, the drifter known as Emmanuel and a woman were all wearing wigs when they were stopped along a street in suburban Sandy, about 20 miles south of Salt Lake City.
Relatives of Emmanuel, whose real name is Brian Mitchell, have described him as a self-appointed prophet for the homeless who has lived in a teepee in the mountains outside the city. He was hired by the Smarts in November 2001 to work on their roof. Elizabeth disappeared seven months later.
Mitchell and the second suspect, identified only as Wanda Barzee, were in custody at the Sandy police station. No charges were immediately filed, but Salt Lake City Police Chief Rick Dinse said: "We are convinced she was kidnapped."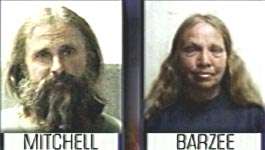 At 12:52 p.m., Rudy and Nancy Montoya of West Jordan, another Salt Lake suburb, called the police after they saw three people carrying bedrolls and bags walking down the street.
A minute later, Sandy police received a second call, from Anita and Alvin Dickerson.
Anita Dickerson, thinking that the man resembled the suspect, left her car and looked him in the eye. She didn't know at the time that the girl was Elizabeth, but instead thought she was an older woman wearing a scarf, she told The Associated Press.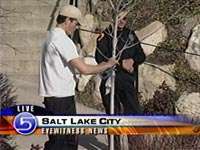 "Lots of people had to see them, they just didn't put two and two together," Alvin Dickerson said.
Asked whether he believed Elizabeth was held against her will, Salt Lake police chief Dinse said: "At this point, yes, I do." He did not offer a potential motive.
Witness John Ferguson said the arrest involved a man who looked like a transient and two women wearing unusual clothing.
He said the women had "longer clothing on, blue almost like a pillow case ... over the face almost like a veil. They were all just kind of calmly talking to the police," Ferguson told KSL television.
Elizabeth disappeared last summer, part of a frightening string of incidents involving children that included the slayings of 7-year-old Danielle van Dam of San Diego and 5-year-old Samantha Runnion of Orange County, Calif.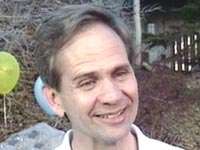 Ed Smart said his daughter's return "is going to be absolutely wonderful. I don't know what she's gone through, and I'm sure she's been through hell."
Smart then urged lawmakers to pass a nationwide Amber Alert, the system many states use to notify the public to missing children cases through media outlets.
News that Elizabeth was alive touched off a celebration in front of the Smarts' home in affluent Federal Heights, with neighbors and members of the family's Mormon ward holding blue and yellow balloons.
"How can I even talk? This is such a miracle," said Lynne Godfrey, 57, a neighbor. "I had given up hope -- I mean, where would she have been? Who would have taken care of her for a year?"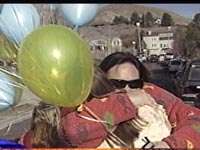 A month ago, the Smarts held a news conference and released a sketch of a long-haired, bearded Mitchell. As recently as Tuesday, the family openly criticized police for not devoting enough attention to the former handyman.
Mitchell's sister called authorities with his identity after the family's Feb. 3 news conference. The man's stepson, Mark Thompson, gave investigators photos of a clean-shaven Mitchell and said his stepfather was "capable" of kidnapping a child.
He also said Mitchell believes he is a prophet who needs to preach to the homeless and has no source of income other than handouts.
Mitchell was often seen panhandling and preaching to the homeless in downtown Salt Lake City before Elizabeth's disappearance.
Elizabeth's mother, Lois Smart, has said she met Mitchell downtown when he asked for money. She gave him $5 and hired him to help her husband work on the roof. He worked for about five hours and the family didn't see him again.
Elizabeth was 14 when she vanished early on the morning of June 5. Her 9-year-old sister, Mary Katherine, said Elizabeth was taken by a man who may have gotten into the house by cutting a window screen near the back door. The sister pretended to be asleep, and she said the gunman threatened to hurt Elizabeth if she didn't keep quiet.
Last month, Elizabeth's parents said Mary Katherine had come to them recently to say "Emmanuel" bore some resemblance to the kidnapper. This week, they chastised police for not going after Mitchell.
"It is truly a miracle to me that she was able to come up with him," Ed Smart said Wednesday. "It is nothing but a miracle."
Smith had earlier expressed his "frustration" at public statements made by police dismissing Mitchell as a potential suspect.
Police said they followed up more than 16,000 leads from the public in addition to those they came up with themselves.
The San Diego County Sheriff's Department said there had been sightings of Mitchell near San Diego within the past couple of weeks. Police there said that three employees of a Lakeside, Calif.-area market recognized Mitchell when shown his photograph on Wednesday, but tht the sightings were uncomfirmed.
For months, the top potential suspect was Richard Ricci, a handyman who once worked in the Smart household. He insisted he had nothing to do with the kidnapping, and he died Aug. 30 after suffering a cerebral hemorrhage while in prison on a parole violation.
Ricci's widow, Angela, heard the news late Wednesday afternoon.
"It's a very joyous day for us and the Smarts," she said. "We had lots of support."
Over the summer, the Smarts held twice-daily news briefings and thousands of volunteers combed the foothills of Salt Lake City, searching under brush for any sign of the blonde girl.
The family often got calls from the police alerting them to grisly discoveries that might be linked to their missing daughter; they wanted the Smarts to know before the story hit the news.
Sometimes, the news beat the police. Hands and feet had been found in a canyon, or bones had been discovered in the desert. The Smarts would call police to ask if it was Elizabeth. Every time, the answer was no.
Children's advocates were elated by the good news.
"We are very, very relieved," said Marilyn Ward, director of Child Search, a national missing children center based in Houston. "This should help the cause of missing children everywhere. We are thankful she's alive. It gives hope to people to never give up."
LDS church leaders issued a statement thanking people for their help and prayers.
"We rejoice with the family," the church said.
(Copyright 2003 by The Associated Press. All Rights Reserved.)
×
Most recent News stories