Estimated read time: 1-2 minutes
This archived news story is available only for your personal, non-commercial use. Information in the story may be outdated or superseded by additional information. Reading or replaying the story in its archived form does not constitute a republication of the story.
John Daley ReportingShe survived the death of her mother, now her father has been identified, but her condition is still very precarious. Those details came out in court today in the case of "Baby Woundedhead," the baby delivered prematurely from her dying mother.
The baby is still in critical condition, still fighting for her life. Meantime, her situation has triggered a series of difficult legal questions, questions that will ultimately be determined in court, if she survives.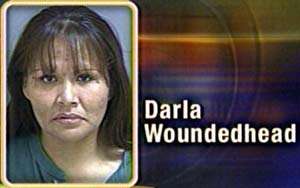 You'll recall that the girl's pregnant mother, Darla Woundhead, was shot in the chest last month in the doorway of a room at a Salt Lake motel. The mother died, but doctors were able to deliver the baby about two months early by emergency C-section.
The child is listed in critical condition at LDS Hospital. She's temporarily under the custody of the state and today in court a state guardian said the girl is stable, but on life support, unable to breathe on her own, and may have some brain damage requiring surgery.
Carol Cisco, Human Services Spokesperson: "You just think about a child being born after her mom was murdered and say what a way to come into the world. It's a tough one."
Today in court the state revealed that a paternity test has identified the baby's father as Carlos Najera. Now the father will be included in future court hearings to determine the baby's custody. Woundedhead is a member of the Oglala-Sioux tribe and the tribe is also involved interested in the baby girl's custody.
So there's a lot still to be resolved, and of course everything depends on the child surviving. Her uncle, who was in court today, tells us they family believes she will make it.
×
Most recent Utah stories