SEATTLE — Real Salt Lake was arguably the worst road team in Major League Soccer, one of three teams without an away win and a minus-11 goal-differential before Saturday's match.
RSL's opponent, Seattle Sounders FC, was one of the worst teams at home, with just a 1-2-1 record at CenturyLink Field in 2018.
Something had to give — and it did.
Sebastian "Bofo" Saucedo scored his first career MLS goal, and goalkeeper Nick Rimando made four saves to make it stand up, as Real Salt Lake earned its first win on the road, 1-0 over Seattle at CenturyLink Field.
It was RSL's first road win since August 13, 2017 at D.C. United.
"We go away, and the fans criticize us. But we want to win," Saucedo said on the KSL.com live stream. "We don't want to go to an away game and lose. We want to get a result for the fans, and for everyone to be happy.
"Today is a special day. We got our first away (win), and we'll just build from here."
Salt Lake (5-6-1) held 58 percent of possession in the first half. But Seattle out-shot the visitors 5-0, including two shots on target during a chippy opening 45 minutes that saw five yellow cards.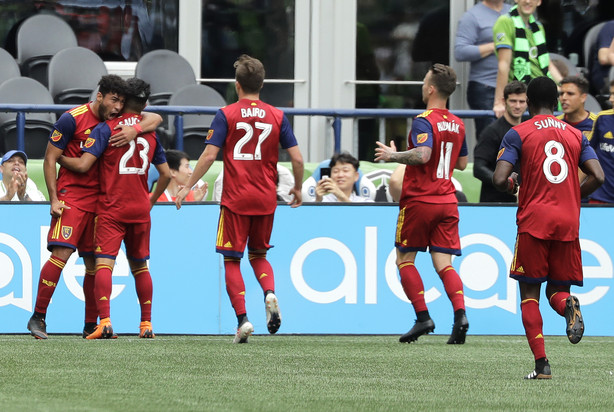 Cristian Roldan nearly gave the Sounders a 1-0 lead just before halftime. But RSL center back Marcelo Silva's sliding save in the six-yard box kept the ball out of the back of the net and helped Salt Lake to a scoreless draw at the break.
"We knew in the beginning of the game, we were going to be under extreme pressure," RSL coach Mike Petke said. "But we got very organized, and we had a good feeling coming into halftime. We knew the game was going to open up.
"I thought we played some really beautiful soccer at times, and moved the ball really well."
Saucedo opened the scoring with RSL's second shot on goal of the match in the 61st minute. After taking a pass from fellow RSL homegrown player Danilo Acosta, the 21-year-old Park City native ripped a right-footed blast that soared past Seattle goalkeeper Stefan Frei, and the visitors took a lead at CenturyLink Field.
"Coming in from the Philly game, I took a couple of shots — and obviously I want to score a goal. That's what a striker wants," said Saucedo as he was being doused with water by screaming teammate Albert Rusnak.
"This game...I was able to keep it on target and place it where I wanted."
Chad Marshall nearly equalized in the second minute of stoppage time for Seattle (2-6-2), but Rimando scooped up the free header in the 18-yard box to maintain the shutout and keep his 140th career clean sheet.
"The last thing that Nick put on the white board was 'keep a shutout,'" Acosta said after the match. "It means a lot. We've been giving up a lot of goals in the back. But overall, the team today played very well. Now we'll forget about this game and move on to the next one. We've got to be consistent, and that's all that matters."
Photos
Related Stories
0 Pending Comments
Sorry, we are not accepting new comments on this story, but if you have more to contribute please email
newstip@ksl.com
Showing of 3 comments
Sorry, we are not accepting new comments on this story, but if you have more to contribute please email
newstip@ksl.com