PROVO — For three of four quarters, the BYU women's basketball team went toe-to-toe with an SEC foe in a Saturday home matinee.
But that one quarter was all the difference.
Caliya Robinson had 21 points and six rebounds on 9-of-13 shooting, and Mackenzie Engram and Taja Cole each added 15 points as undefeated Georgia used a 23-10 second quarter to pull away for a 79-63 win over BYU Saturday afternoon in the Marriott Center.
Four players scored in double figures for the Bulldogs (5-0), including Que Morrison, who supplied 11 points and three assists.
"Georgia is a very good team," BYU coach Jeff Judkins said. "I was really impressed with their bigs. They outplayed us.
"Usually we're dominating the inside presence, so you've got to give them a lot of credit for that."
Cassie Broadhead Devashrayee poured in 21 points, five rebounds and three steals to lead BYU, and Brenna Chase added 15 points and four assists for the Cougars (3-2).
The Cougars shot just 35 percent from the field, but drained 6-of-15 3-pointers to pull within striking distance down the stretch. That came after a second quarter when the Cougars made just 2-of-11 shots from the field.
BYU held the Bulldogs without a made field goal until Cole scored in transition with 6:04 left in the first quarter. That ignited a 9-0 run to give Georgia a 9-2 lead, but the Cougars pulled back within one on Jasmine Moody's 3-pointer to end the first quarter down 13-12.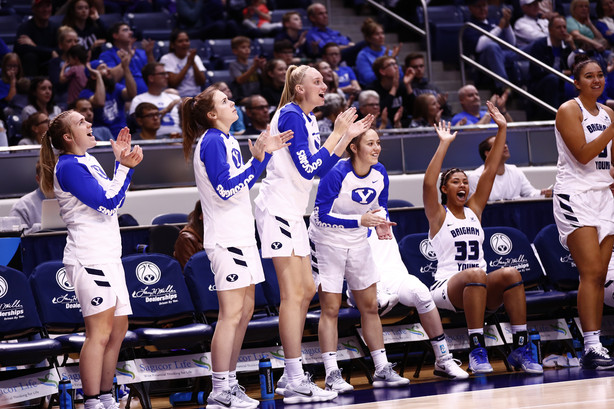 Georgia opened the second quarter on a 14-0 run, capped by Gabby Connally's 3-pointer with 6:04 remaining in the half to go up 27-12.
From there, the Bulldogs cruised. BYU shot just 21 percent in the first half, and offensive highlights were hard to come by.
Malia Nawahine knocked down a 3-pointer with 49 seconds left in the half to pull within 16, and the Cougars used a 7-0 run to march within 36-22 at the break.
The Cougars shot just 18 percent (2-of-11) in the second quarter, and any attempted fell short because of the tremendous deficit.
"When you play against really athletic teams that are more athletic than you, they did a great job of pressuring our wings. They didn't let us swing the ball," Judkins said. "That's where our inside presence has to come in. In the past, when we have a really good inside presence, it's one-on-one in the post. We didn't get that in the second quarter — finish, make plays, and we made a lot of mental mistakes defensively."
BYU used a 14-4 run over the third quarter's final four minutes to chip away and pull within 56-44 after Devashrayee drained her first 3-pointer of the day before the start of the final period.
"I was proud of my team. They could've just really filed and given up," Judkins said. "I think it showed a lot of character. But we've got to do a better job of not letting that happen in the first place."
Nawahine cut inside for an easy layup to pull the Cougars within single figures, down 60-51 with 7:41 remaining.
"As a team, we decided it was time to come together and stop playing around," said Chase, who shot 2-of-5 from 3-point range. "We just needed to get some stops, play some defense, and bring it right back at them."
But the home team could get no closer as back-to-back transition buckets by Engram sparked an 8-0 run that helped the Bulldogs pull away for good.
"I think a game like this gives us a lot of experience for later in the season," Chase said. "It's early, and we're still trying to get together, to learn and mesh. It's hard with a younger team, but I think we're getting there.
"We saw some good flashes tonight."
Freshman Sara Hamson put in seven points and five rebounds for BYU, and fellow frosh Paisley Johnson added four points as defensive sub off the bench.
"Paisley is competitive, and Sara played really aggressive, which is good. That means it is coming and sinking in what we are telling her," Judkins said. "But all of us have to buy in to it. That's my job as a coach.
"We had it down to nine, and we just needed to make a couple more stops. It's tough to lose at home — we don't lose too many at home."
Nawahine supplied five points, seven rebounds and two assists for the Cougars, who travel for a pair of games in Colorado next week before beginning a home slate Wednesday, Dec. 6 against Utah State.
Photos
0 Pending Comments
Sorry, we are not accepting new comments on this story, but if you have more to contribute please email
newstip@ksl.com
Showing of 0 comments