SALT LAKE CITY — Last year, the UHSAA completed a region realignment that moved certain schools to new regions and classifications. East High School was one of the schools that was affected by the change.
East is a 4A school, but one of the changes made by the UHSAA was separating football programs from the other sports at the school, so the football team plays in 6A, while the other sports are still in 4A.
In East's first season as a 6A football team, the Leopards went 11-3 and made an appearance in the 6A title game against Bingham, who beat the Leopards 27-14 on Friday to capture another title for the Miners.
"Special group of seniors, they deserve to go out a little better than this," said East head coach Brandon Matich, "I love my boys."
Matich has been the head coach of the Leopards since 2012. In his time leading the Leopards, they've been back to back 4A state champs (2015, 2016), went undefeated in 2016, appeared in the title game three times, and had a winning record yearly except once (2014).
This season, East finished as a top 25 team in the nation and faced two other nationally ranked schools in Bingham (8th) and IMG Academy from Bradenton, FL, the top team in the country. East went 0-3 against those two schools but the encouraging sign for the team was that they could come out and compete against the top teams.
Defensive line coach Molo Vailahi has spent four years on the staff and said he's looking forward to getting the team ready for next season already.
"We're going to go back to the drawing board and regroup," said Vailahi, "Coach our butts off and do what we do. Work hard in the offseason. Right after this, about a month from now, we'll be working hard again to get back to where we're at. This is our ultimate goal. We start in January and play November football."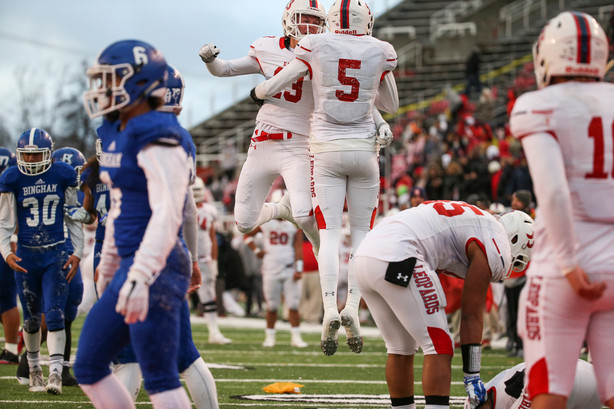 East has also done a fantastic job of developing and maximizing players. The Leopards have arguably the best recruiting class of the year in the state of Utah with four out of the top ten recruits, and nine out of the top 50, according to 247sports.com.
"I thought we played great," Vailahi said, "There's games that everyone played their highest potential and that's all we want as coaches. But we knew we could hang with these guys. Just line up and play smart."
The realignment by UHSAA is only valid for two years, but East can only benefit from playing top 6A teams in the future.
"There's room for improvement. But we wanted to play the best to be the best." Vailahi said. "Iron sharpens iron."
East will look to rebound next year with revenge and redemption on their minds, their second full football season in 6A.
Related Stories
0 Pending Comments
Sorry, we are not accepting new comments on this story, but if you have more to contribute please email
newstip@ksl.com
Showing of 1 comments
Sorry, we are not accepting new comments on this story, but if you have more to contribute please email
newstip@ksl.com