SANDY — At every level of his soccer career, Real Monarchs forward Chandler Hoffman has been successful.
A MAC Hermann Trophy semifinalist and third-team All-American at UCLA, Hoffman was drafted No. 18 overall by the Philadelphia Union in the 2012 MLS SuperDraft. Among his highlights in Philly was the game-winning goal in an international friendly against German side FC Schalke 04. He was traded to the Los Angeles Galaxy in 2013 and came off the bench for the Galaxy's MLS Cup-title-winning team in 2014.
When Hoffman's career hit a snag, he attempted to restart it in the second-division United Soccer League — first with Colorado Springs, then Louisville City, signing with Real Salt Lake's B team that plays in the U.S. Soccer-sanctioned second division Nov. 17, 2016.
Now he's hoping to bring another title home to Sandy.
"I don't think there are many players who have a Supporters' Shield, an MLS Cup and a USL Cup," said Hoffman, who ranked in the top 10 nationally with 16 goals and seven assists in 2017. "It would be cool to put that on my resume."
Even with his previous accomplishments, Hoffman said winning titles with Real Monarchs is special.
"I've been fortunate to be a part of a team that won an MLS championship, and this was as sweet because you proved it over 32 games that you are the best in the league," Hoffman said after the team clinched the regular-season title. "To be able to celebrate a victory that we are all a part of was really special."
To say that the Monarchs (20-5-7) would love to cap the most successful season in the third-year franchise's history with a championship would be an understatement. After finishing with seven and 10 wins in 2015 and 2016, respectively, the Monarchs doubled their win total in 2017 and earned the league's championship shield, given to the squad with the best overall record.
With it comes home-field advantage at Rio Tinto Stadium throughout the playoffs, which begin at 7:30 p.m. MDT Friday against Western Conference rival Sacramento Republic FC.
But it also comes with a big target on their backs.
"Everyone wants to come to Rio Tinto and beat us here at home," said midfielder Sebastian Velasquez, the former RSL playmaker who tallied nine goals and eight assists for the Monarchs. "It's going to be more exciting when teams come and play us.
"We just have to keep our composure and stick to what we've done all season. Teams aren't going to come and lay down for us; they're going to come out ready to beat us. That's what we're preparing for."
First up is Sacramento, a team the Monarchs beat twice during the regular season.
But none of that matters now in the playoffs.
"You feel like you're part of March Madness now; it brings you back to the college days, to the NCAA Tournament," said goalkeeper Connor Sparrow, an RSL Superdraft pick who played at Creighton and compiled an 11-3-5 season with seven shutouts in his first professional season. "The feelings are familiar, and we can't let it get to us; stay composed and relaxed."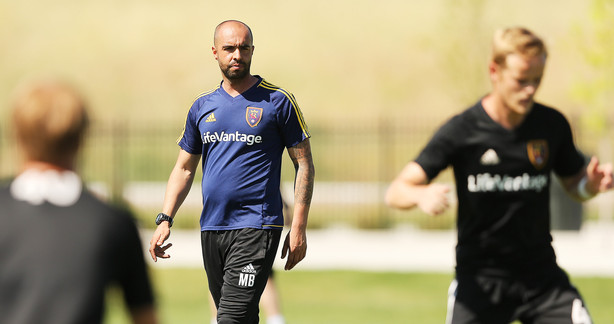 That was part of head coach Mark Briggs' message to his team when the Monarchs reconvened Tuesday for their first postseason training session: What you've done now doesn't matter.
The shield-clinching win was celebrated with fizzy beer and champagne in the locker room. But once Real Monarchs hit the training field at America First Field Tuesday afternoon, it was back to business.
"We have to come down to earth and realize that we've reached one of our goals," said Briggs, a native Englishman whose head coaching start with the Monarchs came after RSL promoted then-USL coach Mike Petke to the first team upon the firing of Jeff Cassar. "Unfortunately, we're in America and the playoffs are what matter, and start over."
It's OK to celebrate an achievement, Briggs added. But don't let it carry over to the second season, when champions are crowned, Velasquez was quick to add.
"That's what we work for: championships and hardware, and when we achieve it, we have the right to celebrate it," Velasquez added. "But now that's all in the past; we have to put our hands back down and make sure we show up on Friday."
Related:
Photos
Related Stories
0 Pending Comments
Sorry, we are not accepting new comments on this story, but if you have more to contribute please email
newstip@ksl.com
Showing of 1 comments
Sorry, we are not accepting new comments on this story, but if you have more to contribute please email
newstip@ksl.com