PROVO — People haven't had much good to say about BYU's recent two-game losing streak at the start of the 2017 college football season.
That's for good reason, with a shutout loss to No. 13 LSU and the sting of a seventh-straight defeat to rival Utah, the longest such streak by the Utes since 1957.
But even in the aftermath of the 19-13 defeat late Saturday night at LaVell Edwards Stadium, BYU coach Kalani Sitake made a pronouncement underneath the east stands: The Cougars have found a featured running back.
BYU (1-2) struggled to find its offense for the third-straight half, putting up just 102 total yards and going 2 of 6 on third-down conversions in a 9-0 halftime deficit to the rival Utes.
But after Utah took a 16-0 lead, the Cougar offense woke up — thanks in large part to big back Ula Toluta'u.
"We found a really good running back in Ula, and he did what we thought he would do: being a really powerful back and a difference maker," Sitake said. "We're looking forward to him being the guy. The silver lining is that we found a running back."
The Cougars ran for just 31 total yards in the first half against the Utes, with the bulk of the carries going to reserve back Kavika Fonua. Squally Canada, the junior lead back among offensive coordinator Ty Detmer's committee-based rushing approach, had just one carry for 3 yards at the break. KJ Hall did not play Saturday after injuring his elbow against LSU.
In the third quarter, Toluta'u took the reins and ran like the featured back he once was in Salt Lake City.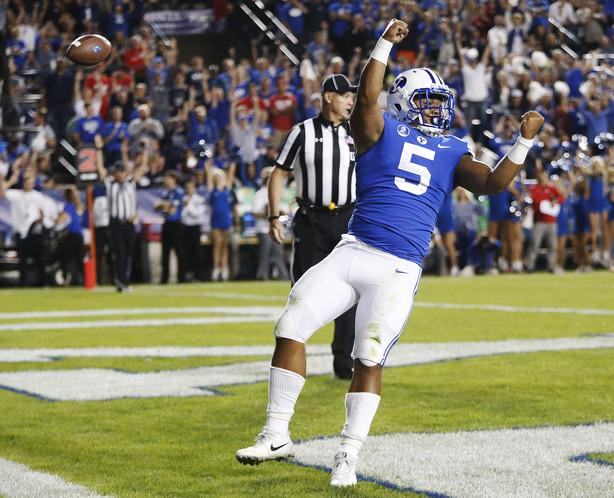 The East High product took his first touch for an 8-yard gain to the Utah 14 on BYU's first drive of the half. The Cougars went to him on three of the next four plays, capped by a 1-yard TD plunge with 9:47 left to put the Cougars on the board, 16-6.
"It definitely felt good to go out in the game today and to get some touches," Toluta'u said. "It's good to finally get running."
Toluta'u's debut was short-lived, but he finished with a team-high 25 yards on five carries — more yardage than any other player on the field except Utah quarterback Tyler Huntley, who ran for a game-best 89 yards and a touchdown. The Cougars went on to add another touchdown when Tanner Mangum hit Trey Dye with a 7-yard strike with 2:38 left in the fourth quarter of an attempted late rally.
But Toluta'u was less of a factor down the stretch, due mostly to an injury suffered in fall camp.
He's still working his way back, Sitake said, but Toluta'u himself said he was "at 100 percent" after the game.
"He didn't play a lot in camp. I know we were protecting our players, but he was injured most of (fall) camp," Sitake said of Toluta'u. "His recovery and comeback was the main reason he hasn't been out there as much."
The emergence of the all-state prep standout comes just in time for a BYU team struggling to click on offense, too. The powerful 6-foot-1, 250-pound freshman originally committed to Gary Andersen and Wisconsin before serving a two-year mission for The Church of Jesus Christ of Latter-day Saints in Bakersfield, California.
When he returned, the Badgers — who play at BYU at 1:30 p.m. MDT Saturday (ABC, KSL Newsradio) — had turned over their coaching staff, and released Toluta'u from his scholarship. That freed him up to sign with BYU, and the 2013 Deseret News Mr. Football honoree who rushed for 2,465 yards and 31 touchdowns as a senior took his talents to Provo.
Toluta'u made his debut with one carry for 3 yards against Portland State, but did not play against No. 12 Louisiana State University. Making his breakout game against the Utes was special for a player who was recruited by Sitake at Utah after going to high school across the street from Rice-Eccles Stadium.
"It felt so good, especially against Utah," Toluta'u said of his touchdown. "It's a rivalry, and we don't like them. It felt good to get in the end zone.
"I'm at 100, and should be good now."
Mangum threw for 170 yards with the one touchdown and three interceptions. He was also sacked three times, and under duress much more from Utah's stacked defensive front.
In addition to carrying the ball, an extra blocker like Toluta'u should help take more pressure off the quarterback. His 250-pound frame is almost as large as fullback Brayden El-Bakri, the 6-foot-3, 261-pound lead blocker in most offensive sets.
And it gives the Cougars another offensive building block moving forward — even at 1-2 with 10 games remaining in the regular season.
"We can see the positives that came, and keep building on it," tight end Matt Bushman said. "We shouldn't have to rely on our defense all the time. They're a great defense, but we've got to help them out."
Photos
Related Stories
0 Pending Comments
Sorry, we are not accepting new comments on this story, but if you have more to contribute please email
newstip@ksl.com
Showing of 70 comments
Sorry, we are not accepting new comments on this story, but if you have more to contribute please email
newstip@ksl.com