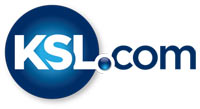 Cooper rewrites record book, saves best for last to lead Lehi to 5A championship
November 18, 2017

SALT LAKE CITY — The cover of Lehi High School's 2017 football media guide boasts the school's "109 years of tradition," one of Utah County's oldest high schools.
Crosstown foe Skyridge has 107 years to catch up — the newest school in the valley.
But it's never too early for a rivalry to be born.
Cammon Cooper completed 19 passes for 262 yards and five touchdowns and ran for two more scores, and tight end Dallin Holker caught nine passes for 151 yards and two touchdowns to help the Pioneers roll by their crosstown rival Falcons, 55-17 in the Class 5A state championship Friday night at Rice-Eccles Stadium.
"I looked up, and it almost all the way to the top (of the stadium) on both sides. That was awesome," said Cooper, who has committed to play at Washington State. "It had an effect in the middle of the game when everyone was riled up, and we came out way too fast. We were playing too tight. But once we settled in, we were really good."
Lehi (12-2) won its first title since 2000, and the first since departing Class 3A around the turn of the century. Cooper set Utah High School Activities Association records for career passing touchdowns (118, beating out former Jordan star Austin Kafentzis by four), career completions (876), and single-season records for passing yards (4,762), touchdown passes (58) and completions (331).
The senior southpaw set championship-game records for touchdown passes and total touchdowns, a mark that stood since Riley Nelson scored seven TDs for Logan in the Class 3A title game in 2005.
"The stats don't lie; he's the best quarterback in the state and even the whole U.S., in my opinion," Holker said. "He's awesome. He's amazing."
Holker also put an end to his prolific career after having seen the Pioneers rise from 0-10 as a freshman to playoff appearances in back-to-back seasons, capped by Friday night's third championship in school history.
"There are no words to describe what I am feeling. This community standing behind me is a group of people that are unbelievable," Lehi coach Ed Larson said. "I'm enjoying the moment, and that's what I promised myself tonight I was going to do."
The Pioneers started slowly, but converted Will Overstreet's dramatic fumble recovery in the first quarter to score on a 10-yard swing pass from Cammon Cooper to Kade Moore with 1:22 left in the opening period.
"We just knew we had to believe in each other, and good things would happen," said Holker, who has committed to BYU. "We have the coaches and the players around us to do it. It's awesome."
Cooper doubled the advantage with his legs, barreling in from 19-yards out to give the Pioneers a 14-0 lead with 6:06 left in the first half.
Lehi forced two fumbles in the first 24 minutes and converted both of them into touchdowns. The Falcons committed five fumbles, losing four of them, to turn a close contest into a lopsided affair.
"The defense made plays that caused tons of turnovers," Cooper said. "That set us up for tons of scores."
The Pioneer defense held the new school off the scoreboard until Connor Harris' 28-yard field goal with 2:43 left in the half, and Dallin Holker's 5-yard touchdown grab from Cooper gave Lehi a 21-3 lead at halftime.
Skyridge (12-2) didn't score an offensive touchdown until Alex Palmer got into the end zone with a 13-yard run with 1:19 left in the game.
Jayden Clemons completed just 4-of-15 passes for 53 yards in the first half, while Cooper threw for 132 yards and two touchdowns. The Falcon signal caller finished with 63 passing yards and two sacks taken, and Alex Palmer led the Skyridge offense with 38 rushing yards and a touchdown.
The Falcons fumbled the ball on their first two drives of the second half, and Cooper hurled touchdown strikes to both tight ends, Holker and Kyler Welsh for a 35-3 lead less than three minutes into the second half.
Carson Manookin's 73-yard TD scamper gave the Pioneers a 41-3 lead on the largest play from scrimmage of the night with 7:10 left in the third quarter.
Eli Pulu scored on a 90-yard kickoff return in the third quarter for Skyridge.
Separated by only two miles in the city of Lehi, the Pioneers and Falcons had never played each other in a team sport in the schools' short-lived shared history.
But now, the rivalry is on.
"It is. I think we all can go with only one team on top in Lehi, and it's us," Holker said.