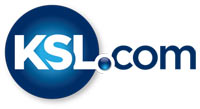 Bingham uses 6 interceptions to advance to 6A title match
November 10, 2017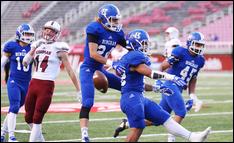 SALT LAKE CITY — Everywhere on the field, Herriman saw a cloud of blue as the Miners used six interceptions to defeat the Mustangs 31-7 in Friday's second 6A semifinal matchup at Rice-Eccles Stadium.
The Miners' stout defense shut down Herriman's ability to get any rhythm on offense all game, starting with an opening drive interception that resulted in a 36-yard touchdown return by senior Tanner Merrill to give Bingham an early 7-0 lead.
"Obviously that's an anomaly," said Bingham head coach John Lambourne about his team's knack for intercepting the ball Friday. "Hats off to our defensive staff."
The Miners would go on to intercept five more of Herriman's passes in the second half, with Merrill picking off Herriman quarterback Blake Freeland a second time to start the second half.
"Our D is solid," said Bingham senior quarterback Ryan Wood. "They come out and they make stops for us and give us opportunities on offense, more than we probably deserve the way we played in the first half. But we love to have them."
Offensively, the Miners struggled to establish any footing early as its only offensive score came late in the first half on a 16-yard touchdown pass from Wood to Brayden Cosper on a gutsy fourth-down play. The Miners, however, would methodically pick apart Herriman in the second half, scoring 17 unanswered points for the victory.
"It comes down to individual battles and they were winning some of those individual battles here and there and it slowed us down a bit," Lambourne said.
Bingham junior running back Braedon Wissler had the team's only other touchdowns — one with less than a minute left in the third quarter and the second to start the fourth quarter. Wissler's first touchdown came on a 34-yard passing play that found him in the end zone for his first score. The second and final score for Bingham was a 7-yard rushing touchdown.
Wood, who was the team's leading rusher with 56 yards on seven carries, finished the game throwing for 120 yards and two touchdowns on 7-of-16 passing. Bingham finished with 259 yards of total offense in a balanced attack.
Herriman's only score of the game came in the second quarter following a Wissler fumble that was recovered by senior Tristan Carman on Bingham's 8-yard line. Freeland would throw a 9-yard touchdown pass to sophomore Alexander Anderson in the front corner of the end zone for a diving catch.
Freeland finished the game throwing for 96 yards and one touchdown on 6-of-19 passing. The Mustangs offense finished with only 107 total yards of offense.
Bingham will face East in the 6A championship game on Friday, Nov. 17 at 2:30 p.m. at Rice-Eccles Stadium. The Miners beat East 48-17 in the second week of play this season and look to remain undefeated.
Wood said he believes the team is peaking at the right time and hopes to continue the momentum into the last game of the season.
"I think we're starting to play really well, so hopefully we're peaking and hopefully we can play our best game next week and go get a win," he said.