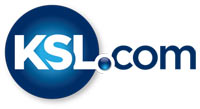 Defense powers Bingham to undefeated season, title in first season of Class 6A
November 17, 2017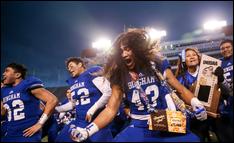 SALT LAKE CITY — East High opened up its first appearance in a state championship game in Utah's top classification by outgaining a power-run Bingham offense, 129 yards to 75.
Two short rushing touchdowns by Braedon Wissler gave the Miners a 14-7 halftime lead — but it was barely an advantage.
Then Lolani Langi showed up.
Langi returned a fumble 47 yards for a touchdown on the opening drive of the second half, and Wissler and Amoni Kaili combined for 77 yards and a touchdown to help Bingham to a 27-14 win over East in the Class 6A state championship Friday at Rice-Eccles Stadium.
"I was surprised. Right when I picked up the ball, everybody stopped and I thought the play was dead. But I took it anyways, just in case," said Langi, the younger brother of former BYU star and current New England Patriots linebacker Harvey Langi. "My family always gives it to me because I haven't scored a touchdown. They want me on offense. But now I can tell them I got it."
Bingham coach Rich Lambourne admitted his view wasn't the greatest for Langi's game-changing scoop-and-score.
But his view from the top? That hasn't changed much since he took over for longtime Miners coach Dave Peck, clinching back-to-back championships.
"All I saw was that long hair going that way. It was unbelievable," Lambourne said of Langi, who also finished with seven tackles and a shared sack. "When you work hard, good things happen for you and that was what happened."
Ryan Wood completed 4-of-5 passes for 99 yards with an interception for undefeated Bingham (13-0), and also ran for a 5-yard score. But the Leopards held the Miners to just 181 yards of total offense.
But it was all Bingham needed, adding a fourth title in five years and the first-ever in the newly created Class 6A.
Defensively, the Miners forced seven tackles for loss, including two sacks, and added three turnovers with Dax Milne's second-half pick that helped seal the win.
"I'm just proud of my boys for getting there before me," Langi said. "Right when I saw that (fumbled) ball, I picked it up and knew I had to take it to the house.
"I'm just thankful for my team. And they still counted it."
East (11-3) petitioned to move up a classification to face the likes of Bingham for a title, and Leopards quarterback Ben Ford opened the scoring with a 3-yard TD dive after the Leopard defense forced the Miners into back-to-back punts.
But Bingham responded immediately, as Wissler returned the ensuing kickoff 70 yards inside the 25-yard line. The 5-foot-7 junior set up his own touchdown, an 8-yard gallop with 2:34 left in the first quarter, that tied the game at 7-7.
Wissler doubled the advantage to end the second half. After another terrific play on field position, the junior capped a 35-yard drive with a 5-yard touchdown plunge with 58 seconds left in the half as the Miners took a 14-7 advantage into halftime.
"I just saw a big ol' hole, with some blockers and took it," Wissler said. "It was so much fun.
"It was pretty big. It happened, and it gave us great field position and helped us execute."
Much like they did in the first bout, when Bingham led 24-17, the Miners poured it on after a locker-room pep talk.
East opened the second half with possession, but Langi picked up a fumble caused by Malachi Fotu and returned it for a touchdown at the 7:37 mark of the third quarter to give the Miners a 21-7 lead.
Wood capped an 88-yard scoring drive with a 5-yard touchdown to open the fourth quarter to help Bingham pull away for good with 11:08 left in the game.
Josh Nielsen hauled in a 22-yard tipped pass from Nic Harris with 9:08 left in the game to pull the Leopards within 27-14. Harris, who started the game at linebacker, saw his pass tipped against the hands of Jadin Afuvai and land in the arms of Nielsen to give East a little bit of life.
But the Leopards could get no closer.
Harris completed 4-of-14 passes for 59 yards and a touchdown, and Sione Molisi ran for 87 yards on 16 carries to lead East.
"This whole week, we talked about getting our respect," Langi said. "East is great, but we had to hold our own and show that we are still the man of the house."