Estimated read time: 4-5 minutes
This archived news story is available only for your personal, non-commercial use. Information in the story may be outdated or superseded by additional information. Reading or replaying the story in its archived form does not constitute a republication of the story.
By MARY FOSTER
Associated Press Writer
NEW ORLEANS (AP) - Coastal residents jammed freeways and gas stations Saturday as they rushed to get out of the way of Hurricane Katrina, a vicious storm that is threatening to gain even more strength and make a direct hit on the New Orleans area.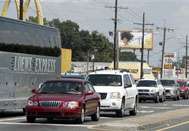 "Ladies and gentlemen, this is not a test. This is the real deal," New Orleans Mayor C. Ray Nagin said at a news conference. "Board up your homes, make sure you have enough medicine, make sure the car has enough gas. Do all things you normally do for a hurricane but treat this one differently because it is pointed towards New Orleans."
Katrina was a Category 3 storm with 115 mph sustained wind Saturday, but the National Hurricane Center said it was likely to gain force over the Gulf of Mexico, where the surface water temperature was as high as 90 degrees _ high-octane fuel for hurricanes. It could become a Category 4 monster with wind of at least 131 mph before reaching land early Monday.
The storm formed in the Bahamas and ripped across South Florida on Thursday, causing seven deaths, before moving into the Gulf of Mexico.
A hurricane watch extended from Louisiana to the Florida Panhandle, and large-scale evacuations were under way Saturday along the coast.
"At this juncture, all we can do is pray it doesn't come this way and tear us up," said Jeannette Ruboyianes, owner of the Day Dream Inn at Grand Isle, Louisiana's only inhabited barrier island.
Katrina could be especially devastating if it strikes New Orleans because the city sits below sea level and is dependent on levees and pumps to keep the water out. A direct hit could wind up submerging the city in several feet of water.
Making matters worse, at least 100,000 people in the city lack the transportation to get out of town. Nagin said the Superdome might be used as a shelter of last resort for people who have no cars, with city bus pick-up points around New Orleans.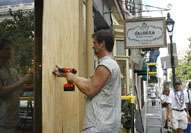 "I know they're saying `Get out of town,' but I don't have any way to get out," said Hattie Johns, 74. "If you don't have no money, you can't go."
Owners of gas stations in and around New Orleans were forced to direct traffic as lines to the pumps stretched down surrounding streets. Gas stations were running low on gas by midafternoon Saturday
"I was in line at the bank for an hour and have been waiting for gas for 30 minutes," said John Sullivan. "If it's anything like they say its going to be, we don't want to be anywhere close to the city."
Louisiana and Mississippi made all lanes northbound on interstate highways. Mississippi declared a state of emergency and Alabama offered assistance to its neighbors. Some motels as far inland as Jackson, Miss., 150 miles north of New Orleans, were already booked up.
By 5 p.m. EDT Saturday, the eye of the hurricane was about 380 miles southeast of the mouth of the Mississippi River and about 240 miles west of Key West, Fla. It was moving west at nearly 7 mph, the hurricane center said.
"We know that we're going to take the brunt of it," Louisiana Gov. Kathleen Blanco said. "It does not bode well for southeastern Louisiana."
Some tourists heeded the warnings and moved up their departures, and lines of tourists waited for cabs on New Orleans' famed Bourbon Street.
"The problem is getting a taxi to the airport. There aren't any," said Brian Katz, a salesman from New York.
Others tried leaving but couldn't get a flight.
"We tried to move it up, but they told us they were all booked up," said Terry Evans of Cleveland, whose flight was supposed to leave Monday morning. "We may end up sleeping at the airport."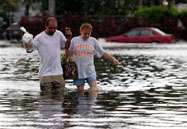 New Orleans' worst hurricane disaster happened 40 years ago, when Hurricane Betsy blasted the Gulf Coast. Flood waters approached 20 feet in some areas, fishing villages were flattened, and the storm surge left almost half of New Orleans under water and 60,000 residents homeless. Seventy-four people died in Louisiana, Mississippi and Florida.
Katrina was a Category 1 storm with 80 mph wind when it hit South Florida on Thursday, and rainfall was estimated at up to 20 inches. Risk modeling companies have said early estimates of insured damage range from $600 million to $2 billion.
South Florida utility crews were still working Saturday to restore power to 733,000 customers, down from more than 1 million. Residents waited in lines that stretched for miles to reach state-operated centers distributing free water and ice for those without electricity.
Florida has been hit by six hurricanes since last August.
Katrina is the 11th named storm of the Atlantic hurricane season, which began June 1. That's seven more than typically have formed by now in the Atlantic, Caribbean and Gulf of Mexico, the hurricane center said. The season ends Nov. 30.
___
On the Net:
National Hurricane Center: http://www.nhc.noaa.gov
(Copyright 2005 The Associated Press. All rights reserved. This material may not be published, broadcast, rewritten or redistributed.)
×
Most recent News stories