Estimated read time: 2-3 minutes
This archived news story is available only for your personal, non-commercial use. Information in the story may be outdated or superseded by additional information. Reading or replaying the story in its archived form does not constitute a republication of the story.
Dr. Kim Mulvihill ReportingA dog is man's best friend and now that friendship may be taken to a new level. Just like us, dogs can get cancer, and they often take the same medicines. Now researchers are hoping dogs can teach them some new tricks.
Nia and her owner Julie have been buddies for nine years. One day while they were playing Julie discovered her dog had a serious problem.
Julie: "As I flipped her over, I noticed that in her belly region she was very hard; not soft swollen, it was hard."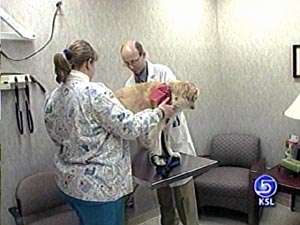 Nia had lymphoma, which is the most common cancer in dogs. And while doctors were treating her for canine cancer, they were also interested in using some of Nia's cancer cells to look for better treatments in humans.
Dr. Laura Rush, Veterinarian: "There are some really strong similarities between dog and human lymphoma, but there are also some important differences."
To find out what those might be, researchers are focusing on what are known as micro RNA's, which help regulate how our genes work within each cell. Scientists say if they can pinpoint the problems in lymphoma cells, it might benefit both dogs and humans when it comes to developing new treatments.
Dr. Laura Rush: "If we can show that we've got a number of genes that are similarly changed in both dog and human, that seems to indicate those are very important in the disease process and we can focus our efforts on those genes."
The best part is that scientists are working only with canine cancer cells, so no tests are being run on dogs. They're free to go home and play. The research is going on at the Comparative Oncology program at Ohio State University. It's among only a few in the country that combines veterinary science with immediate clinical understanding and treatment of cancer in humans.
×
Most recent News stories