Estimated read time: 3-4 minutes
This archived news story is available only for your personal, non-commercial use. Information in the story may be outdated or superseded by additional information. Reading or replaying the story in its archived form does not constitute a republication of the story.
Dr. Kim Mulvihill continues her series 'Beautiful Science' – the art of tissue engineering, with a look at what's happening right here in our own backyard, at the University of Utah.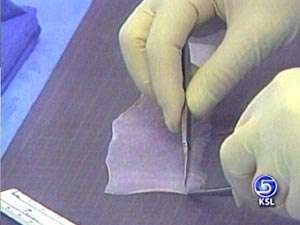 The same geothermal wonders that make Yellowstone National Park world famous were home to a tragic accident in the summer of 2000. Three park employees inadvertently jumped into a 180-degree thermal pool. One died. Two suffered suffered severe burns on over 95-percent of their bodies.
Dr. Jeffrey Saffle, University of Utah Burn Center, August 2000: "I've told these families that they should anticipate each of these fellows being in the hospital for at least three months. And one of the biggest problems associated with their rehab is that they really have none of their own skin left for skin grafting."
Dr. Jeffrey Saffle heads the Intermountain Burn Center at the University of Utah. He says when it comes to severe burns, it's a race against time. The bigger the open wound, the more likely a lethal infection will set in. That's why it's so crucial to get them quickly covered with skin.
Dr. Jeffrey Saffle: "Cover it with whatever is available, their own skin, synthetic substitutes, or cadaver skin until we can get enough of their own skin to cover them permanently."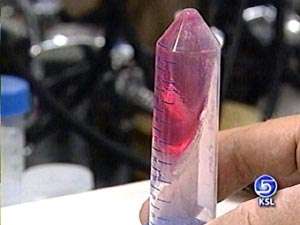 The gold standard is a skin graft -- shaving off the outer layer of skin from the patient's unburned areas and transplanting it onto the wound. Doctors can also grow new skin in petri dishes to use for grafting. But cultured skin is fragile, and the process is time-consuming and expensive.
So now scientists are experimenting with innovative ways for patients to grow their own skin -- not in a lab, not in a petri dish, but from their own body, from the inside out. And they're working hand in hand with Mother Nature.
Dr. Glenn Prestwich: "As a chemist I like to make something and let the body do the work."
That "something" looks a bit like pink Jell-O. Doctor Glenn Prestwich has created a unique gel that mimics what's called the extracellular matrix -- that's the stuff between cells that holds our tissues together.
Dr. Glenn Prestwich: "It's in our eyeballs; it's in all of our joints for lubrication; it's in babies' umbilical cords."
The gel contains a substance found in the body called hyaluronan (or ha), gelatin, and some special chemicals. The result is sort of a biosynthetic soup. What starts out as a liquid turns into a gooey gel in about nine minutes. And the concoction may help more than just burn victims.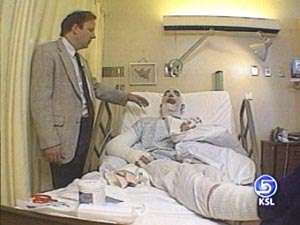 Dr. Glenn Prestwich: "You can coat organs with it if you want to protect them from forming adhesions after surgery. You can inject it into a sinus where you've lined up a sinus passageway and you want it to heal without scarring. You can inject it into a ruptured eardrum and grow a new eardrum over the surface of it."
Over a period of weeks the biosynthetic gel is digested as cells invade and secrete their own matrix, and new skin begins to grow from the inside out. Research shows this gel helps grow skin from the body in half the time it takes the body to grow skin by itself. This biosynthetic gel may well become a medical miracle of the future.
×