Estimated read time: 2-3 minutes
This archived news story is available only for your personal, non-commercial use. Information in the story may be outdated or superseded by additional information. Reading or replaying the story in its archived form does not constitute a republication of the story.
Kim Mulvihill ReportingIt could be a first nationwide--a special reunion bringing together blood donors and the woman they helped save.
It's estimated that one in three people will need a blood transfusion at some point in their lifetime. In an effort to get more people to donate, one woman said a big thank you to her donors.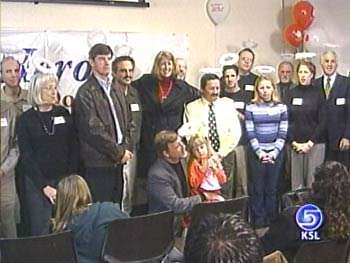 Lauren Larsen: "There's not a day that's gone by that I don't appreciate what you've done for me and for my family."
Lauren Larsen calls them her angels. They are some of the 200 people who helped save her life four years ago when severe pre-eclampsia led to an emergency C-section. Complications left Lauren near death with acute kidney and liver failure.
Dr. Robert Osorio, Transplant surgeon "What we call fulminant hepatic failure, and she was being evaluated and actually got listed as a Status 1 for transplantation. But when the team evaluated her, we felt that her liver would regenerate and come back, and we just needed to support her."
What she needed was blood, and lots of it. After three surgeries, five weeks in intensive care and some 200 pints of blood, Lauren turned the corner.
Lauren: "To those of you here today whose actually blood saved my life, let me just say that the world needs more people like you."
Blood donations are usually anonymous, but Lauren wanted a chance to say thank you to people like Athena Schmitz who was just seventeen at the time she donated.
Lauren: "I knew there was a reason I was feeling younger everyday."
Athena Schmitz, Blood donor "Cuz I like to help people, and I like to do whatever I can."
She says it's easy and hopes to inspire others to do the same. It's a message that's particularly important today when nationwide blood supplies are at a critically low level.
Roughly 60-percent of the population is eligible to donate, but sadly less than five percent do. So be a hero and donate blood; it's a gift that can help save whole families.
Clare Larsen: "My name is Clare and I would like to thank all the blood donors for saving my mommy."
Blood is needed every day to save accident victims, help patients battling cancer or other diseases, and those having surgery. Today all blood types are needed, especially 'type O' blood.
×
Most recent News stories