Estimated read time: 2-3 minutes
This archived news story is available only for your personal, non-commercial use. Information in the story may be outdated or superseded by additional information. Reading or replaying the story in its archived form does not constitute a republication of the story.
Dr. Kim Mulvihill ReportingOne of the most important parts of being a skilled surgeon is good training. In the past that kind of experience came from practicing on patients. On the healthbeat, Doctor Kim Mulvihill tells us about a new approach.
Computers are now helping physicians learn what a surgery looks and feels like, long before they step into the operating room. When patients are in surgery, they hope their surgeon is skilled and experienced. But how does a doctor gain that kind of skill?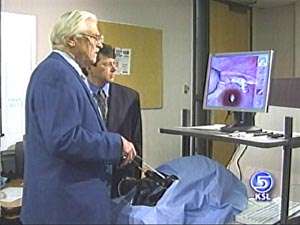 This is how. A new generation of high tech surgical simulators are giving physicians not just a visual idea of what they'll face in the operating room, they also give them a sense of how it will feel.
The simulators, made by San Jose-based company Immersion Medical, are touch enabled. That means the instruments actually let you feel different textures, different densities--things a surgeon uses as a guide when operating on a real patient.
Dr. Kevin Kunkler, Immersion Medical: "It's very important that they understand how much sensation of push or exertion they are putting on the model."
Push too hard or in the wrong direction and the simulator lets you know you have made a mistake. At the end of each session the physician gets a score card showing how long the procedure took, how much blood was lost, how much fluid was used and what mistakes were made.
Stanford University professor of gynecology doctor Leroy Heinrichs says this kind of training helps surgeons perfect their technique before they get to the operating room. That's good for the surgeon and the patient.
Dr. Leroy Heinrichs, Stanford University Professor of Gynecology: "They work up to 30% more rapidly when they go to the operating room and they don't make the same mistakes as a person who has had no such training."
If the surgeon is learning a new procedure they can keep practicing till they have it right. They say seeing is believing; well now feeling is believing too. And that feeling is making for better surgeons and happier patients.
×