Estimated read time: 3-4 minutes
This archived news story is available only for your personal, non-commercial use. Information in the story may be outdated or superseded by additional information. Reading or replaying the story in its archived form does not constitute a republication of the story.
LAS CRUCES, N.M. (AP) -- Chaz Spicer is making a habit of hitting game-winning shots.
Spicer hit two free throws with 2.5 seconds left and Utah State took advantage of an intentional foul call to beat No. 10 Nevada 79-77 in the semifinals of the Western Athletic Conference tournament Friday night.
Spicer and Utah State (23-10) beat Nevada for the second time in a week to move into Saturday's championship game against the winner of the New Mexico State-Boise State semifinal late Friday.
Nevada (28-4) is assured of its fourth straight NCAA tournament bid, but the loss could hurt the Wolf Pack's seeding.
Spicer, whose two free throws with 3 seconds left in overtime beat Nevada 79-77 last week in Logan, Utah, did it again. He was fouled by Nevada's Matt LaGrone on a drive to the basket. With the Nevada crowd yelling for a travel call, Spicer calmly hit both free throws.
"Make them, make them, make them," Spicer said when asked what he was thinking while at the foul line.
Nothing new for Spicer, who went 6-for-6 on free throws in the game, has hit 30 of his last 32 and has won four games for the Aggies this season.
Utah State coach Stew Morrill thought Spicer was fouled after he got his shot off, which went in, but was disallowed. But with Spicer at the line, he knew the Aggies were in good hands.
"You never feel good until the final buzzer, but with him at the line, it's been a pretty good option for us all year," Morrill said. "Either free throws or last shots, he's had four game-winners."
Asked about the foul that sent Spicer to the line, Nevada coach Mark Fox implied he thought Spicer had traveled before the contact.
"Do you want the truth or do you want the company line?" he said. Asked for the truth, Fox replied, "Can't give you that. We got outplayed."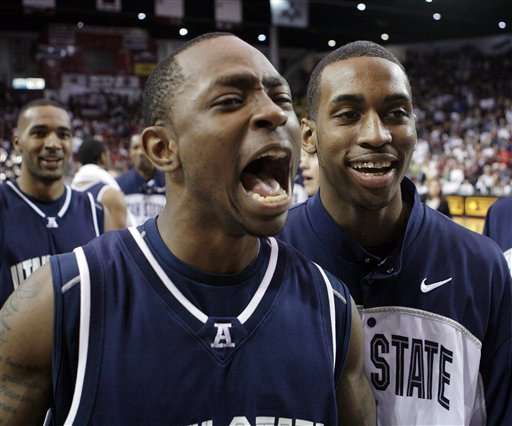 Nevada center Nick Fazekas got the inbounds pass to guard Ramon Sessions, but Sessions' desperation 30-footer didn't come close.
Utah State led 77-72 with 32.2 seconds left after Aggie Chris Session hit two free throws.
But Nevada's Marcelus Kemp hit a 3-pointer with 24.2 seconds left and after Utah State turned it over, Kemp picked up the loose ball and tied it at 77 with a short shot in the lane.
The call that turned the game around came in the midst of a 10-0 Utah State run that erased a 57-50 Nevada lead.
Utah State guard Jaycee Carroll, who led the Aggies with 24 points, scored eight of the 10 points, including the free throws after the intentional foul call on Sessions with 8:25 left.
Sessions was whistled for the foul after Carroll stole the ball and appeared headed for a layup.
Morrill said the call was "a no-brainer."
"Great call," he said. "We're going to get an uncontested layup and he gets grabbed."
Fox again was coy in his assessment of the call.
"Company line," he said shaking his head. "It's just part of the game."
The run started with Carroll hitting three free throws after being fouled on a 3-pointer by Nevada's Lyndale Burleson. Burleson started in place of Kyle Shiloh, who injured a hamstring in the Wolf Pack's win over Idaho on Thursday.
The 6-foot-11 Fazekas, the three-time WAC Player of The Year, posted his 20th double-double of the season with 20 points and 10 rebounds. Fazekas hit eight of 10 shots, and Kemp scored 24 points and was 5-for-8 on 3-pointers. But it wasn't enough to keep the Aggies from posting one of their biggest wins in recent history.
A 3-pointer by Kemp tied it at 66-66 with 3:09 left, but Utah State regained momentum on back-to-back 3s by Durrall Peterson.
(Copyright 2007 by The Associated Press. All Rights Reserved.)
×
Most recent Sports stories