Estimated read time: 5-6 minutes
This archived news story is available only for your personal, non-commercial use. Information in the story may be outdated or superseded by additional information. Reading or replaying the story in its archived form does not constitute a republication of the story.
Day 1Could twenty hours travel and having the travel agency leave us hanging at the airport ruin our excitement of being in Madrid? Not a chance. Arriving at the hotel we crossed paths with the team who instantly recognized us as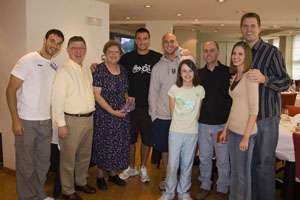 Americans, but had no idea we were there with them. Luckily, Coach Ellinger was smart enough to figure us out and proved why people like the guy. Our crew of contest winners consisted of a silently witty father and his daughter as well as the best grandmother (or at least to the lucky grandchild that gets the t-shirt signed by the whole team) and her husband. The team made us feel right at home. Joey Worthen dated a friend of mine from
High School. Jack Stewart makes me want to move to so-cal and get caught up on all the episodes of 24 I've missed. Danny Torres is the perfect gentleman. Kenny Cutler couldn't be cooler. Kreis said I made him feel short, but he's still the man. How can you not like a guy like Talley that has no problem showing up without combing his hair? You'd think maybe I'm acting a little star struck, but it's really just the opposite. These guys know their role in American soccer. They are just playing a game they really love and it's hard not to like that or them. Jeff Cunningham was exactly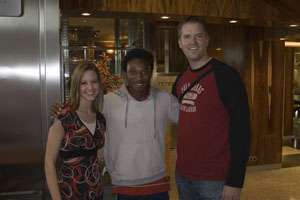 Cunningham after that model. For some reason I thought he was going to be a little bit private, but he was the most conversational of the bunch and really had a genuine interest in how we were doing. It didn't hurt that we found out he was in the Ballet West production of the Nutcracker, especially for my wife since she's a ballet dancer. It's going to be easier cheering for these guys after getting a glimpse of them as real people.
Day 2
Madrid is filled with history unlike anything we get in Utah. The royal palace was like an ancient theme park. Each room was from a different time period lined with enough gold and artistry to make anyone want to be King. Even the post office looks like a castle. The equivalent of central park of Madrid showed best the cultural setting for our fan friends in Spain. Unlike Americans they still know how to stroll, but when it comes to getting crazy they reserve that for the stadium.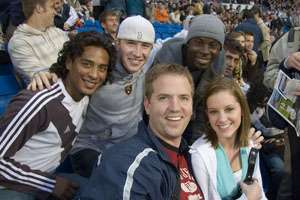 No question the Real Madrid versus Getafe game was the highlight of the trip for me. It also gave us an opportunity to see soccer players as fans. Jaime Watson and Christian Jimenez are as genuine as you would expect and equally as personable. Probably my favorite part of sitting by these guys was hearing the occasional amazement and appreciation they had for the professionals on the field. Just as interesting was Freddy commenting on the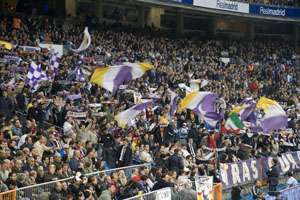 guys he could take, and I think he could be right. Freddy was a surprise for me, because he was surprisingly candid. He, Jaime and Christian make a lethal group, playing off each other's personalities. Hopefully we'll see that on the field as well.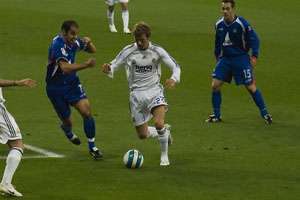 Real Madrid is the real deal and we were able to see first hand that the partnership Real Salt Lake has with Real Madrid is just as real. Was that too many "reals" for one sentence? The fans were charged the whole game. I'm just not sure if I prefer annoying whistling over booing. Although the game ended in a one to one draw and Becks got taken out by what looked to be a sideline camera, soccer in Spain is something everyone needs to experience.
Day 3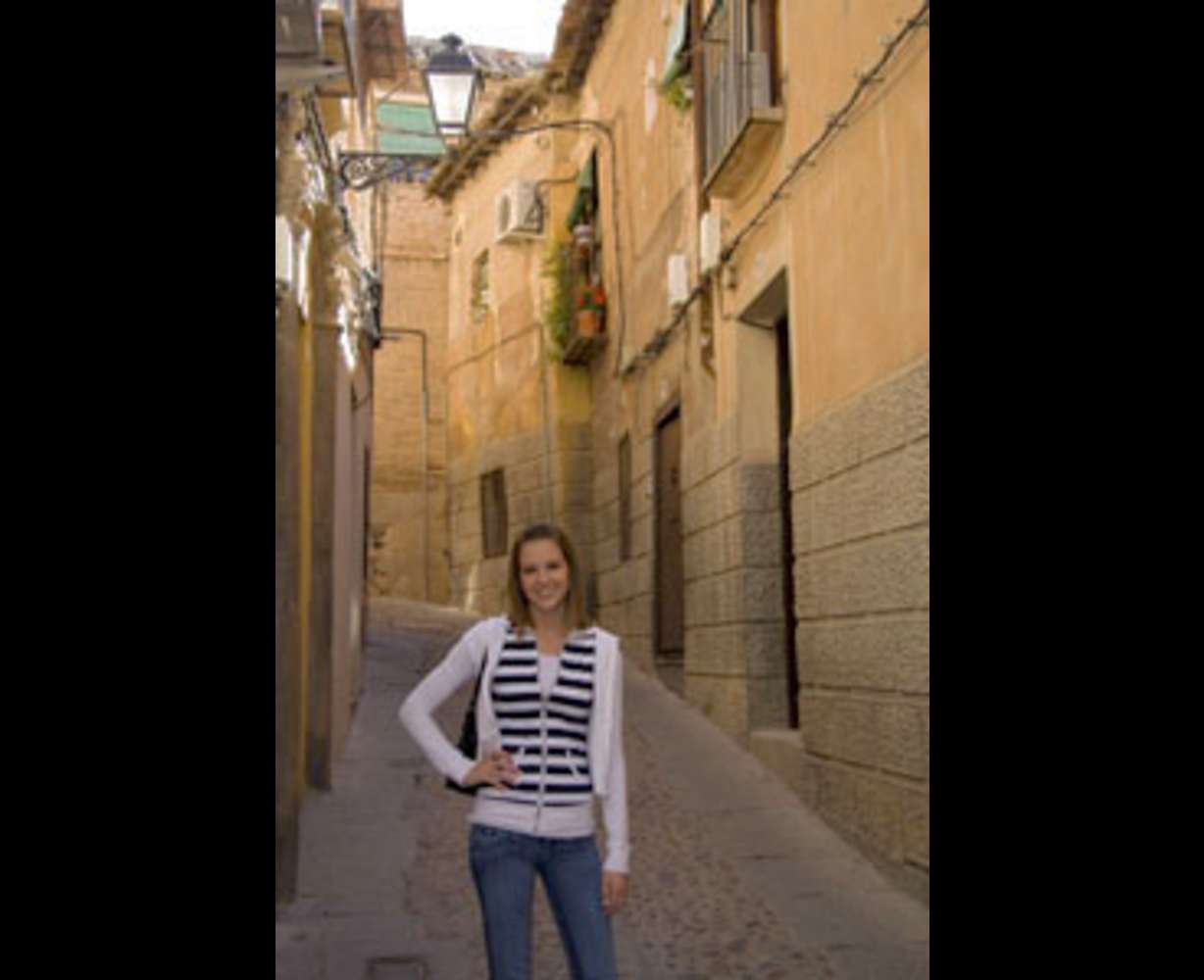 Toledo is called the city of three cultures because Christian, Jewish and Muslims lived peacable together for centuries.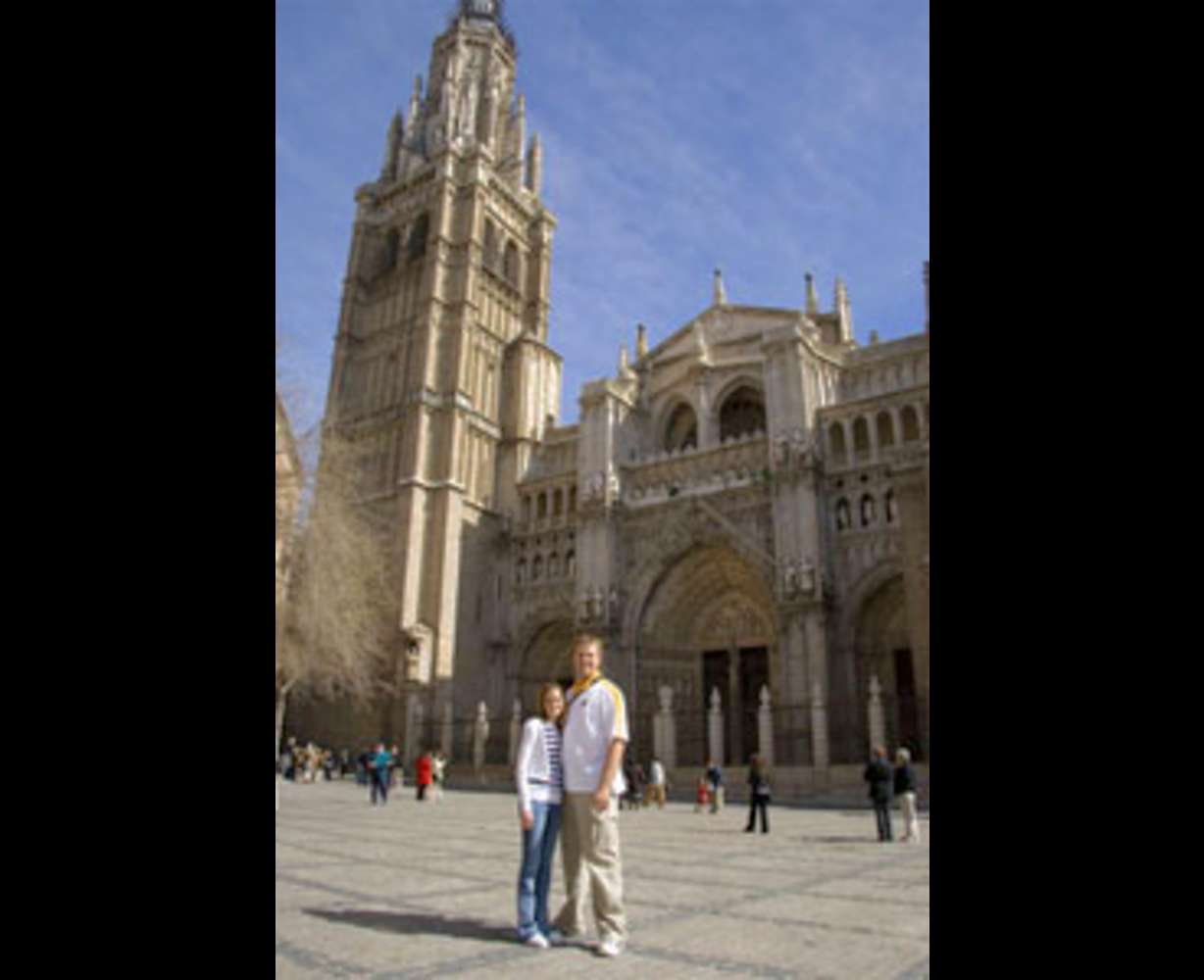 Now it's a picture into medieval civilization with a McDonald's.
Finally we got to watch RSL play in the City of Real Madrid. Yes, they have their own city. If only Salt Lake County could see this. In all fairness to an RSL three to one defeat, RSL played really well. Kreis put two off the post, including an impressive redirecting header from an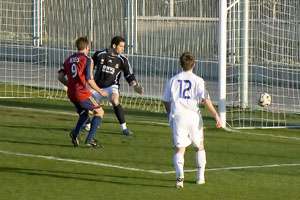 equally impressive service from Chris Lancos. Klein missed on an open net header that just seemed unfair considering how well he played all game. Jeff got ripped on more than one offsides calls and the one offsides that was let go went against us. The most impressive to watch had to be Freddy Adu. His footwork was far and above any of the Castilla players. The nice thing about the whole game was we were the only ones there. We could hear every communication the team made. Having played sports my whole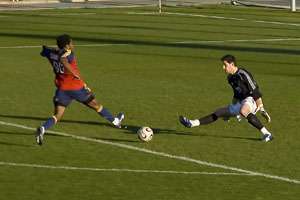 life, I was surprised to see how encouraging everyone was of each other. Eddie Pope is a silent leader, enough so that when he does speak the back line listens. Rimando was more vocal and definitely a keeper. Pun intended. Talley will be solid again, he works too hard not to. Tejada got the lone goal and despite not speaking much english seemed to fit in well.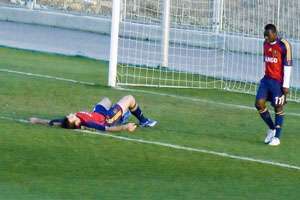 If there was any criticism that I could come up with would be fitness. This was the first game a lot of guys played a full ninety minutes. It just seemed to me that inspite of that, this was as deep a team as we will see in RSL's three year history.
Between Steve Pastorino, Coach Ellinger and all the players we were able to get to know, I say with full confidence that RSL is a franchise we can be proud of. If you weren't excited before, you should be.
Thank you to KSL, Jerry Seiner and RSL for a great Spanish experience.
×
Most recent News stories