Estimated read time: 3-4 minutes
This archived news story is available only for your personal, non-commercial use. Information in the story may be outdated or superseded by additional information. Reading or replaying the story in its archived form does not constitute a republication of the story.
LOS ANGELES -- After giving up 21 points in the first quarter, BYU put a scare in to fourth-ranked USC, scoring 18 un-answered points to get within three points with four minutes remaining. But, the come-from-behind effort wasn't enough as the Cougars lost to the Trojans, 35-18.
![](http://byu.ksl.com/images/vid_button.gif)
*****Click on desired bandwidth to View Real Video of Game Highlights*
(High Bandwidth Video requires RealPlayer 8 or higher)
"It was a good football game," BYU head coach Gary Crowton said. "Unfortunately we didn't win it. We were down 21 to nothing before we could blink and that is very difficult to come back from. I don't think too many people gave us much of a chance. We came here to win the game, not just play well. Unfortunately, we came up a little short."
Before the Coliseum crowd of 75,315 knew what had happened, USC had scored two of its first-quarter touchdowns as a result of two BYU turnovers inside the 20-yard line, the first coming on a muffed punt and the second coming on a 20-yard interception return by Omar Nazel.
"Those early turnovers really cost us," Crowton said. "After that, I thought we did a nice job of hanging in there and working our way back in to the game."
Trailing 21-0 entering the second quarter, BYU's defense picked up the intensity. Freshman linebacker K.C. Bills forced USC quarterback Matt Leinart into an intentional grounding penalty that resulted in a safety.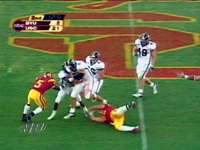 On USC's next possession, defensive end John Denney was credited with a sack. Then, on the next play Denney swatted Leinart's pass and intercepted it as time was winding down in the second quarter. Matt Berry found Daniel Coats for a nine-yard gain to set up a 53-yard field goal attempt. With no time left, All-American candidate Matt Payne connected on his first of two 50-yard field goals on the night. Payne's 53-yard field goal to end the first half marked the second-longest field goal in school history.
The BYU defense came out of the gate fired up in the second half, forcing USC into a three-and-out.
The Cougars took over on their own 20-yard line, and drove the ball the length of the field, scoring on a 14-yard pass from Matt Berry to Daniel Coats.
Coats, the Cougars leading receiver, led BYU with a career-high eight receptions for 114 yards.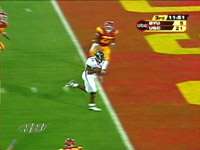 Berry, who struggled early, finished the game with 27 completions for 297 yards and one touchdown.
Crowton was pleased with how his offense played especially against such a tough defense.
"We played against a very good defense tonight, probably the best defense in the country," Crowton said.
BYU would add two more field goals by Payne, including a 52-yarder, to cut USC's lead to three at 21-18, but USC would add two touchdowns late in the game to put the game away.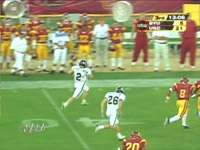 BYU's defense played solid, holding USC to just 71 yards rushing while intercepting three passes and sacking Leinert four times. The BYU defense allowed just 235 yards passing. Cougar safety Joshua Brandon finished the game with one interception and deflected a pass that was intercepted.
"Our defense played very well tonight," Crowton said. "I was impressed by the way they executed and came up with turnovers when we needed them. Those guys are just going to get better and better.
"Overall, I'm happy with our fight. We're still pretty young and some of the younger guys are going to make mistakes, but we need to stop making those. We've got our work cut out for us."
Written by BYU Athletic Media Relations
×
Most recent BYU Cougars stories