Estimated read time: 3-4 minutes
This archived news story is available only for your personal, non-commercial use. Information in the story may be outdated or superseded by additional information. Reading or replaying the story in its archived form does not constitute a republication of the story.
Provo -- On a night when the Cougars honored one of their great quarterbacks from the past, BYU's current quarterback helped the Cougars roll to a 24-13 victory.
![](http://byu.ksl.com/images/vid_button.gif)
*****Click on desired bandwidth to View Real Video of Game Highlights*
(High Bandwidth Video requires RealPlayer 8 or higher)
BYU put the game out of reach on their final scoring drive when they marched 86 yards up the field while milking 6:13 off the clock, resulting in a 24-yard field goal by junior place kicker, Matt Payne.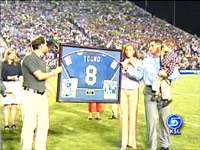 After throwing an interception on BYU's opening drive, Matt Berry went on to throw for 276 yards and three touchdowns, two to redshirt freshman Daniel Coats and one to Toby Christensen.
However, Coach Gary Crowton said there was a lot of room for the offense to improve.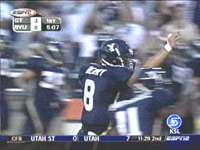 "We'll have to go through the tape and correct a lot of things," Crowton said. "Especially offensively, we made a lot of errors that cost us drives that we could have scored more points. We have a lot of youth."
After Berry's lone pick, Georgia Tech took over on the BYU 38-yard line, but the Cougar defense would dig its heels in and hold the Yellow Jackets to a 26-yard field goal.
On its ensuing possession, BYU would march up the field to the Georgia Tech 38-yard line, but it looked like the drive would stall as the Yellow Jackets forced BYU into a fourth down.
BYU coach Gary Crowton opted to go for it on fourth down and it paid off as Berry hit Coats down the middle for a 38-yard score.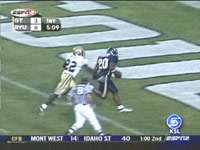 Coats finished the game as BYU's leading receiver, grabbing six passes for 93 yards and those two touchdowns.
Georgia Tech would score 10 unanswered points to close out the first half, scoring on a 39-yard field goal and an 18-yard touchdown by Nathan Burton on a blocked punt.
Burton's score was the first time a Cougar opponent has scored on a blocked punt since 1993.
During a ceremony at halftime BYU retired Steve Young's No. 8 jersey. In his speech, Young said he needed to thank those that came before him, including Eldon Fortie, Virgil Carter, Gifford Nielsen, Marc Wilson and Jim McMahon. As well as the many coaches that helped him throughout his career.
At the close of his remarks Young said that BYU was the only place for him.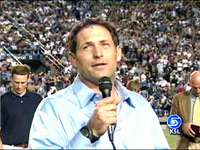 "With all due respect to my great-great-great grandfather, this is the place for me," Young said.
BYU came out of halftime fired up, driving 80 yards up the field and scoring on a 15-yard pass from Berry to Coats.
The Cougars would add a 14-yard touchdown pass from Berry to Christensen and a field goal.
The revamped BYU defense played well, holding the Yellow Jackets to 243 yards. The defense also forced four turnovers, one interceptions and three fumbles.
Senior safety John Burbidge caused two of the Cougars' turnovers, intercepting one pass and forcing one fumble.
Georgia Tech vs Brigham Young (Aug 28, 2003 at Provo, Utah)
Written by BYU Athletic Media Relations
×
Most recent BYU Cougars stories