Estimated read time: 8-9 minutes
This archived news story is available only for your personal, non-commercial use. Information in the story may be outdated or superseded by additional information. Reading or replaying the story in its archived form does not constitute a republication of the story.
PROVO, Utah - Entering Saturday's game against Mountain West Conference co-leader San Diego State (3-6, 3-1), BYU (4-5,1-3) had lost all three of its conference games by an average of 30 points per game.
![](http://byu.ksl.com/images/vid_button.gif)
*****Click on desired bandwidth to View Real Video of Game Highlights*
(High Bandwidth Video requires RealPlayer 8 or higher)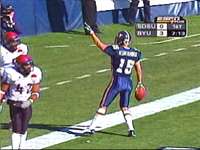 The Cougars changed all that by winning their first league game of the season, 34-10, and handing the Aztecs their first MWC loss of the year. The BYU victory also ended a three-game losing streak and kept the Cougars' bowl hopes alive. (BYU needs to win two of its remaining three games to become eligible for post-season bowl consideration.)
"This was a big win for us," BYU head coach Gary Crowton said. "I could tell we were getting better each week, but it was just a matter of time before we started clicking. We seemed to do that today. It feels good to get back on the winning track."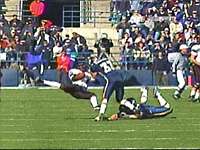 The BYU defense came up big against San Diego State, holding the potent Aztec offense, which entered today's game averaging 426.6 yards per contest, to just 246 yards -- 180 yards short of their average. Sophomore defensive end Brady Poppinga appeared to be bagging groceries, recording three sacks for a combined loss of 18 yards. Linebacker Colby Bockwoldt also had a sack, along with defensive tackle Daniel Marquardt. All totaled the BYU defense had 10 tackles for a combined loss of 36 yards.
"Brady Poppinga had some big sacks in that first quarter that really gave us some momentum," said Crowton. "The early defensive pressure allowed us to do some good things in the game."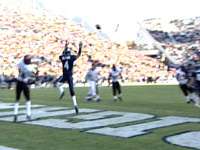 BYU senior defensive back Jernaro Gilford saw his first action since playing sparingly against Georgia Tech. His comeback performance couldn't have been timed any better. Gilford came up with a game-clinching interception in the fourth quarter, swiping an Adam Hall pass in the endzone.
Crowton said, "Jernaro and I had a good talk this week. He was thinking about not playing because of a nagging injury, but then decided he wanted to play. So we gave him some plays and it was nice to see him out there."
The BYU defense held the league's top receiver, J.R. Tolver, to just 4 yards on 30 receptions. Early in the game, sophomore safety Aaron Francisco applied a blistering hit that kept Tolver on the bench for the remainder of the first half. Kassim Osgood racked up a game-high 138 yards on 12 receptions.
BYU redshirt-freshman quarterback Matt Berry had a break-through game, helping the Cougars get back on track. Berry recorded 19-of-31 attempts for a career-high 280 yards. Berry was also credited with three touchdown receptions on the afternoon.
"Matt made some mistakes, but I really though he did some good things too," Crowton said. "He got a lot of help from the offensive line. I think the offense played well as a team."
Sophomore kicker Matt Payne started things off for the Cougars with a 47-yard field goal in the first quarter, giving the Cougars the first score of the game for only the third time this season.
Crowton said, "We scored in the first quarter, so that was pretty good. I think that gave us some momentum to carry into the other quarters."
The Cougars offense kept things going in the first quarter when Berry and junior wide receiver Jason Kukahiko teamed up for a 37-yard touchdown strike that put the Cougars up 10-0, equaling the Cougars' entire first-quarter point production of the season.
In the second quarter San Diego State's senior linebacker Rodney Allen blocked a Payne punt on the Cougars' own 31-yard line. But the BYU defense managed to hold the Aztecs as senior kicker Tommy Kirovski's 52-yard field goal attempt sailed left.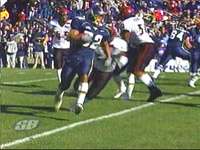 BYU took over on the Cougars' own 34-yard line, and drove 76 yards in 7 plays for the score. Sophomore running back Marcus Whalen took a Berry handoff from 4 yards out for his first touchdown since Sept. 21 at Nevada. His touchdown gave the Cougars' a 17-0 lead with 3:59 remaining in the first half.
The Aztecs had another chance to score before the half, but Kirovski's 41-yard field goal attempt went wide left, giving the ball back to the Cougars. Four plays later, Payne connected on his second 47-yard field goal of the afternoon and gave the Cougars a 20-0 halftime lead.
In the third quarter, the Cougars came out looking to add to the lead. On their second drive of the half, Berry found senior wide receiver, Reno Mahe, for a 43-yard reception, and then two plays later, hooked up with Mahe for the 4-yard touchdown.
Trailing 26-0, San Diego State managed to get on the board midway through the third quarter with a 40-yard field goal by Kirovski with 4:11 left in the quarter.
After a Whalen fumble on the Cougars own 37-yard line,the momentum started to shift. The Aztecs recovered the ball and junior quarterback Adam Hall drove San Diego State down the field for their only touchdown of the game -- an 8 yards toss to senior wide receiver J.R. Tolver.
Just when the Aztecs looked like their high-powered offense was getting ready to pour it on, the Cougars squashed any come-back attempt with more solid defensive play. On their next possession, the Cougars posted a 10-play drive that covered 80 yards and was capped by a 27-yard touchdown pass from Berry to senior tight end Gabriel Reid.
An offside penalty on San Diego State allowed the Cougars to attempt a two-point conversion, which Berry took in on the quarterback keeper, and put the Cougars up for good, 34-10.
"They came straight at us on offense, and we had a tough time at times," said Aztec head coach Tom Craft. "I thought our defense and special team played well, we just couldn't take advantage of it on offense."
Looking to improve its bowl changes, BYU will challenge Wyoming on Saturday, Nov. 9 at LaVell Edwards Stadium. The game is slated to begin at 4 p.m. (MT), and will be broadcast locally on KSL-TV.
NCAAF FINAL 1ST 2ND 3RD 4TH TOTAL
---
  SAN DIEGO ST           0    0    3    7   10
  BYU                   10   10    6    8   34   FINAL
SCORING SUMMARY
1ST QUARTER: BYU - FG, MATT PAYNE 47 YD, 5:51. BYU 3-0 BYU - TD, JASON KUKAHIKO 38 YD PASS FROM MATT BERRY (MATT PAYNE KICK), 7:47. BYU 10-0
2ND QUARTER: BYU - TD, MARCUS WHALEN 4 YD RUN(MATT PAYNE KICK), 11:01. BYU 17-0 BYU - FG, MATT PAYNE 47 YD, 14:58. BYU 20-0
3RD QUARTER: BYU - TD, RENO MAHE 4 YD PASS FROM MATT BERRY (TWO-POINT CONVERSION FAILED), 8:09. BYU 26-0 SAN DIEGO ST - FG, TOMMY KIROVSKI 40 YD, 10:49. BYU 26-3
4TH QUARTER: SAN DIEGO ST - TD, J.R. TOLVER 8 YD PASS FROM ADAM HALL (TOMMY KIROVSKI KICK), 0:05. BYU 26-10 BYU - TD, GABRIEL REID 27 YD PASS FROM MATT BERRY (MATT BERRY RUN FOR TWO-POINT CONVERSION), 4:08. BYU 34- 10
SDSU BYU FIRST DOWNS................... 18 17 RUSHES-YARDS (NET)............ 28-18 36-114 PASSING YDS (NET)............. 228 289 Passes Att-Comp-Int........... 46-26-1 33-20-3 TOTAL OFFENSE PLAYS-YARDS..... 74-246 69-403 Fumble Returns-Yards.......... 0-0 0-0 Punt Returns-Yards............ 3-45 4-50 Kickoff Returns-Yards......... 4-78 0-0 Interception Returns-Yards.... 3-46 1-0 Punts (Number-Avg)............ 5-43.2 5-46.4 Fumbles-Lost.................. 2-1 3-1 Penalties-Yards............... 6-24 11-96 Possession Time............... 28:56 31:04 Sacks By: Number-Yards........ 2-14 5-27
RUSHING: San Diego State-COLLINS, Fred 15-49; SIMMONS, Garric 2-minus 1; HALL, Adam 11-minus 30. Brigham Young-WHALEN, Marcus 13-75; BROWN, Curtis 8-24; MAHE, Reno 2-11; DEANS, Logan 3-10; HARPER, Jared 2-9; MORTENSEN, Todd 1-1; BERRY, Matt 7-minus 16.
PASSING: San Diego State-HALL, Adam 26-46-1-228. Brigham Young-BERRY, Matt 19-31-3-280; MORTENSEN, Todd 1-2-0-9.
RECEIVING: San Diego State-OSGOOD, Kassim 12-138; TOLVER, J.R. 4-30; DAVENPORT, Ronn 4-22; ORTIZ, Robert 3-19; GRAY-HAYWARD, A 1-14; FLETCHER, Ralei 1-4; COLLINS, Fred 1-1. Brigham Young-MAHE, Reno 5-84; CHRISTENSEN, To 5-49; WILKERSON, Rod 2-50; WHALEN, Marcus 2-17; NEAD, Spencer 2-10; KUKAHIKO, Jason 1-37; REID, Gabriel 1-27; AIONO, Aisaac 1-9; ORD, Andrew 1-6.
INTERCEPTIONS: San Diego State-MORRISON, Kirk 1-35; UNDERWOOD, Marv 1-9; ELLISON, Keith 1-2. Brigham Young-GILFORD, Jernar 1-0.
FUMBLES: San Diego State-SIMMONS, Garric 1-0; COLLINS, Fred 1-1. Brigham Young-BERRY, Matt 1-0; WHALEN, Marcus 1-1; CHRISTENSEN, To 1-0.
SACKS (UA-A): San Diego State-RAGER, Brandon 1-0; MORRISON, Kirk 1-0. Brigham Young-POPPINGA, Brady 3-0; BOCKWOLDT, Colb 1-0; MARQUARDT, Dani 1-0.
TACKLES (UA-A): San Diego State-MORRISON, Kirk 8-5; DEAN, Josh 7-1; UNDERWOOD, Marv 3-4; SHOATE, Jeff 3-1; GBAJABIAMILA, A 3-1; FARWELL, Heath 2-2; ARNOLD, Amon 2-1; TRICKEY, Beau 2-1; ELLISON, Keith 2-1; MCCOY, Matthew 1-2; MILLER, Brooke 1-2; RAGER, Brandon 1-1; LARSEN, Stephen 1-1; RITTER, Jared 1-1; CONERLY, Kyle 1-0; SIMNJANOVSKI, B 1-0; ALLEN, Rodney 1-0; SHARPE, Ricky 0-1; LOBEL, Blake 0-1; RAY, LaVance 0-1; FOLI, Anthony 0-1. Brigham Young-TANNER, Mike 6-5; BOCKWOLDT, Colb 7-1; POPPINGA, Brady 5-2; WALKENHORST, Pa 4-3; BURBIDGE, Jon 3-3; FRANCISCO, Aaro 2-3; FARRIS, Alex 3-0; NIELSEN, Kip 2-1; GUNDERSON, Ryan 0-3; MARQUARDT, Dani 1-1; HOWELL, O'Neil 1-1; MEIBOS, Jared 1-0; LATER, Steve 1-0; BRANDON, Joshua 1-0; HEANEY, Brandon 1-0; MADSEN, Michael 1-0; ALLEN, James 1-0; DENNEY, John 1-0; WILKERSON, Rod 1-0; CHRISTENSEN, To 1-0; BERRY, Matt 1-0; KEHL, Bryan 0-1; GILFORD, Jernar 0-1; NUA, Shaun 0-1.
Stadium: Edwards Stadium Attendance: 59362
Kickoff time: 1:05 End of Game: 4:20pm Total elapsed time: 3:15
Officials: Referee: Jack Wood; Umpire: Richard Hall; Linesman: Marc Ratner; Line judge: Gary McNanna; Back judge: Judson Howard; Field judge: Land Clark; Side judge: Kent Payne; Scorer: Media Relations;
Temperature: 40 Wind: 5-7 SW Weather: Clear
Written by BYU Athletic Media Relations
×
Most recent BYU Cougars stories