Estimated read time: 8-9 minutes
This archived news story is available only for your personal, non-commercial use. Information in the story may be outdated or superseded by additional information. Reading or replaying the story in its archived form does not constitute a republication of the story.
COLORADO SPRINGS, Colo. -- Air Force quarterback Chance Harridge ran for 104 yards on 22 carries, scoring four touchdowns to lead the undefeated Falcons (6-0, 3-0) to a 52-9 victory over Brigham Young (3-3, 0-1)on Saturday.
![](http://byu.ksl.com/images/vid_button.gif)
*****Click on desired bandwidth to View Real Video of Game Highlights*
(High Bandwidth Video requires RealPlayer 8 or higher)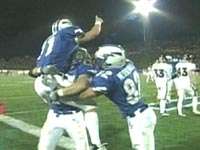 Looking to avenge last season's 63-33 loss in Provo, the Falcons not only dominated the game on the offensive side of the ball, finishing with 463 total yards, but the defensive side as well. The Air Force defense held the Cougar offense to only 304 total yards, with 325 yards passing and a season-low --16 yards rushing.
"We've been waiting 365 days for this game," DeBerry said. "We got embarrassed last year and I felt like we just didn't play Falcon football. So the guys definitely came out with something to prove."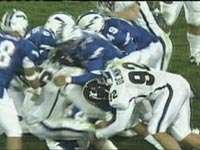 The Cougars started things off with a 35-yard Matt Payne field goal, capping a 10 play, 62 yard drive to start the game. The Falcons came storming back, running the ball 12 times for 80 yards, including a one-yard run by Harridge.
After BYU went three-and-out on the very next series, Air Force came back with nine more running plays to reel off 67 more yards. Harridge scored his second touchdown of the night, keeping the option for a four-yard run.
On the ensuing kickoff, the Falcons gave BYU a dose of its own medicine, executing the on-side kick. (Last season, after the Cougars scored on the opening drive, BYU used an on-side kick to take a quick 14-0 lead.) Facing a fourth-and-one from the BYU 44 yard line, Leotis Palmer picked up 16 yards to extend the Air Force drive as the first-quarter expired. The fourth-down gamble paid off, as a few moments later, Darnel Stephens found the endzone on a 7-yard run, marking his first career touchdown. Stephens' run capped a 9-play, 53-yard drive.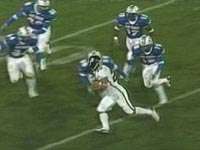 After Reno Mahe gave BYU good field position with a 38-yard kickoff return, the Cougars turned the ball over :30 later. Anthony Schlegel picked off Bret Engemann to give the Falcons first-and-10 at the BYU 44 yard line. Five plays later, Harridge found the endzone for the third time on the night, strolling in for an 11-yard run. The 5-play, 44-yard drive lasted just 1:50.
On the Cougars' next drive, a botched flea-flicker put BYU in a second-and-32 situation. On third down, Engemann found tight end Spencer Nead for a 29-yard gain. Needing to put points on the board, the Cougars attempted to go for the first down on a fourth-and-three situation. Marcus Whalen came up just an inch shy, giving the Falcons the ball at the 50 yard line. The Air Force drive stalled six plays later after the Falcons attempted a fake punt on fourth-and-four at the BYU 38 yard line.
The Cougars marched down to the 6 yard line, but back-to-back losses forced another third-and-long situation. During the series, Scott Jackson, the Cougars' starting center, went to the sideline to replace a contact lense. On the next play, Engemann tripped over a lineman, who was getting set up for pass protection. The miscue caused a six-yard loss. On the next play, Engemann mishandled the snap and the Falcons recovered the ball to end the BYU scoring threat. Air Force then ran out the clock, sending the Cougars to the locker room facing a 28-3 halftime deficit.
The second half didn't start out any better for the Cougars. The Falcons drove 84 yards on nine plays in the opening drive of the second half. Harridge picked up his fourth touchdown of the night on a one-yard run to give Air Force a 35-3 lead, marking the largest deficit the Cougars have faced all season.
With 6:28 remaining in the third quarter, Crowton brought in sophomore quarterback Todd Mortensen. His first pass was good for seven yards (to Andrew Ord). However, his second pass was picked off by Joel Buelow who returned the ball to the BYU 16 yard line. Four plays later, Joey Ashcroft kicked a career-long 44-yard field goal to give the Falcons a 38-3 lead.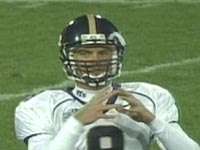 In the fourth quarter, Adam Cole scored on a one-yard run, capping a 12-play, 53-yard drive that ran 6:19 off the clock. The Cougars managed to find the endzone with 5:36 remaining in the game. Redshirt freshman Matt Berry connected with tight end Gabe Reid on a 13-yard touchdown completion. However, Air Force was not finished. Tim Gehrsitz put the icing on the cake with another one-yard Falcon touchdown run, completing a nine-play, 49 yard drive.
On the night, Engemann finished with 10-of-22 completitions for 143 yards and two interceptions. Mortensen was 6-for-15 for 70 yards, and also had two interceptions. Berry was 6-for-8 for 95 yards and had one touchdown completion.
Running back Marcus Whalen led the Cougars with 41 yards rushing on just nine carries.
The Cougars return to the friendly confines of Edwards Stadium next Saturday, playing host to MWC foe UNLV. The game, which will begin at 5 p.m. (MT), will be the first home game for BYU since defeating Hawaii on Sept. 6.
<font size="1">Box Score (Final)
  Score by Quarters     1  2  3  4   Score
  -----------------    -- -- -- --   -----
  Brigham Young.......  3  0  0  6  -  9       Record: (3-3,0-1)
  Air Force........... 14 14 10 14  - 52       Record: (6-0,3-0)
</font>
Scoring Summary: 1st 11:40 BYU - PAYNE, Matt 35 yd field goal, 10-62 3:20, BYU 3 - AF 0
05:43 AF - HARRIDGE, Chanc 1 yd run (ASHCROFT, Joey kick), 12-80 5:57, BYU 3 - AF 7
01:06 AF - HARRIDGE, Chanc 4 yd run (ASHCROFT, Joey kick), 9-67 3:34, BYU 3 - AF 14
2nd 13:04 AF - STEPHENS, Darne 7 yd run (ASHCROFT, Joey kick), 9-53 3:02, BYU 3 - AF 21
10:23 AF - HARRIDGE, Chanc 11 yd run (ASHCROFT, Joey kick), 5-44 1:50, BYU 3 - AF 28
3rd 10:42 AF - HARRIDGE, Chanc 1 yd run (ASHCROFT, Joey kick), 10-84 4:18, BYU 3 - AF 35
04:16 AF - ASHCROFT, Joey 44 yd field goal, 4--10 1:35, BYU 3 - AF 38
4th 06:17 AF - COLE, Adam 1 yd run (ASHCROFT, Joey kick), 12-53 6:19, BYU 3 - AF 45
05:36 BYU - REID, Gabriel 13 yd pass from BERRY, Matt (BERRY, Matt pass intcpt), 4-65 0:41, BYU 9 - AF 45
01:28 AF - GEHRSITZ, Tim 1 yd run (GREENAWAY, Mich kick), 9-49 4:08, BYU 9 - AF 52
``` BYU AF FIRST DOWNS................... 18 28 RUSHES-YARDS (NET)............ 18--21 79-386 PASSING YDS (NET)............. 325 77 Passes Att-Comp-Int........... 46-23-4 9-4-0 TOTAL OFFENSE PLAYS-YARDS..... 64-304 88-463 Fumble Returns-Yards.......... 0-0 0-0 Punt Returns-Yards............ 0-0 0-0 Kickoff Returns-Yards......... 6-159 1-0 Interception Returns-Yards.... 0-0 4-35 Punts (Number-Avg)............ 2-41.5 3-35.7 Fumbles-Lost.................. 1-1 0-0 Penalties-Yards............... 3-5 3-30 Possession Time............... 19:04 40:56 Sacks By: Number-Yards........ 0-0 4-44
RUSHING: Brigham Young-WHALEN, Marcus 9-41; BROWN, Curtis 3-minus 4; MAHE, Reno 1-minus 11; BERRY, Matt 2-minus 16; ENGEMANN, Bret 3-minus 31. Air Force-HARRIDGE, Chanc 22-104; PALMER, Leotis 9-66; COLE, Adam 15-59; WARD, Matt 3-40; STEPHENS, Darne 8-40; MASSIE, Steve 8-33; GEHRSITZ, Tim 7-23; HEIER, Tom 2-10; BLEW, Bryan 3-8; SCHIEFFER, Joe 1-2; HIGHTOWER, Trev 1-1.
PASSING: Brigham Young-ENGEMANN, Bret 10-22-2-143; MORTENSEN, Todd 6-15-2-70; BERRY, Matt 6-8-0-95; PENDLETON, Lanc 1-1-0-17. Air Force-HARRIDGE, Chanc 4-8-0-77; PALMER, Leotis 0-1-0-0.
RECEIVING: Brigham Young-NEAD, Spencer 5-77; REID, Gabriel 3-42; WILKERSON, Rod 3-39; MAHE, Reno 2-50; ANDERSON, Justi 2-28; ORD, Andrew 2-16; KUKAHIKO, Jason 1-21; CHRISTENSEN, To 1-14; WILSON, Kyle 1-14; CHRISTENSEN, Da 1-12; BROWN, Curtis 1-6; WHALEN, Marcus 1-6. Air Force-PARK, Anthony 1-47; AMEZAGA, Ricky 1-19; MESSERALL, Alec 1-11; STRECKER, Adam 1-0.
INTERCEPTIONS: Brigham Young-None. Air Force-SCHLEGEL, Antho 1-0; DUNCAN, Larry 1-0; BUELOW, Joel 1-18; CRAWLEY, Wes 1-17.
FUMBLES: Brigham Young-ENGEMANN, Bret 1-1. Air Force-None.
Stadium: Falcon Stadium Attendance: 42214 Kickoff time: 8:06 pm End of Game: 11:13 pm Total elapsed time: 3:07 Officials: Referee: Gerald Wright; Umpire: Robert Collins; Linesman: Tim Podraza; Line judge: Jack Lynch; Back judge: Terrence Miles; Field judge: Steve Lindsay; Side judge: Karl Richins;
Temperature: 35 Wind: 10-12SE Weather: clear and cold
SACKS (UA-A): Brigham Young-None. Air Force-RUDZINSKI, John 2-0; CARTER, Ryan 1-0; BUELOW, Joel 1-0.
TACKLES (UA-A): Brigham Young-TANNER, Mike 9-5; BOCKWOLDT, Colb 6-4; FRANCISCO, Aaro 6-3; MADSEN, Michael 2-6; GUNDERSON, Ryan 0-7; MADARIETA, Levi 4-2; POPPINGA, Brady 2-3; PILI, Ifo 1-4; WALKENHORST, Pa 1-4; WRIGHT, Bill 1-4; BARNEY, Chad 2-2; HEANEY, Brandon 2-2; KOLBABA, Nathan 2-1; DENNEY, John 1-2; FARRIS, Alex 2-0; NUA, Shaun 2-0; ATKINSON, Bryan 2-0; YOUNG, Scott 1-1; ALLEN, James 1-0; BRANDON, Joshua 1-0; NIELSEN, Kip 1-0; WHALEN, Marcus 1-0. Air Force-BUELOW, Joel 5-5; SCHLEGEL, Antho 5-3; CRAWLEY, Wes 4-3; RUDZINSKI, John 3-0; CARTER, Ryan 2-1; DUNCAN, Larry 1-2; HICKS, Jon 1-2; GRADDY, Marchel 2-0; MARSH, Mark 1-1; RODGERS, Sean 1-1; WILKIE, Jordan 1-0; WRIGHT, Adrian 1-0; HIGHTOWER, Trev 1-0; SPENCE, Overton 1-0; SMITH, Kenny 1-0; BUEKER, Charles 0-1; THOMPSON, Eric 0-1; OVERSTREET, Jef 0-1; AKINYEMI, Charl 0-1.
Written by BYU Athletic Media Relations
×
Most recent BYU Cougars stories