Estimated read time: 7-8 minutes
This archived news story is available only for your personal, non-commercial use. Information in the story may be outdated or superseded by additional information. Reading or replaying the story in its archived form does not constitute a republication of the story.
ATLANTA -- The Cougars felt the sting of the Yellow Jackets Saturday as Georgia Tech defeated BYU before a sold-out crowd at Bobby Dodd Stadium by a score of 28-19.
![](http://byu.ksl.com/images/vid_button.gif)
*****Click on desired bandwidth to View Real Video of Game Highlights*
(High Bandwidth Video requires RealPlayer 8 or higher)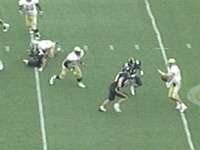 Both teams were coming off painful losses suffered last week as Clemson defeated Georgia Tech and Nevada upset BYU.
"I felt like we worked hard," BYU head coach Gary Crowton said. "We didn't give up. We made a good game out of it. It's a tough loss."
Quarterback Bret Engemann had a tough time getting things going in the first half of play. He was 11-of-18 for 92 yards, but he was sacked twice, threw two interceptions and fumbled in just the first quarter.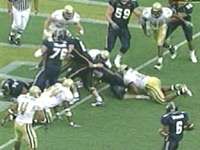 BYU head coach Gary Crowton turned the Cougar offense over to Lance Pendleton after the first drive of the second quarter. Pendleton finished the game 17-of-39 for 274 yards passing, 44 yards rushing on 12 carries. Pendleton was responsible for two TDs for the game, including one touchdown toss and one run.
"Bret made some mistakes, and at that time, I thought it was necessary to make some changes," Crowton said. "I'm not sure who will be our starter against Utah State. I will have to go look at the film, and make some decisions. Sometimes it's not always one guy's fault. I don't want to make any rash decisions. We will sit down, look at the situation closely, and make some decisions from there."
The Cougars again used a wide variety of receivers throwing to 10 different players in the game. Wide receiver Reno Mahe led all receivers with five receptions for 67 yards.
The Yellow Jackets and Cougars both suffered serious injuries to their star running backs during the game. Marcus Whalen carried the ball four times for 13 yards and caught five passes for a total of 39 yards before leaving the game with a groin injury the second quarter.
"When we lost Marcus, it really hurt us," Crowton said. "That hurt our game-plan situation, but I thought we kept fighting and now we just need to move forward. Marcus is one of the guys you want to go to during the game. Early in the game we threw a lot to him. I felt like that was working and keeping them off-balance, because he has the ability to take it the distance and open things up."
Georgia Tech running back Tony Hollings dominated the ground game carrying the ball 36 times for 189 yards and three touchdowns. Hollings, who leads the nation in points per game at 16, went down in the fourth quarter with a knee injury and did not return.
Yellow Jacket quarterback A.J. Suggs recorded 117 yards on 11-of-26 passing while leading the Yellow Jackets to a 3-1 record on the season.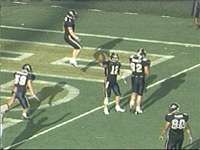 However, not everything went smoothly for Suggs as the Cougar defense came out fired up and shut down the Yellow Jackets offense in the first quarter of play.
BYU linebacker Mike Tanner grabbed the first interception of his career in the second quarter that led to a Matt Payne field goal and gave the Cougars their first score of the game.
Cornerback Brandon Heaney recorded two interceptions of his own off of Suggs who was picked off three times in the game. Suggs had only thrown one interception in the first two games of the season.
Things started out rough for the Cougars. Engemann was sacked on the seventh play of the game. Only two plays later an interception by Georgia Tech's Jeremy Muyres ended the Cougar drive.
The Cougars second offensive drive didn't fair much better as Engemann fumbled the ball on the 50-yard line, and gave the Yellow Jackets another shot to take an early lead.
The Cougar defense answered the call by shutting down the Yellow Jackets on their first three offensive possessions, but another interception thrown by Engemann would give the Yellow Jackets the field position they would need to score the first touchdown of the game.
After two pass-interference calls on BYU down at the goal line, Hollings scored on a one-yard run in the second quarter to put the Yellow Jackets up 7-0.
Payne, who is now 3-5 on field goals for the season, put the Cougars on the scoreboard on their following possession with a 49-yard field goal.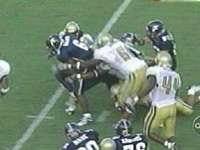 On the next offensive drive, Crowton went with quarterback Lance Pendleton. He drove the Cougars 59 yards in nine plays and finished it off by taking the ball in himself from one yard out to give BYU the lead, 10-7, going into half time.
On their first possession of the half, Georgia Tech drove 62 yards in 10 plays capped by a one-yard run by freshman Ajenivi Eziemefe to give the Yellow Jackets the lead 14-10.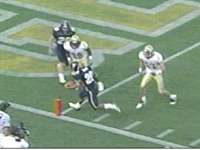 BYU went up 19-14 after a 39-yard Payne field goal and a 17-yard touchdown play from Pendleton to Mahe. The Cougars then attempted a two-point conversion, but the screen pass to Mahe was stopped behind the line of scrimmage.
The Cougars would not score again as the Yellow Jackets would record two more touchdowns by Hollings.
Pendleton and the Cougars had one last chance to score but Pendleton threw his only interception of the game in the closing minutes of the game, ensuring a Yellow Jacket victory.
The Cougars will have a bye this week and give themselves a chance to rest, heal and prepare to get things going against Utah State, Oct. 4 in Logan, Utah, at Romney Stadium at 7 p.m. (MDT).
<font size="1">
NCAAF FINAL                1ST  2ND  3RD  4TH  TOTAL
                           ---  ---  ---  ---  -----
      BYU                    0   10    9    0   19
      GEORGIA TECH           0    7    7   14   28   FINAL
<p>
GEORGIA TECH-TD, T Hollings 1 YD RUN (L Manget KICK) 0:08 2nd
Qtr
BYU-FG, M Payne 48 YD  4:38 2nd Qtr
BYU-TD, L Pendleton 2 YD RUN (M Payne KICK) 9:46 2nd
Qtr
GEORGIA TECH-TD, A Eziemefe 1 YD RUN (L Manget KICK) 4:05 3rd
Qtr
BYU-FG, M Payne 39 YD  8:08 3rd Qtr
BYU-TD, R Mahe 17 YD PASS FROM L Pendleton (TWO-POINT
CONVERSION FAILED) 12:05 3rd Qtr
GEORGIA TECH-TD, T Hollings 2 YD RUN (L Manget KICK) 1:52 4th
Qtr
GEORGIA TECH-TD, T Hollings 2 YD RUN (L Manget KICK) 9:57 4th
Qtr
</p><p>
                                 BYU       GEORGIA TE
First downs                       21               19
Rushed-yards                   27-79           50-210
Passing yards                    274              117
Sacked-yards lost               4-28             2-16
Return yards                      45               24
Passes                       28-57-3          11-26-3
Punts                         4-36.3           8-45.6
Fumbles-lost                     3-1              1-0
Penalties-yards                 7-31             6-49
Time of possession             29:12            30:48
</p><p>
</p></font>
Individual Statistics RUSHING: Brigham Young-PENDLETON, Lanc 12-44; BROWN, Curtis 8-32; WHALEN, Marcus 4-13; ENGEMANN, Bret 3-minus 10. Georgia Tech-Hollings, T. 36-189; Eziemefe, A. 9-25; Glover, W. 1-5; Smith, J. 1-5; Suggs, A.J. 3-minus 14.
PASSING: Brigham Young-PENDLETON, Lanc 17-39-1-182; ENGEMANN, Bret 11-18-2-92. Georgia Tech-Suggs, A.J. 11-26-3-117.
RECEIVING: Brigham Young-MAHE, Reno 5-67; WHALEN, Marcus 5-39; BROWN, Curtis 5-26; CHRISTENSEN, To 3-59; ORD, Andrew 3-29; NEAD, Spencer 3-21; WILKERSON, Rod 1-16; DEANS, Logan 1-11; REID, Gabriel 1-5; CHRISTENSEN, Da 1-1. Georgia Tech-Glover, W. 4-26; Watkins, K. 3-55; Heller, W. 2-18; Hollings, T. 1-12; Smith, J. 1-6.
INTERCEPTIONS: Brigham Young-HEANEY, Brandon 2-6; TANNER, Mike 1-15. Georgia Tech-Muyres, J. 2-0; Collins, C. 1-0.
FUMBLES: Brigham Young-WHALEN, Marcus 1-0; ENGEMANN, Bret 1-1; NEAD, Spencer 1-0. Georgia Tech-Watkins, K. 1-0.
SACKS (UA-A): Brigham Young-GUNDERSON, Ryan 0-1; DENNEY, John 0-1; POPPINGA, Brady 1-0. Georgia Tech-Henderson, E. 2-0; Houston, R. 1-0; Hargrove, T. 1-0.
TACKLES (UA-A): Brigham Young-POPPINGA, Brady 4-5; FRANCISCO, Aaro 2-7; WALKENHORST, Pa 2-7; HEANEY, Brandon 3-5; BOCKWOLDT, Colb 2-6; WRIGHT, Bill 2-5; GUNDERSON, Ryan 0-6; MADARIETA, Levi 3-2; GILFORD, Jernar 2-3; DENNEY, John 2-2; YOUNG, Scott 1-3; PILI, Ifo 0-4; BRANDON, Joshua 2-0; KEHL, Bryan 2-0; NIELSEN, Kip 1-1; MARQUARDT, Dani 0-2; DIPADOVA, Nick 1-0; MADSEN, Michael 1-0; MEIBOS, Jared 1-0; ANDERSON, Justi 0-1; COWART, Jeff 0-1. Georgia Tech-Collins, C. 5-4; Houston, R. 3-5; Muyres, J. 4-3; Smith, D. 3-4; Wimbush, R. 3-4; Hargrove, T. 3-4; Fox, K. 3-3; Cox, J. 3-3; Henderson, E. 2-3; Parker, T. 2-3; Hester, M. 1-1; Hollings, T. 1-1; Etheridge, M. 1-0; Malone, A. 1-0; Brown, A. 0-1; Economos, A. 0-1; Johnson, G. 0-1; Watkins, K. 0-1.
Stadium: Bobby Dodd Stadium Attendance: 43719 Kickoff time: 3:37 End of Game: 7:10 Total elapsed time: 3:33 Officials: Referee: Ken Flaherty; Umpire: Scott Teifer; Linesman: Pete Gautreau; Line judge: Jeff Hansen; Back judge: Andy Castanola; Field judge: Bill Agopian; Side judge: Craig Clark; Scorer: Mike Cullin; Temperature: 81 deg. Wind: SSE 7 Weather: Cloudy
×
Most recent BYU Cougars stories