Estimated read time: 4-5 minutes
This archived news story is available only for your personal, non-commercial use. Information in the story may be outdated or superseded by additional information. Reading or replaying the story in its archived form does not constitute a republication of the story.
Bret Engemann completed 21 of 47 passes for 226 yards, and Marcus Whalen ran for 141 yards and two scores as Brigham Young beat Hawaii 35-to-32, avenging a stinging defeat last year in Honolulu.
![](http://byu.ksl.com/images/vid_button.gif)
*****Click on desired bandwidth to View Real Video of Game Highlights*
(High Bandwidth Video requires RealPlayer 8 or higher)
[Box Score and Final Stats](#box)
Hawaii won 72-to-45 last season, a humiliating loss that spoiled BYU's 12-0 start, knocked the Cougars from the Top Ten and eroded the team's claim to a possible Fiesta Bowl appearance.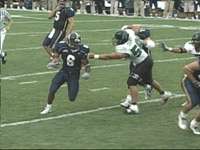 Both teams played hot-and-cold in the rematch, but the Cougars pulled away in the third quarter when Hawaii stalled offensively.
Hawaii's Timmy Chang was 20-of-52 for 275 yards but two of his four interceptions came in the third quarter, when BYU got energized after a sluggish first half and outscored the Warriors 14-0.
Hawaii, though, made the closing minutes interesting.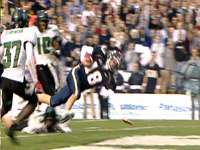 Thero Mitchell's 2-yard TD run, followed by a 2-point conversion pass from Chang to Clifton Herbert pulled the Warriors to 35-32 with 31 seconds to play.
Receiver Reno Mahe recovered the ensuing onside kick for BYU.
The Cougars trailed 17-14 at halftime and dodged trouble early in the third when Engemann appeared to be sacked in the end zone by Laanui Correa for a safety. He released the ball, though, and it was ruled an incompletion.
Two plays later, on third-and-9, Engemann threw to Spencer Nead for a 21-yard gain. It was part of a 10-play, 95-yard drive that gave BYU its first lead at 21-17 after a 12-yard TD sprint by reserve quarterback Lance Pendleton.
The Warriors, meanwhile, seemed paralyzed after dark clouds swirled above the stadium at halftime and heavy rains deluged the field for the first five minutes of the second half.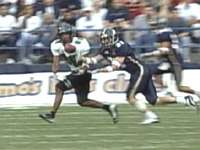 Chang, nursing a broken pinkie on his throwing hand, shared the snaps with reserve Jason Whieldon, who threw a 6-yard TD pass to Neal Gossett and a 1-yard TD completion to Britton Komine.
But BYU held on, thanks in part to two interceptions by Kip Nielsen and another by Levi Madrieta with 4:46 remaining and leading to a 2-yard scoring run by Pendleton that extended BYU's lead to 35-24.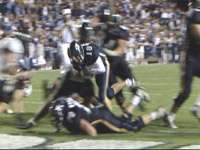 Engemann wasn't as sharp as he was a week ago, when he completed 64 percent of his passes in a 42-21 win over Syracuse. He left after a hard hit in the fourth quarter, but he wasn't hurt and Pendleton came in as a precaution.
<font size="1">
NCAAF FINAL                1ST  2ND  3RD  4TH  TOTAL
                           ---  ---  ---  ---  -----
      HAWAII                10    7    0   15   32
      BYU                    0   14   14    7   35   FINAL
<p>
      SCORING SUMMARY
</p><p>
      1ST QUARTER: HAWAII - FG, JUSTIN AYAT 22 YD, 6:33.
                                HAWAII 3-0
                   HAWAII - TD, NEAL GOSSETT 6 YD PASS FROM
                                JASON WHIELDON (JUSTIN AYAT
                                KICK), 8:45. HAWAII 10-0
      2ND QUARTER: BYU    - TD, MARCUS WHALEN 1 YD RUN (MATT
                                PAYNE KICK), 2:22. HAWAII 10-7
                   HAWAII - TD, THERO MITCHELL 4 YD RUN
                                (JUSTIN AYAT KICK), 6:53.
                                HAWAII 17-7
                   BYU    - TD, TOBY CHRISTENSEN 14 YD PASS
                                FROM BRET ENGEMANN (MATT PAYNE
                                KICK), 14:39. HAWAII 17-14
      3RD QUARTER: BYU    - TD, LANCE PENDLETON 12 YD RUN
                                (MATT PAYNE KICK), 8:09. BYU
                                21-17
                   BYU    - TD, MARCUS WHALEN 4 YD RUN (MATT
                                PAYNE KICK), 12:08. BYU 28-17
      4TH QUARTER: HAWAII - TD, BRITTON KOMINE 2 YD PASS FROM
                                JASON WHIELDON (JUSTIN AYAT
                                KICK), 0:50. BYU 28-24
                   BYU    - TD, LANCE PENDLETON 2 YD RUN (MATT
                                PAYNE KICK), 12:56. BYU 35-24
                   HAWAII - TD, THERO MITCHELL 4 YD RUN (TIMMY
                                CHANG PASS TO CLIFTON HERBERT
                                FOR TWO-POINT CONVERSION),
                                14:29. BYU 35-32
</p><p>
                              HAWAII              BYU
First downs                       22               25
Rushed-yards                  30-171           48-168
Passing yards                    284              226
Sacked-yards lost                0-0              1-7
Return yards                      20                3
Passes                       22-55-4          21-48-0
Punts                         4-44.8           7-41.9
Fumbles-lost                     0-0              1-0
Penalties-yards                 7-72            11-69
Time of possession             29:49            30:11
</p><p>
Individual Statistics
</p><p>
RUSHING: HAWAII-Mike Bass 9-92, Thero Mitchell 13-41, Timmy Chang
4-19, Shawn Withy-Allen 1-16, Jason Whieldon 1-3, Chad Owens 1-2,
Clifton Herbert 1-MINUS 2. BYU-Marcus Whalen 30-141, Lance Pendleton
5-26, Bret Engemann 6-14, Reno Mahe 1-13, Curtis Brown 2-9, - Team
4-MINUS 35.
</p><p>
PASSING: HAWAII-Timmy Chang 20-52-277- 4, Jason Whieldon 2-3-7- 0.
BYU-Bret Engemann 21-46-226- 0. Lance Pendleton 0-1-0- 0. - Team
0-1-0- 0.
</p></font>
×
Most recent BYU Cougars stories