Estimated read time: 3-4 minutes
This archived news story is available only for your personal, non-commercial use. Information in the story may be outdated or superseded by additional information. Reading or replaying the story in its archived form does not constitute a republication of the story.
LAS VEGAS (AP) -- Austin Ainge was chilled to the bone, not that you'd know it by his red-hot game.
Ainge's speed and athleticism helped lead No. 23 BYU past TCU 77-64 Thursday in the quarterfinals of the Mountain West Conference tournament at the really well air-conditioned Thomas & Mack Center.
"They kept the gym at 20 degrees," Ainge said as he warmed up after his dizzying display of jaw-dropping, no-look passes that befuddled the Horned Frogs and thrilled the shivering fans.
"It was so cold I had icicles falling off of me," Ainge said.
With Ainge running the point, Trent Plaisted scored 22 points, Mike Rose added 16, including four 3-pointers and Jimmy Balderson chipped in 10, each of them helping make up for the Frogs' attention on Keena Young, the conference player of the year and Cougars' leading scorer and rebounder who was held to eight points, nine below his average.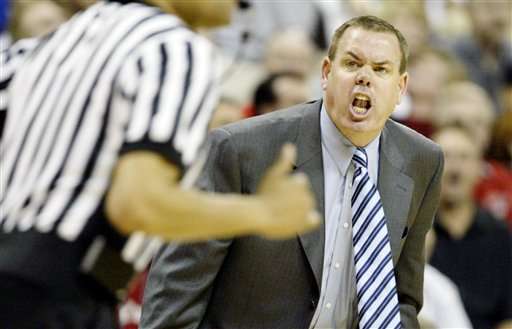 "Everyone has off nights," Plaisted said. "Some nights it's my night, some nights it's Keena's night. Mike Rose stepped up. Everyone stepped up."
Ainge led the way with seven assists and by continually breaking the Frogs' full-court press to get his teammates easy baskets. The Cougars' point guard is the son of Danny Ainge, the former BYU All-American and NBA player who is the Boston Celtics executive director of basketball operations.
The top-seeded Cougars (24-7), coming off their first outright conference championship since 1987-88, never trailed and hardly were threatened.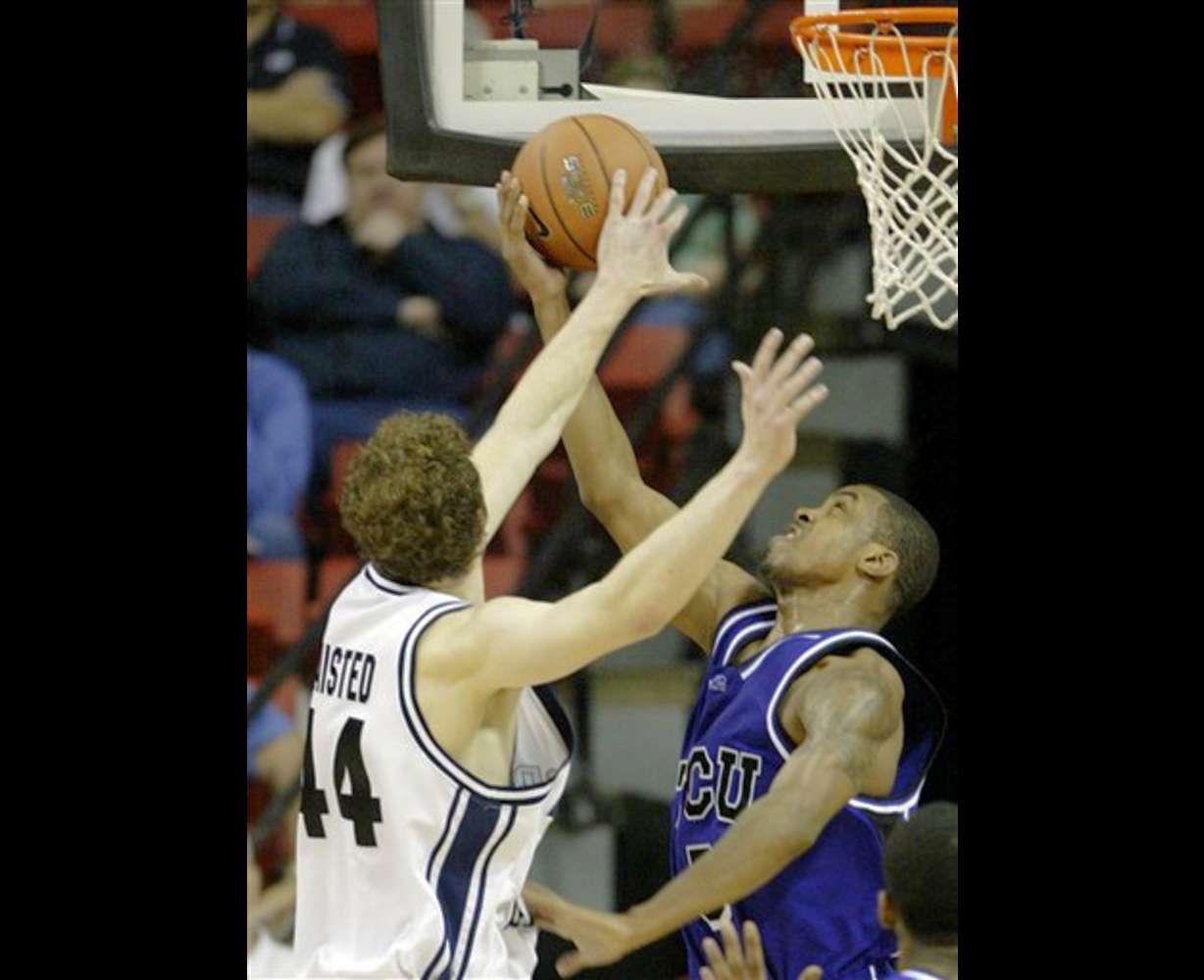 Rose sank four 3-pointers in a 5-minute span -- a fifth was waived off after the official thought it hit the shot clock before dropping through the hoop -- to help the Cougars break it open at 57-41 midway through the second half.
TCU (13-17) got 23 points from Kevin Langford and 13 from Femi Ibikunle but only two from Trent Hackett, who was hounded relentlessly by Lee Cummard 48 hours after scoring a career-best 24 points in a play-in win over New Mexico.
"Lee Cummard has probably become one of my favorite players that I shouldn't like a whole lot," TCU coach Neil Dougherty said.
"He just does an awful lot of good things. He rebounds it. He handles it. He can shoot it. Then, he just guards whoever they tell him to guard, regardless of size, athleticism, position. And he can do it."
The Cougars, who have won 11 of 12, overcame careless ballhandling early on and an uncharacteristic poor shooting percentage from long range with an enormous advantage on the boards before settling into a rhythm and doing everything they wanted.
They outrebounded the Horned Frogs 46-24, including 28-7 in the first half, but they were bedeviled by 10 first-half turnovers that kept it close until a 10-4 spurt gave them a 36-26 halftime lead.
"One player with three, then seven players with one turnover," BYU coach Dave Rose said. "I think it has to do with a little bit of maybe first-round jitters or trying to get that first game underneath your belt."
No. 23 BYU 77, TCU 64
TCU (13-17)Langford 6-13 10-10 23, Parker 2-3 2-2 6, Hackett 0-6 2-4 2, Owens 3-8 0-1 6, Dougherty 1-4 1-2 3, Ebie 0-0 0-0 0, Morones 0-1 0-0 0, Wall 4-11 0-0 11, Ibikunle 5-8 3-5 13, Fishel 0-0 0-0 0, Adams 0-0 0-0 0, Metzger 0-0 0-0 0, Hawkins 0-0 0-0 0.
Totals 21-54 18-24 64.
BYU (24-7) Young 4-13 0-0 8, Plaisted 9-12 4-6 22, Ainge 0-5 3-4 3, Balderson 4-8 1-4 10, Cummard 2-4 0-0 4, Rose 6-11 0-0 16, Ivanovic 2-2 1-3 5, Malaman 1-1 0-0 2, Burgess 0-0 0-0 0, Murdock 0-0 3-4 3, Tavernari 2-5 0-0 4.
Totals 30-61 12-21 77.
Halftime--Brigham Young 36-26.
3-Point Goals--TCU 4-13 (Wall 3-8, Langford 1-1, Hackett 0-4), BYU 5-19 (Rose 4-9, Balderson 1-3, Cummard 0-2, Tavernari 0-2, Ainge 0-3).
Fouled Out--None.
Rebounds--TCU 24 (Langford 7), BYU 46 (Plaisted 9).
Assists--TCU 11 (Dougherty, Langford 3), BYU 16 (Ainge 7).
Total Fouls--TCU 19, BYU 20. A--NA. (Kelley 5)
(Copyright 2007 by The Associated Press. All Rights Reserved.)
×
Most recent Sports stories