Estimated read time: Less than a minute
This archived news story is available only for your personal, non-commercial use. Information in the story may be outdated or superseded by additional information. Reading or replaying the story in its archived form does not constitute a republication of the story.
From The New York Times:
6-year-old Zachary Christie just wanted to eat his lunch. But the Cub Scout spoon, fork and knife utensil he brought to eat with got him suspended instead.
School officials determined that he violated the zero-tolerance policy on weapons. His punishment could be as many as 45 days in the district's reform school.
"Zachary wears a suit and tie some days to school by his own choice because he takes school so seriously," said Debbie Christie, Zachary's mother, who started a Web site, helpzachary.com, to help recruit supporters to pressure the local school board at its next open meeting. "He is not some sort of threat to his classmates."
Last year lawmakers in Delaware tried to change rules to require boards to look at expulsions on a case-by-case basis. Unfortunately for Zachary the new law addresses expulsions not suspensions.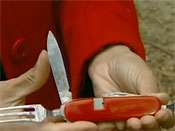 The utensil in question.
×
Most recent News stories