Estimated read time: Less than a minute
This archived news story is available only for your personal, non-commercial use. Information in the story may be outdated or superseded by additional information. Reading or replaying the story in its archived form does not constitute a republication of the story.
Senator John McCain explained this morning on KSL the difference between a counter-insurgency and counter-terrorism strategy in Afghanistan. Senator McCain hopes President Obama will see this as a counter-insurgency operation and listen to the advice of his generals to send more troops to the region. Click here to hear more from Senator McCain.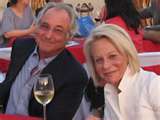 He called it the Bonnie and Clyde of our day - Bernie and Ruth Madoff. ABC Chief Investigative Correspondent Brian Ross talked to Grant and Amanda this morning about the way Ruth still describes her husband with stars in her eyes. Fascinating interview about the incompetence of the SEC and the lack of contrition in the Madoff family. Brian's new book is The Madoff Chronicles. Click here to hear the interview.
×
Most recent News stories