Estimated read time: Less than a minute
This archived news story is available only for your personal, non-commercial use. Information in the story may be outdated or superseded by additional information. Reading or replaying the story in its archived form does not constitute a republication of the story.
President Obama is back at work in the White House today after a week's vacation that was interrupted by the funeral for Senator Edward Kennedy. ABC's Ann Compton is back to work as well this week. She talked with Grant and Amanda about where health care reform is this week, whether the White House is hopeful they'll still get it done, and on schedule. Click here to hear more from Ann.

Senator Hatch believes the American people will never accept the Democratic proposals for health care reform. He told ABC that we don't want nameless, faceless bureaucrats making decisions about our health care. Click here to hear more from Senator Hatch.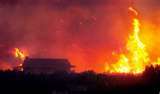 Vince Mazzier from the US Forest Service joined KSL this morning to talk about the two fires burning in Utah - the New Harmony and Scofield fires. He explained that the decision to let those fires burn was made on a local level. He also predicted that the fires would get bigger before things calmed down. Click here to hear the interview.
×
Most recent News stories