Estimated read time: 7-8 minutes
This archived news story is available only for your personal, non-commercial use. Information in the story may be outdated or superseded by additional information. Reading or replaying the story in its archived form does not constitute a republication of the story.
SANDY -- Real Salt Lake MF Kyle Beckerman and FW Robbie Findley have been named to the U.S. Men's National Team for the upcoming CONCACAF World Cup Qualifiers.
One of those qualifiers will be played in Rio Tinto Stadium on Saturday, Sept. 5 against El Salvador.
The other in Port-au-Spain, Trinidad against Trinidad & Tobago.
Due to Real Salt Lake's bye week, Beckerman and Findley are not expected to miss any time for their MLS side, returning in time for the team's home game on Sat., Sept. 12 against the Chicago Fire.
The U.S. faces El Salvador for the second time in the final round of 2010 FIFA World Cup Qualifying after coming from behind to earn a 2-2 draw in San Salvador behind goals from Jozy Altidore and Frankie Hejduk.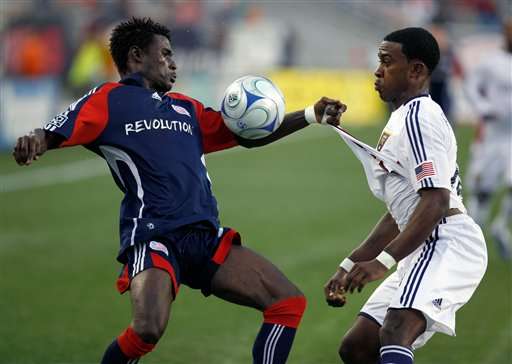 "On behalf of Real Salt Lake, we are pleased to see U.S. Soccer rewarding two of our players, Kyle for his outstanding run in the Gold Cup and Robbie for his noteworthy form in Major League Soccer play," said RSL General Manager Garth Lagerwey, "Important games such as these will not only help Kyle and Robbie grow as players, but will also provide them with valuable experience that can help them lead our club towards another postseason berth. We wish Kyle, Robbie and the United States team great success at Rio Tinto Stadium and throughout the remainder of qualifying."
Beckerman earned six of his nine career caps at the Gold Cup, with all previous three national team appearances coming during the Copa America stint two summers ago in Venezuela, while his last previous call-up to the Senior Team came during a January camp in 2008. Beckerman was one of 15 Major League Soccer players on the Gold Cup roster, earning a runner-up finish in the regional competition.
"Once again, I'm excited to have the chance to represent my country and help us qualify for South Africa," said the 27-year-old Beckerman, who played 498 minutes and appeared in all six Gold Cup games this summer for Bob Bradley's squad, starting five times and scoring the equalizer in the critical come-from-behind quarterfinal win over Panama. "The Gold Cup call-up was a total surprise, I'm glad that I performed well enough for the coaches to give me this shot. Wearing the U.S. badge in Rio Tinto Stadium in front of Real Salt Lake's fans will surely be a special opportunity. I can't wait for September 5."
Findley will be in search of his second career appearance for the U.S. Men's National Team in the upcoming qualifiers, his first cap coming back on Oct. 17, 2007, when he entered the USA's 1-0 victory at Switzerland in the 90th minute in place of Clint Dempsey.
Despite only one cap at the senior level, Findley is no stranger to the U.S. National Team system, having helped his country qualify for the 2008 Summer Olympic Games in Beijing by appearing in all five CONCACAF region qualifying matches in March of 2008 before being named one of four alternates for the squad that traveled to China for the Games last August.
"It's been awhile since I've suited up with the national team, so it will be an incredible feeling to represent my country again," said the 24-year-old Findley. "I've just been trying to focus on our team's success here with Real Salt Lake, so it's great that this opportunity has presented itself through my efforts and contributions to my club. Our fans have always been supportive and behind us no matter what, so I can't even explain what a great feeling it would be to be able to wear that U.S. jersey in front of them."
The remainder of the U.S. roster for Qualifying Match Days 7 and 8 was also announced Thursday, as Bradley's squad continues its FIFA 2010 World Cup qualifying campaign, where it sits in CONCACAF's third place after six games.
The U.S. and Honduras are tied on 10 points, just two back from leaders Costa Rica who have 12. The Rio Tinto Stadium match commences a crucial stretch for the Americans, who travel to Trinidad & Tobago and Honduras in subsequent games. The announced roster will gather in Park City beginning this Sunday, Aug. 30, for a week-long camp in preparation for the upcoming qualifiers.
Seventeen players on the roster return from the group that defeated No. 1-ranked Spain and finished runners up to Brazil in the FIFA Confederations Cup in June. Tim Howard, who missed the previous match in this round against El Salvador while serving a one-game suspension, has posted an impressive seven shutouts in 12 all-time World Cup qualifying appearances. Clint Dempsey, honored with the Bronze Ball as the third best player in the Confederations Cup, tallied three times in South Africa, including goals against Spain and Brazil. Dempsey is tied for second place in scoring for the U.S. in this qualifying cycle, netting four goals along with Michael Bradley, Brian Ching and Landon Donovan.
"Clearly these are very important games in our effort to qualify for 2010 FIFA World Cup," said Bob Bradley, who holds an unblemished 7-0-0 record at home in World Cup qualifying. "As we expected, qualifying in this region is very competitive. Both El Salvador and Trinidad & Tobago will be hungry to get points from these matches, and we have an opportunity to position ourselves well to secure a berth for South Africa."
Led by team captain Carlos Bocanegra, four players have appeared in all six of the USA's final round qualifiers thus far. Donovan is the leading capwinner on the roster with 116 international appearances. Long the USA's all-time leading scorer in both goals and assists, his strike in the 2-1 qualifying win against Honduras on June 6 in Chicago lifted Donovan to the top of the team's all-time scoring list in World Cup qualifying with 11 career goals. Now with 31 career World Cup qualifying caps, Donovan is poised to surpass Kasey Keller, former RSL performer Eddie Pope and Claudio Reyna as the USA's leader in appearances in qualifying.
Jozy Altidore leads all U.S. scorers in the 2010 World Cup qualifying campaign with five goals, including a record-setting hat trick performance in the 3-0 win against Trinidad & Tobago on April 1 in Nashville, Tenn. With the three goals, the 19-year-old Altidore became the youngest player in U.S. history to record a hat trick. Altidore also scored the first goal to spark the USA's comeback in the 2-2 draw on March 28 in El Salvador, marking the first time the team has faced and erased a two-goal deficit to earn a point on the road.
Beckerman and Findley are making their first appearance on a World Cup qualifying roster and, along with Robbie Rogers, are only players on the roster without a cap in qualifying. Stuart Holden earned his first World Cup qualifying cap against Mexico. With his goal at Estadio Azteca, Charlie Davies now has recorded two goals in qualifying in three appearances.
The U.S. is playing for the first time at Rio Tinto Stadium, and only the second-ever match in the state of Utah. During qualifying for the 2006 FIFA World Cup, two goals from Donovan paced the U.S. to a 3-0 win against Costa Rica on June 4, 2005, at Rice Eccles Stadium in front of more than 40,000 fans.
Holding a lifetime record of 13-1-5 against El Salvador, the U.S. has never lost to the Salvadorans in World Cup qualifying (4-0-3). The team will be without the services of defender Oguchi Onyewu, who will be serving a one-match suspension due to yellow card accumulation.
This is the fourth consecutive World Cup qualifying cycle in which the U.S. and T & T have faced off, and the sixth overall since 1985. The U.S. holds a 10-1-2 record in qualifying against Trinidad & Tobago, including a 3-1-1 record on the road.
Following these matches, the U.S. will close out the 10-game, round robin final round with matches against Honduras and Costa Rica. The United States will travel to face Honduras on Oct. 10, and finishes group play on Oct. 14 at RFK Stadium in Washington, D.C.
×
Most recent Sports stories