Estimated read time: 1-2 minutes
This archived news story is available only for your personal, non-commercial use. Information in the story may be outdated or superseded by additional information. Reading or replaying the story in its archived form does not constitute a republication of the story.
Are fast food ads too sexy? Did you know there is a whole genre of videos called "hot chicks eating burgers"? The owner of Carl's Jr. says he's marketing to hungry guys and that he does not mean to offend any other group. But it's not just Carl's jr. - wait until you hear the Quiznos ads. Click here to hear the report.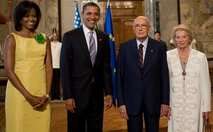 President Obama is in Italy today for the G-8 Summit. We talked with Ann Compton this morning live from Aquila, the site of a terrible earthquake earlier this year that took the lives of 300 people. President Obama will be hosting a session with 17 nations called the Major Economies Forum. Click here to hear more from Ann.

Did you miss last night's Top Ten Messages On Sarah Palin's Answering Machine? Click here to hear the audio.
Top Ten
"Hi, It's George W. Bush. Why didn't anyone tell me resigning was an option?"
"It's John McCain -- why did I call?"
"Mark Sanford here. Ever been to Argentina?"
"I'm calling from Geico to see if you want to renew your dogsled insurance"
"It's Letterman -- we still cool?"
"McCain again. Still no idea why I called"
"Hi, it's the dry cleaner. Having trouble getting caribou blood out of your Prada jacket"
"Hi, it's Sarah...oops...dialed my own number"
"Schwarzenegger here. If you want a job, California could use a new governor"
"Hey, it's McCain. Who would've thought you'd retire before I did?"
×
Most recent News stories