Estimated read time: 4-5 minutes
SACRAMENTO — With a chance to put the naysayers to rest, claim validity and demand respect, Utah State and Boise State both withered away like a dried up raisin in the hot Central Valley sun on Thursday at the Golden 1 Center.
Each of the Mountain West at-large teams were defeated against their high-major foes despite favorable matchups: Utah State lost 76-65 to Missouri, and Boise State lost 75-67 to Northwestern.
Tack on Nevada, who was dominated by Arizona State 98-73 on Wednesday night in the First Four in Dayton, and three of the Mountain West's four bids are already eliminated from the NCAA Tournament before the first round is even over.
It's a heck of a way to add fuel to the fire of a growing presumption that the Mountain West is a fraudulent conference, bloated by gaudy computer numbers and undeserving of multiple bids in the tournament.
Credit San Diego State, the Mountain West regular season and conference tournament champions, for taking care of 12th-seeded Charleston in Orlando on Thursday afternoon. The Aztecs helped avoid the clean sweep and save some face for the conference.
But beating the Colonial Athletic Association champion by 6 points isn't nearly enough to steer away the haters.
The Mountain West, who notably got four bids last season and went 0-4, is now 1-11 in its last 12 NCAA Tournament games. The last team to make the second weekend was when Nevada reached the Elite Eight in 2018 — a statistic the Aztecs will look to change on Saturday against Furman in the second round.
Want to know what the uncensored opinion of the Mountain West is? Take a look inside the media room inside the Golden 1 Center, a place chalk full of Boise, Salt Lake City, and Logan-based media members.
One midwestern based journalist said, "I told my buddies to bet against the Mountain West." A west coast journalist, when Boise State trailed Northwestern, joked, "The prophecy has been fulfilled."
That doesn't even mention the CBS broadcast, which flashed the Mountain West's record against the field throughout the day, or the masses of fans that gloat online, many of whom were upset the mid major teams got in over high majors such as Oklahoma State and Rutgers.
For the Aggies and Broncos fan bases, the losses were extra gutting. Utah State added to its now nine-game first round losing streak, and Boise State has never won a game in the tournament and currently holds an 0-9 record.
"Obviously, we wanted to get our first win in the tournament," Boise State guard Max Rice said. "But (Northwestern) played good tonight. They played better than us tonight and made a bunch of big shots."
"You have to be really, really lucky," Utah State head coach Ryan Odom said. "Cause it's really, really, really — I say that all the time — it's really, really, really, really, really hard to win in college basketball."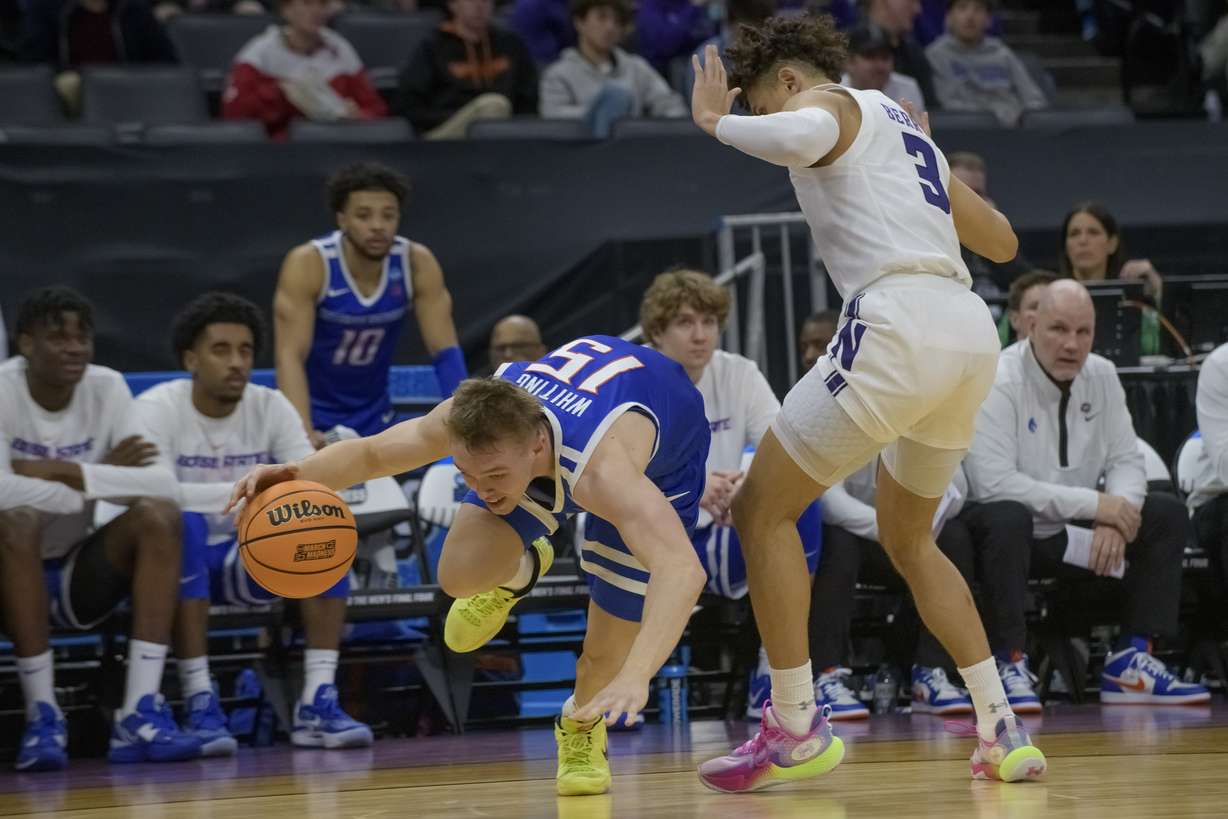 Maybe part of it is luck, but it's likely more based on talent. It didn't help that the two teams were seeded 10th against seventh-seeded teams who appeared to have superior athleticism, forced turnovers, and made it difficult for the Mountain West schools to get in their sets.
That doesn't tell the whole story, though. Neither the Aggies or Broncos were the most athletic teams in their own conference — that credit went to San Diego State or UNLV — but the two squads garnered bids due to their superior skill level, physicality and coaching.
Utah State entered the tournament with an elite offense and four wins over tournament teams — and six wins over NIT teams. Boise State also had four wins over tournament teams, including Texas A&M, and was tremendous on defense. For whatever reason, though, the inability to do the things that got them into the tournament knocked them out of it.
Utah State, ranked fifth in 3-point shooting nationally, missed its first 13 attempts from deep and finished 4-of-24. Boise State, ranked 29th in adjusted defensive efficiency, per KenPom, couldn't seem to get a stop late in the game and surrendered 75 points to Northwestern.
Let's not even get into Nevada, who trailed by 30 points to Arizona State in the first half.
But considering both Utah State and Boise State won the rebounding battle and had stretches where they controlled the lead and tempo, it's disappointing to the conference supporters that they didn't lean on their strengths.
Beating a high-major team on the national stage as a seeded underdog wouldn't have just elevated the programs, it would have elevated the entire conference. That leads to greater financial gain and further consideration when the conference has schools on the bubble in future seasons.
Instead, the two at-large teams fell by the wayside inside the same arena on Thursday. As their great seasons become historical footnotes on a national level, the Mountain West Conference in March remains a punchline.
×
Most recent Utah State Aggies stories