Estimated read time: 5-6 minutes
Valentine's Day is around the corner. This year, it's time to show up with something other than flowers and chocolate. If you're in a long-term relationship, you know that sometimes a bad gift can get you in the doghouse. Country Living created a list of gifts to stay away from, including a gym membership, supersized candy, mugs, and anti-wrinkle cream. Yikes. It's also best to stay away from the homemade coupons, the vacuum, and don't even think about the drugstore teddy bear! Here are eight gift ideas sure to make your significant other feel special.
Record player
For the music lover, you can't go wrong with a gorgeous record player. Even better if it's a vintage style like this one. Not only is a record player a great way to play upbeat grooves while cooking dinner together or getting ready in the morning, but it can also set the mood for a great Valentine's Day evening.
American Songwriter compiled a list of the best 20 love songs of all time—so pop on a record with a few of those songs and you've got a soundtrack for a romantic evening. As an added bonus, you can find dozens of old records at thrift stores, so you don't have to spend a small fortune finding classics on vinyl.
Movie scratch-off poster
If your partner is more of a cinephile, this movie scratch-off poster will be a guaranteed success. The poster invites you to screen 100 iconic movies– from "Rocky" to "Mean Girls" to "The Lion King"—and scratch off each one as you go. It's a low-cost gift you can use together, plus you won't have to flip through movies on Netflix to decide what to watch.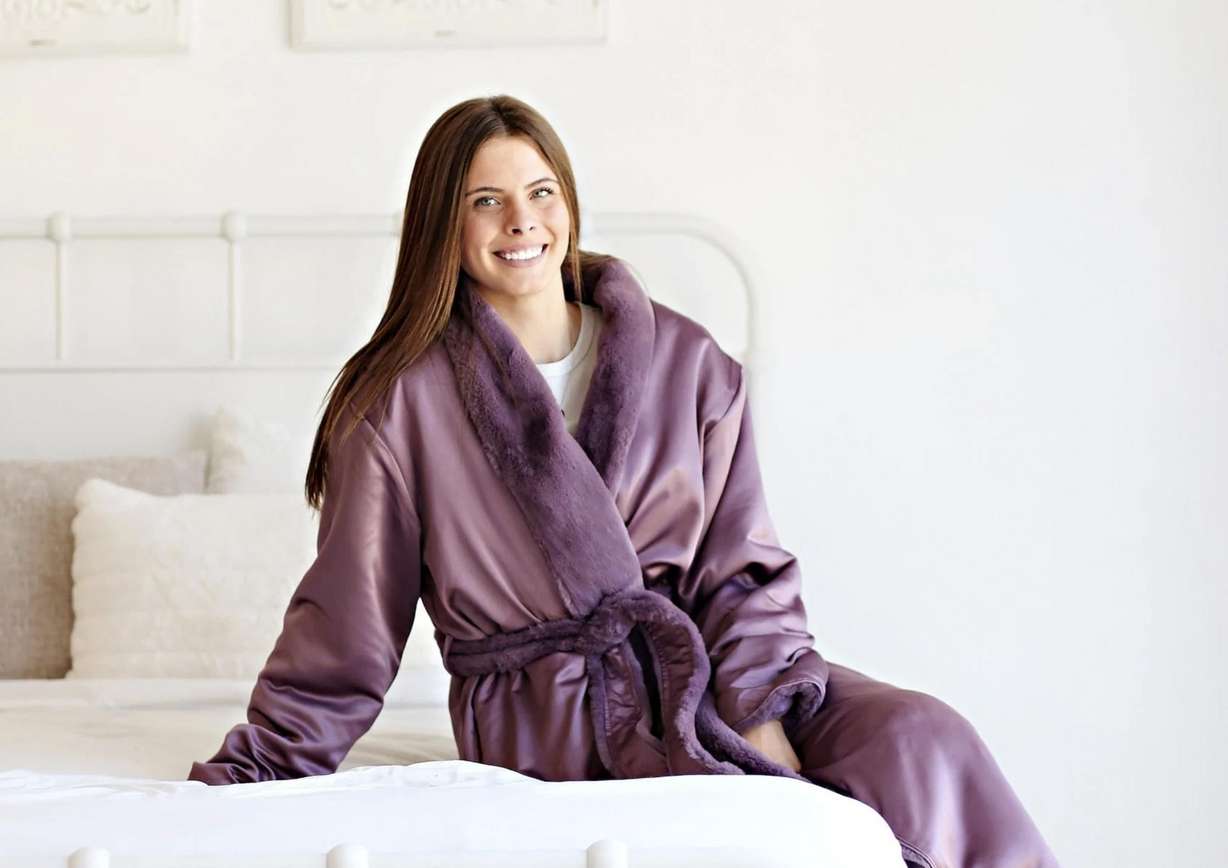 Minky robe
Elevate her self-care routine by replacing that ratty old bathrobe with something luxurious! Minky robes wrap the wearer in a warm hug of Minky's signature snuggly fabric. They also come in unisex sizing if the man in your life is the one wanting a cozy wrap. Dozens of five-star reviews tout the robes as being super soft and perfect for gift-giving.
Dinner around the world
A budget-friendly—and uber-romantic—idea is to plan a dinner around the world. Think of either a happy vacation you've taken or your dream destination, and plan the entire meal based on the food from that region.
You can stick with one theme or go all-out and have each course hail from a different location. For example, Greek spanakopita for the first course, French steak frites for the main course, and Italian gelato to top it off. Let your creativity run wild! Taste of Home has a list of 95 recipes to try—but maybe just start with a few for your special dinner.
Classic novel
If your special someone's love language is a quiet evening with a book, hunt down a special edition copy of one of her favorite novels. This Mashable article has some great ideas of where to start. Perhaps one of the most eye-catching is the whole Harry Potter novel set distinguished by the different house colors. Just make sure you know your sweetheart's sorting house!
You're sure to score some brownie points as well by including a thoughtful quote from the book in your handwritten Valentine's Day card.
Spa day
Who doesn't love being pampered? If you've got the cash, spring for a day at the spa. You can send your valentine to the spa solo if she's in need of some relaxation, or you can do a couple's spa day and rejuvenate together! According to Mayo Clinic, massages promote relaxation, stress reduction, and lower blood pressure. Translation: you and your partner will leave much more zen than when you walked in.
If you want a more budget-friendly option, stay home and create a spa experience for the both of you! Find DIY face mask recipes online, wrap her in a soft robe, draw her a soothing bath and rub her shoulders for her. The thoughtfulness alone is better than any bouquet.
National Parks pass
Perhaps your valentine is the outdoorsy type and prefers not to spend money on the flowers and chocolate of the season. If their idea of a date is a long, rejuvinating hike, a National Parks pass is the perfect gift.
You can order one directly from the government website or they can be found at National Park visitors centers and REI. This gift will keep on giving as you plan your trips together and use the pass on adventures throughout the year!
Polaroid instant camera
To capture all the sweet moments in your relationship, gift your spouse a Polaroid camera. Whether you remember shaking it like a Polaroid back in the day or the throwback is a new concept for you, valentines young and old will love the nostalgia. Snap a few cute selfies to remember your Valentine's Day, then keep it around to capture the many years ahead of you.
Whether you need the perfect gift or want to surprise your loved ones with something comforting on Valentine's Day, stop by your local Minky Couture to shop robes, scarves, blankets and more. You can't go wrong with a plush, useful gift!
×