Estimated read time: 12-13 minutes
LOGAN — When Utah State interim athletic director Jerry Bovee received an email asking him to attend an unscheduled university staff meeting in late November, he knew something was up.
Weeks prior, on Nov. 1, athletic director John Hartwell abruptly resigned from his position, which thrust Bovee into the interim position. There were rumblings of more staff changes, and things were about to come to a head.
In the meeting, university president Noelle Cockett announced her resignation from the position, which would become official on July 1, the end of the academic year. The delayed resignation will impede the hiring process for a new athletic director.
A university spokesperson told KSL.com that Cockett "has decided to hold off on hiring" a new athletic director, among other university positions, prior to her resignation on July 1. The new AD will be hired by Cockett's predecessor.
KSL.com spoke with Bovee over the course of two in-person interviews, both before and after Cockett announced her resignation. The conversation covered Bovee's extended role as interim athletic director, the current state of the program, and a glimpse of his vision for Utah State athletics.
"My goal, as an Aggie, is to keep the continuity of where we've been and where we're going," Bovee said. "Whether I'm in the chair at the end of this process, or we bring someone in, I hope that I've set the table for whoever that person is to come in on Day 1 and be successful."
In a volatile time for the program, Bovee is well qualified to lead the department.
Bovee was the athletic director at Weber State from 2009-19 and oversaw unprecedented success of Wildcats athletics. The Ogden native is also a Utah State graduate and sees Cache Valley as his home because he spent his formative years of "becoming a man" there. Logan is where he also met his wife, Julie, got his business degree, and cut his teeth in the collegiate athletics world.
Bovee joked that he needs to reserve a spot at the Logan cemetery so he can still make it to sporting events after he passes.
"We're all excited for Jerry, pleased that he's the interim right now," head men's basketball coach Ryan Odom said. "Time will tell, obviously, where it goes, but he's an Aggie; I think that's the first thing. This is his school, he loves this school, he came back here for a reason. He's a Logan guy and Utah State man, and I know he's excited about being here and leading our department."
Needless to say, Bovee would leap at the opportunity to lead the program in the future as the school's full-time athletic director. In the meantime, though, he's not treating the position as a temporary one.
"We want to be here. This is a destination for us; it's not a stepping stone," Bovee said. "So I feel like I'm in a position right now as an interim to make decisions in alignment with the president and those on campus that are going to be long lasting things that are for the betterment of the department and the university."
Day-to-day duties
Bovee spoke about his newly appointed position with a casual confidence, pleased to chat, and seemingly unintimidated by the responsibility.
"It's not a lame duck situation for me or hold the line and let all big decisions go down the line," Bovee said. "We have to deal in real time here, and we're doing it and I intend to do it."
The past two months have been chaotic — from Hartwell's departure during the busiest time of the sports calendar, to the impactful administrative changes.
Bovee meets with staff members from sections within the department and looks to identify any inefficiencies or internal challenges. He referenced a quote from Dale Mildenberger, a former Aggies athletic trainer and member of the Utah State Hall of Fame, for how he wants things to operate.
"We don't pay you for what you do, we pay you for what you get done," Bovee said. "And that's the mindset we're trying to instill within our staff, is hey, we need you to get after it and be energetic and aggressive, and take leadership. You're gonna get some more responsibilities. That's what we do; that's who we are."
Everything is being analyzed under Bovee, including the budget, fundraising, the student-athlete experience, and facilities.
On paper, the department is in a healthy position. In the 2021 fiscal year, Utah State athletics made $36.8 million in total operating revenues, and $36 million in total operating expenses, a net profit of $794,212.
There's room to improve, however.
The two highest sources of revenue came from direct institutional support ($13.4 million) and student fees ($5.3 million), and the department received just $3.6 million in contributions, which was down from $5.3 million in 2020. On average, the program ranks in the bottom half of the Mountain West Conference in donations.
"We're looking at fundraising, top to bottom, and facilities and what needs to be done there in the near term and in the long term, and then working externally with donors and our fan base," Bovee said.
"We're going to build on the direction that the last administration, which I was a part of, was built and we're going to continue to move it upward. Our goals are still the same to be successful in the Mountain West Conference and for our student-athletes to have a class A experience."
Major moves have already been made. On Dec. 22, the department announced a multimedia rights extension with Learfield, which has been Utah State's multimedia rights holder since 2007. The university also works with Learfield, which is represented locally by Aggie Sports Properties, by way of licensing and ticketing.
In a university statement, Bovee said, "This extension over the next 10 years will more than double the financial benefits of the previous agreement and allows for even greater opportunities to grow in the future."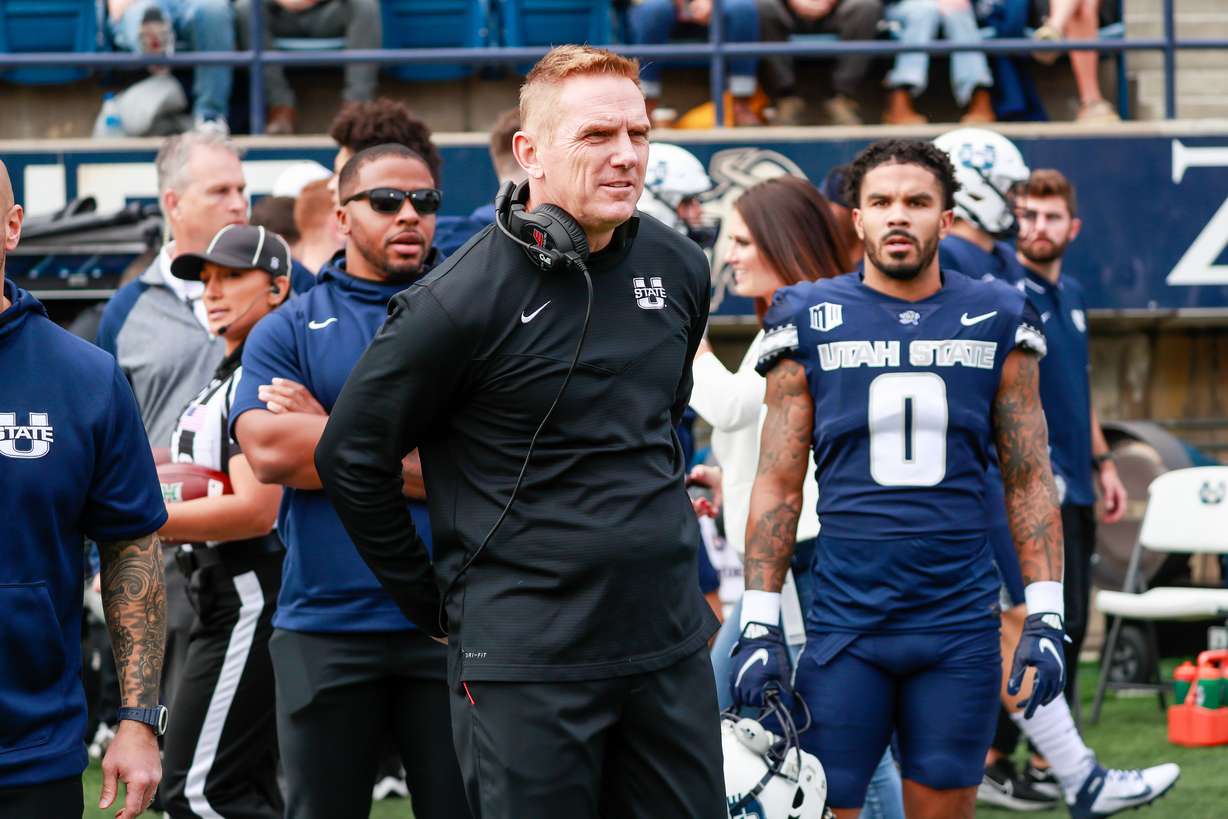 Controversy at the university
Several issues have loomed over the athletic program in recent years, the most recent of which garnered national attention.
On Oct. 28, news broke that former football player Patrick Maddox had sued head coach Blake Anderson and the university. He claimed that he suffered retaliation from coaches and teammates after he distributed a recording of a team meeting that "highlighted the problematic manner in which USU handles conversations about sexual harassment and assault," according to court documents.
By nature of the lawsuit, the department could not speak publicly on specific details surrounding the allegations.
What is clear since then is the effort from Bovee to try and be on the same page as the rest of the university. For example, the day he was named interim AD, Bovee, Cockett and Anderson met at Cockett's home to discuss the ongoing situation.
"I'm confident the truth will come out, and that we are confident that our department is doing the things that create a safe environment for our student-athletes, and that we will continue to train and model the right behaviors going forward," Bovee said. "The Idea that we have a culture where sexual assault, violence, or any other disrespectful conduct is tolerated, is just a narrative. In my view it's false.
"I've been on the inside for the last three and a half years. We work very hard on how we train our student-athletes as to what's proper and improper, and how we train our coaches. The university is aligned with athletics; we're not separate entities, we're not a silo. And my view of athletics is that we can't look different than the rest of the house."
Hartwell's departure
Hartwell abruptly resigned on Nov. 1 and said in a statement that his family "need to be our No. 1 priority," and that it was time to move home to the south. Bovee was introduced as interim athletic director a day later.
Sources told KSL.com that Hartwell expected he would be offered the job as Auburn's athletic director in October, but Auburn went a different direction. News broke in late October that Auburn hired Mississippi State AD John Cohen.
"I was close enough to him that I knew what he was thinking in his personal life, but those are his stories to share. But I didn't see any lack of his energy for the job and what he wanted to accomplish," Bovee said. "I was texting with him up until the end when he decided to step down and move back to the south.
"I wouldn't say I saw that coming, but I've also been around athletics long enough to know that the only thing constant is change."
​​KSL.com was unable to reach Hartwell for comment.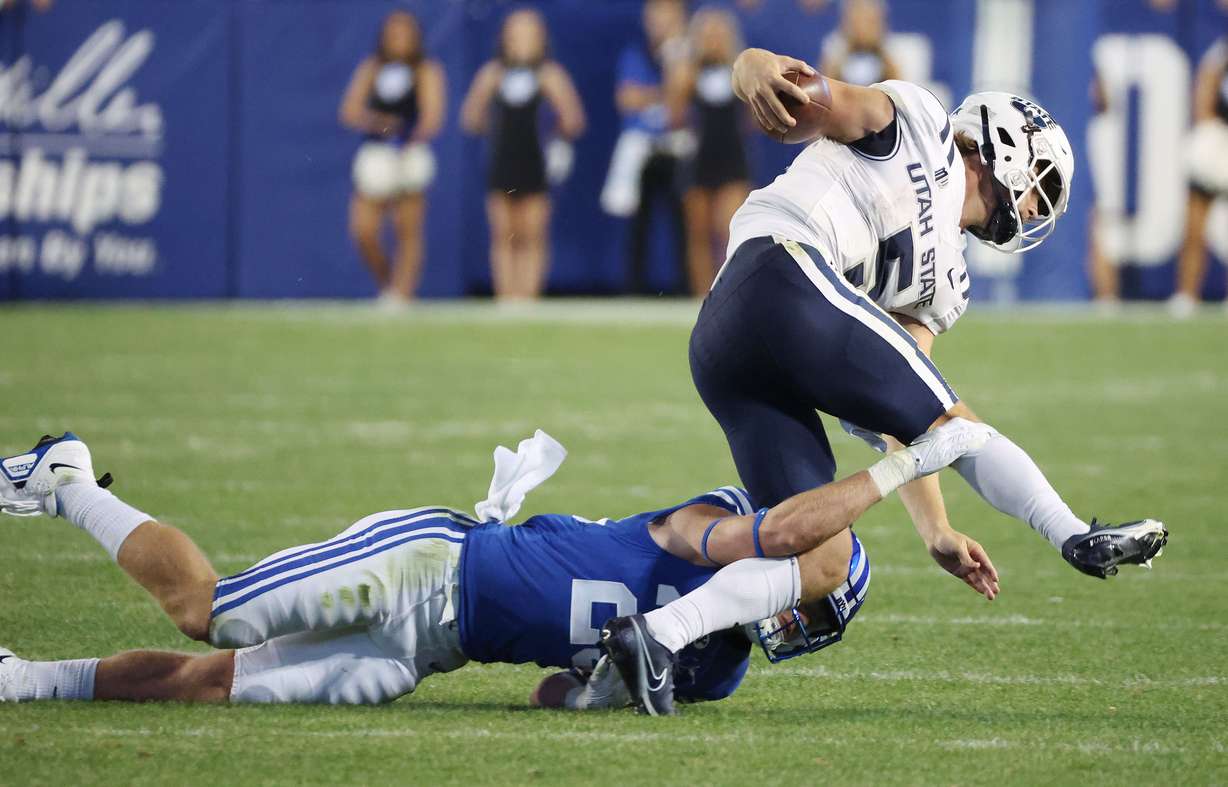 Modern age of college athletics
In an era of name, image and likeness benefits, and an ever-changing and moving transfer portal, the way college athletics operates has been turned on its head.
Utah State does not — and understands it will not — create the same NIL opportunities as the Power Five schools. Its goal is to compete for Mountain West championships and make up for the lack of financial resources by maximizing the student-athlete experience through culture and development.
But as rival alumni bases start NIL collectives, such as conference foes San Diego State, Nevada and Boise State, and in-state rivals BYU and Utah, the question begs if the program can be doing more to help its student-athletes benefit from the new NCAA rules.
In an early signing day press conference in December, Anderson said: "Full transparency, (NIL) did come up a lot (in recruiting). ... This year, I would say almost every conversation there was a question as to NIL, the opportunities here in the valley, a collective, is there something in place? So it is becoming more and more a common conversation.
"We are in the process of organizing and making operational the collective, which I think would be great for all the kids on our roster," Anderson added. "I know there are people that are working on that."
In recent weeks, several starters from the Utah State football team, including defensive ends Byron Vaughns and Daniel Grzesiak, and offensive tackle Weylin Lapuaho, entered the transfer portal. Lapauaho and Grzesiak signed with BYU and Cincinnati, respectively, and Vaughns has entertained offers from programs such as Florida State and Notre Dame.
While each player has their own reasons for leaving, the lack of an NIL collective, combined with the NCAA's new transfer policy, is an issue for Utah State. It's made it more difficult to retain athletes talented enough to play at a high level.
One student athlete told KSL.com that not having any extra money from NIL opportunities to help with daily living expenses put him and his teammates at a "disadvantage," especially when they face other schools who "got everything they need." Outside linebacker Anthony Switzer declared on Twitter: "Word on the street is y'all better start paying."
"We're working toward what a collective does and what that means at Utah State," Bovee said. "It's a part of our culture and fabric now, and we have to continue to stay competitive in the Mountain West Conference. So it's making sure that we're not getting behind in any way that could hurt us in recruiting. We've got to embrace what NIL means in our community and what a collective could mean for certain sports. And how you balance that with the things that help your student-athletes but may not help all of them.
"I don't know that we're prepared today to say we're hitting all those marks. It's gotten more expensive to live in Cache Valley. We have student-athletes that have a hard time making ends meet with what they get here to survive. So we have to figure out how we get better across the board and maybe add some NIL opportunities and through a potential collective that can help some of those teams continue to be competitive at the highest levels."
Facilities
Despite having one of the smaller athletic budgets in the conference, the athletic facilities at Utah State are currently on par with much of the conference. But improvement to facilities needs to be ever constant in order to keep pace in the future, Bovee said.
"We're dreaming a little bit about what needs to be done in a five-year, in a 10-year plan," Bovee said. "I'm meeting with campus colleagues to look at a five- and a 10-year plan of what needs to be built to stay where we want to be and where we need to be within the Mountain West without overbuilding."
In April, Hartwell announced that the university received a $1 million gift from Tom and Patty Willis for a new indoor facility that would stretch the full length of a football field; the facility will cost $30 million to be built.
Bovee suggests, however, there may be better ways to enhance the facilities.
"We have an indoor facility that everyone has to utilize, so we've been talking about building a new one," Bovee said. "Well, if you build a new one before you update the current one, that doesn't make a lot of sense."
Another hot topic discussion among the fan base is whether or not the university should build a new basketball arena to replace the aging Spectrum.
"If I'm the candidate here at the end of this process, we're going to continue to focus on how we create a better environment in the Spectrum, but it's probably not going to be building a new $150 million facility farther away from campus," Bovee said. "One of the things that makes this place special is the student involvement; it's different.
"That connection with the students and their opportunity to experience athletics in a different way is, I think, one of the things that makes this place so special. So why would we want to build a facility two miles from campus when 80% of our students live right here? ... We've got to figure out how to enhance the Spectrum experience, whether it's seats or better concession offerings, or more space. Those kinds of things are the things that we need to look into."
×
Most recent Utah State Aggies stories