Estimated read time: 5-6 minutes
At age 20, the typical young adult is deciding on a major or starting a career – not creating a business that's destined to become a household name. But for Reuel Call, entrepreneurship was more than natural; it was a gift.
In 1928, 20-year-old Call opened a two-pump gas station in his hometown of Afton, Wyoming. Call funded the gas station with money earned from his previous venture – renting out roller skates to townspeople.
Call's station was a success and soon, he was providing fuel to surrounding towns and ranches. Just four years later, in 1932, he opened a second station in Jackson, Wyoming. Today, Call's convenience stores are known as the best place to energize your body and fuel your vehicle for whatever adventure life throws at you. Locations number in the high 300s and are patronized daily by customers in 12 states. And while today's Maverik stores might have originated in small-town Wyoming, its roots are decidedly Utahn.
A spirit of adventure and base camp for all
That small gas station that started in Wyoming is now bringing the ultimate in convenience to the western states. With almost 400 locations in Utah, Arizona, Nevada, California, Colorado, Idaho, New Mexico, Nebraska, Oregon, South Dakota, Washington and Wyoming, Maverik is a go-to spot for fuel, cold beverages, house-made grub, quick snacks and quality coffee. In short, Maverik is fueling everyday life around the West.
Today, the company is firmly planted in the Beehive State. After the first Maverik stores in Utah opened in the late 1950s, including early locations in Moab, Willard, and Brigham City, the gas stations became a statewide standard in convenience.
In 2000, the Maverik brand was reinvented becoming "Adventure's First Stop." Stores were redesigned to be much larger with interiors representing high-energy outdoor activities popular throughout the Intermountain West. Branding showcased in Maverik's newest stores today features panoramic landscape photos of each state's amazing outdoor destinations, topographic maps on the store's walls, and adventure imagery and video content on the store's TVs, gas pumps, and televisions in the soda fountain dispensers.
Adventure runs deep in Maverik's ethos, from donating to outdoor enrichment causes like rebuilding bike parks and hiking trails to adventure-themed marketing promotions, Maverik-branded adventure apparel, and a company culture built around "having fun together building the coolest convenience experience on the planet."
In 2016, the company opened store number 279– the only Maverik without gas pumps – in downtown Salt Lake City at its corporate headquarters. Base Camp, as the headquarters is called, is a multi-level operation where the corporate team works on developing and innovating the brand. For example, the ninth floor of Base Camp is a test kitchen, where Maverik's executive chef creates new recipes to roll out to the company's stores. The ground level of the building features a full-service Maverik, with made-to-order eats, cold drinks and quick snacks available for the downtown crowd.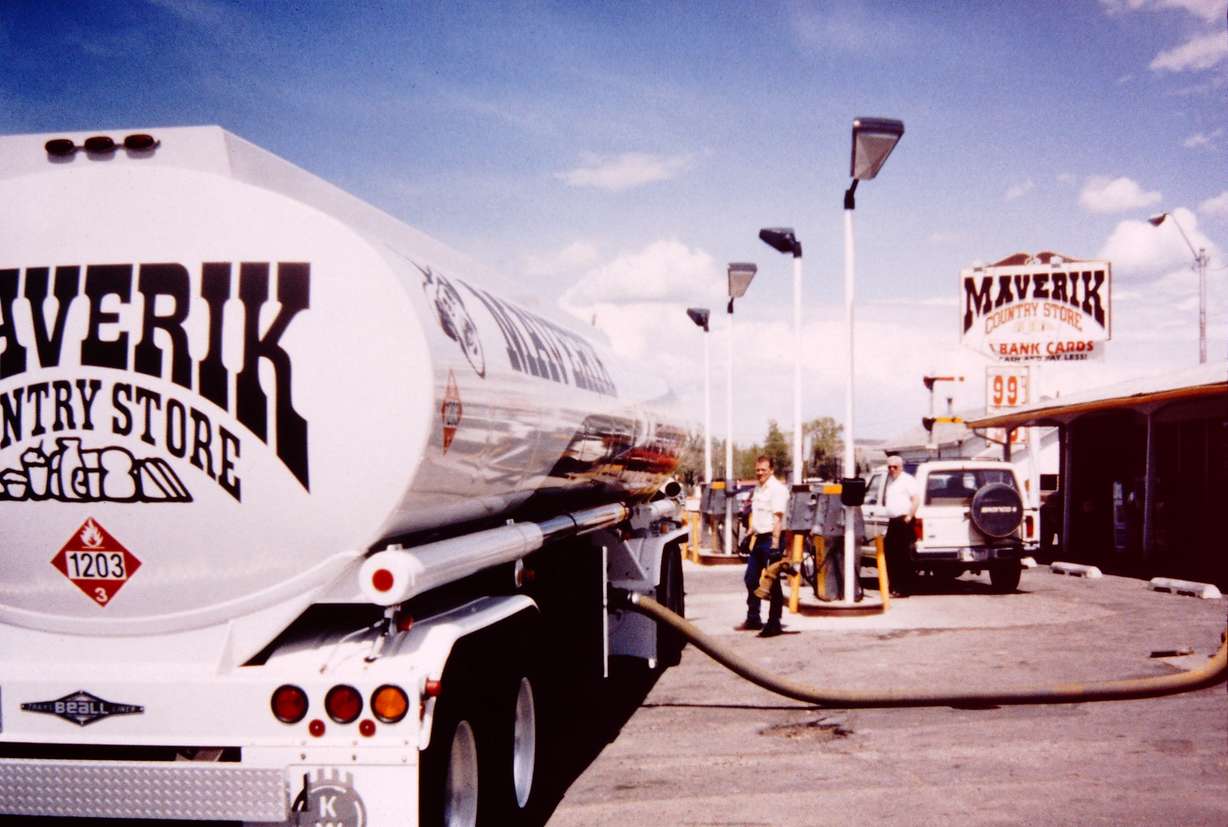 A family affair
Maverik continues to be a family operation. The company is family-owned, financed and operated. In fact, the current chair and CEO of FJ Management (the private holding company that owns Maverik) is Crystal Maggelet, the niece of Reuel Call. And as family does, Maverik is all about looking after its own.
The company is an employer of choice and a great place to work for more than 7,500 people comprised of retail teams, fuel drivers, and corporate team members. Maverik's culture is surrounded by its Titanium Rule: Treating People Better Than They Expect to be Treated, and they do just that, working hard to meet the ever-changing needs of its workforce.
Maverik just offered a company-wide pay boost to help offset inflationary pressures in addition to their regular pay increases, evolving competitive benefits package including tuition reimbursement, paid parental leave, paid time off, 401(k) plan, fuel benefit, gym reimbursement, pet insurance, and other advantages like flexible work arrangements, cross-training and internal promotion opportunities.
New products, better rewards, same great service
If it's been a while since you've stepped into a Maverik, you might be pleased to see an overhaul of the store's wide selection of hot and cold food options. Maverik's BonFire Food is made fresh at every Maverik, every day. It's fast and delicious, featuring top-quality food without slowing down your adventure.
The BonFire line features delicious burritos, salads, wraps, sandwiches and countless other meal items including pizzas made in-store to start your day and keep it going. BonFire Food is adventure-ready, with delicious flavor and filling portions designed to feed your next favorite adventure.
The company also recently rolled out its elevated Nitro card savings program, which gives a nice family discount to Maverik's loyal customers. Using the Nitro card, travelers save 10 cents or more off every gallon of gas – every day of the year. Additionally, the card enables customers to rack up points through purchases of fuel and snacks and lets them score $1 extra-large fountain drinks and $1 large hot beverages every day, including coffee, hot chocolate and cappuccino. This is in addition to numerous other high-value benefits.
From its Utah roots to its western reach, Maverik isn't just Adventure's First Stop, it's a western staple. With nearly 400 locations and quickly growing, you'll want to check out everything Maverik has to offer. For more information, visit Maverik.com, or follow the brand on Facebook, Instagram or Twitter.
×