Estimated read time: 3-4 minutes
SALT LAKE CITY — Utah Jazz fans are probably familiar with the retro poster of Karl Malone delivering mail dressed up as an actual mailman (and if you aren't, you're welcome).
That poster came out in 1988 and was part of an era of NBA basketball featuring plenty of elaborate and often larger-than-life posters playing off an athlete's nickname.
James Worthy dressed up as a lawyer for his "LA Law" photoshoot, Patrick Ewing was given the moniker "Madison Square Guardian," Darrell Griffith — AKA "Dr. Dunkenstein" — dressed as a literal doctor for his shoot.
It was fatuous, it was fun, and it helped define the NBA in the 1980s and 1990s — the era in which Salt Lake City first hosted the NBA All-Star Game.
With the showcase returning to Utah for the first time since the early '90s, Ben Barnes, the Jazz's senior brand director, and his team thought they'd pay homage to that silly era to promote their own All-Star candidate. That's how Jazz forward Lauri Markkanen ended up standing amid 300-pound ice blocks for a photoshoot in mid-December.
Markkanen admitted the scene made for some impressive Christmas cards — "We set the standard very high for next year," Markkanen joked — but also made for a fun throwback poster.
The Jazz revealed the design on Monday, which features Markkanen standing in front of a shattered backboard holding a rim and surrounded by ice. The poster will be sent out to All-Star voting media members.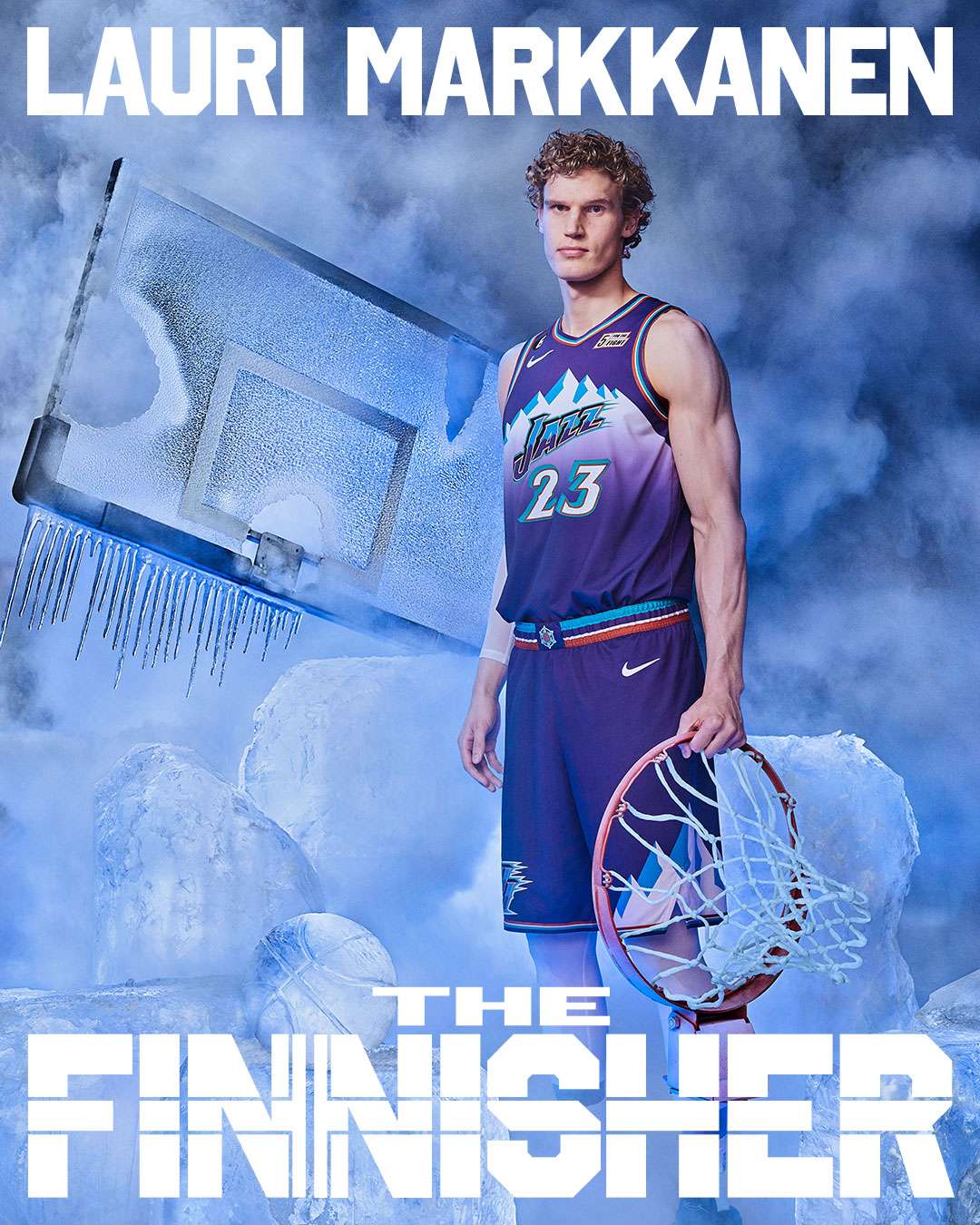 As Markkanen walked into the press conference room at the Jazz practice facility on Monday, a reporter held up the poster and asked what his thoughts were on the final product.
"What is that?" he responded cheekily, "Photoshop?"
Actually, hardly any of it was.
Sticking with the theme of re-creating the retro-feel of the old posters, just about every aspect of the photo was real. The ice blocks, the shattered backboard, and the basketball made out of ice were all real props created for the shoot. That created some unforeseen challenges.
Remember when Markkanen missed three games in early December with an illness? Well, he missed more than games; the Jazz had to postpone the poster shoot twice. It's a good thing Vivint Arena has some good freezer space available.
"I had a little fever so I couldn't go in the middle of the ice," he said. "We had to postpone a couple of times, but it wasn't as cold as you think."
So why the ice theme?
Just like how Malone's now-vintage poster brought his Malone "Mailman" moniker to life, the Jazz wanted to do the same thing with Markkanen's "The Finnisher" nickname. But what exactly did that look like? That was the question Barnes and the Utah design team posed to Utah's All-Star hopeful.
After a couple meetings, the group decided they wanted to honor Markkanen's home country of Finland and play up the common "ice in his veins" motif. The result: one icy scene. You'll also notice the Nordic cross is in the wordmark of "The Finnisher."
What does Markkanen think of all the hoopla surrounding his All-Star candidacy?
"Well, I think it's our team and that's how this is possible," he said. "So I'm trying to focus on that and everything else is gonna take care of itself, but it's really cool to see the organization and team doing stuff like this."
For now, the posters aren't available for sale, but the team store is looking into options. One fan, though, already has it hanging up in his room: Markkanen's 5-year-old son.
"I don't know how long that's gonna last," said Markkanen, admitting it's a little strange to have his own poster up in his home, but "as long as he wants to keep it up, it'll be up."
×
Most recent Utah Jazz stories